One of the least-known features of Google's massive service lineup could be Google Hangouts. They've been around the corner for a  while –  even the Obama campaign was known to use it! This time around, Sri Lankan site Music.lk is following suit. Following a meetup with bloggers and social media activists, on the 11th January, the Music.lk team sketched out their plans to launch a series of face to face video interviews with upcoming artists using Google's Hangouts On Air. From Wednesday 16th January 9:00 pm – 9:30pm, Ripples of Music – an online face- to- face hangout with local musican – goes live. You can register at www.music.lk/live.
Before we get into the Music.lk event, let's have a look at it's backbone: Google Plus Hangout.
What is Google Plus Hangout?
Google Hangout is a host plus 9 participants video  chat room inside the Google plus network. It also  offers access to YouTube services, screen sharing,  text chat and added special effects, and yes this is all  for FREE. This invitee only hangout is for  maximum 10 which would be ideal for meetings,  demonstrations, basically anything that needs live
collaboration.
From a social media perspective, it's quite a useful system. Depending what you want to do the Hangout with  it's got two options. If it's within the internal  company or with your friends, your personal G+ profile  is adequate. If you're promoting a brand you should  use this feature via the brand page.
What is Google Hangout Air?
Hangout Air is ideal for creating live, public video  chats. These are publicly broadcasted via your  Google plus account to your YouTube channel,  where they are saved and you or anyone could view later.  With the built in screen-share ability you also have  the functionality of hosting your own webinar: no  software needed. Hangouts on Air are basically a  free television station that broadcasts to your Google  Plus page and to YouTube.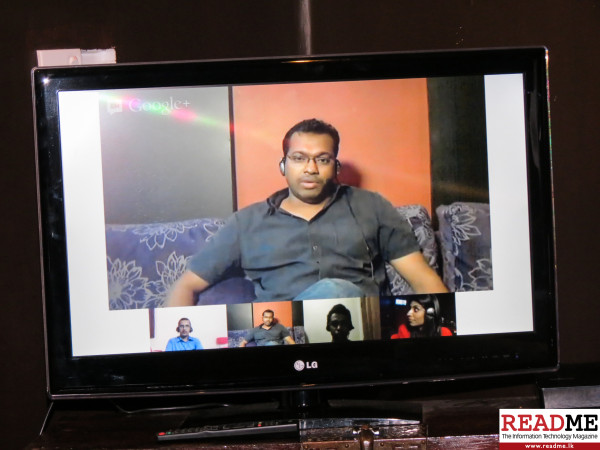 Google Plus Hangout gives you the option of maximum 10 at a time, but in Google Hangout Air its unlimited. Any number of viewers and participants can tune in. This is, in practical terms, a video version of a podcast, and is probably one of the easiest ways to Livestream. Ever. All you need (the bare minimum) is a basic web cam with home ADSL connection. If you want to enhance your video quality you might want considering investing on a HD quality web cam, a headphone and a higher connection than the ADSL – and maybe some proper lighting which you can build it yourself with CFL energy saving bulbs. It's still far cheaper than setting up your own studio. And of course, you can bring in your choice of moderators to keep the chatter clean.
Music.lk is putting this to good use.  From their viewpoint, it would be a great tool for radio hosts and musicians -to have live interactive face-to-face  interview sessions without needing to be in one place.  The idea behind Ripples of music is to help smaller artists reach out to the world – to Sri Lankans both home and abroad. Rohan Jayaweera, the Country consultant for Sri Lanka, expressing his views said that this is the first time Google is doing something of this magnitude in the Asia Pacific region. We count that as a pretty big plus for Music.lk.