Pushing through the busy lobby of Cinnamon Grand, ReadMe made way to the Atrium Lobby last Friday evening to see a huge gathering of people browsing at a laptop taking shower – That's right! It was taking a nice shower inside a Plexi-glass cylinder.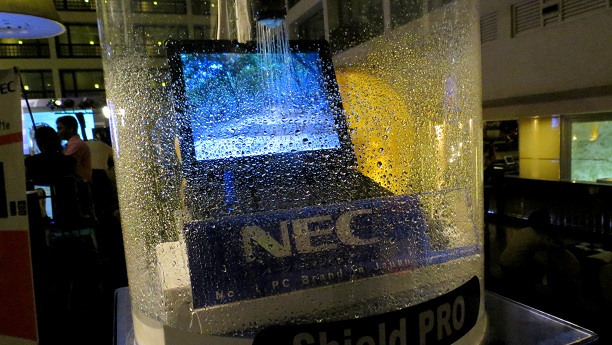 NEC Corporation – One of Japan's biggest IT products & services providers along with Finco Technologies (Sri Lanka) came together to launch NEC's Middleware solutions, Server products and Portable computer range in the Asia Pacific.
After signing up at the media registration table, arming ourselves with a cold cocktail drink served at the entrance we walked into the presentation area to grab a good seat.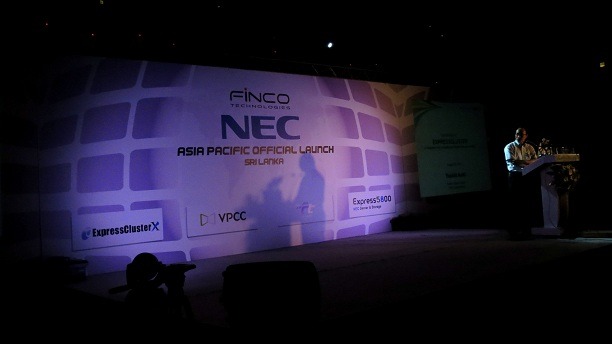 The proceedings of the evening started with Mr. Ruwan Bandara – General Manager of Finco Technologies welcoming the gathering of various business people and media personnel (yours truly too!) to the launch. And also a short intro on how Finco Tech and NEC came together in 2007 to bring Server hardware and other IT related services to the 'Miracle of Asia'.
Next up we had NEC Regional Director Mr. David take to the stage and talk to us about the several business centric laptop models which were introduced that evening (including the 'waterproof' VersaPro Type VB) and several others. He also stood on top of one model to demo the ruggedness and weight management of the VersaPro Type VG.
The Keynote Address of the evening was delivered by Dr. Kumara Hirimburegama – Vice Chancellor of the University of Colombo. He also emphasized on why universities should work in sync with the IT industry, to give students the best of the game know-how and experience in real life situations.
Mr. Yuichi Aoki – Senior Manager NEC introduced the Express ClusterX server management utility. And Mr. Nopanant from NEC Thailand addressed us on how NEC covers the POS unit sales in more than 130,000+ stores across 13+ countries around the globe.
The presentation yours truly liked in that evening was of Microsoft SL Director OEM – Mr. Poojitha Rajapkase's. He spoke of transformational trends in the current IT sphere in the world, with how people are moving towards more 'on the cloud' content management. Also highlighted how Microsoft is closely partnering with NEC to build the best OEM Server hardware for different needs.
Proceedings of the evening came to a close with Finco Tech felicitating Commercial Bank Ceylon PLC, LB Finance PLC & Ceylinco Insurance PLC for being their most loyal customers throughout since the partnership started in 2007.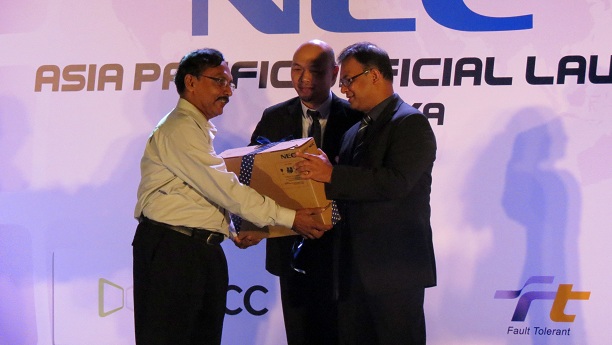 With that, we wrapped up and headed over to the refreshments area to delve into the delicious goodies arranged by the Cinnamon Grand kitchen. And to spice things up, the organizers had also arranged for a pretty group of ladies to entertain all those present with some really elegant dance performances.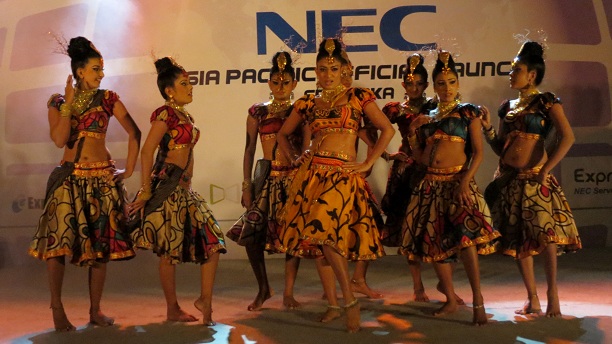 Have something interesting and IT related to share? email the [email protected]