Some time ago we came across something called Page2App by a local startup called Cinnamon Information Technologies. This literally-named product promised just one thing: it would take our Facebook page and turn it into a mobile application. And then it would pretty much run itself after launch, keeping itself up-to-date as needed. 
Needless to say, we searched the Google Play Store, but came up empty: we found not Page2App, but some of its products. Said products ran well enough for us to be impressed. Intrigued, we caught up with the duo behind Page2App, to learn what is it – and what they do. Meet Yasasi Rajapakse and Chrishan Jayakody as they talk about their product, their passion and their experience in heading a tech startup in Sri Lanka:
 What is Page2App? What does it do and how does it work?
Yasasi: Page2App is a product primarily designed for Facebook pages. It converts a Facebook page into an app for mobile. Basically all the posts of pages that are public can be pushed to this app.
Chrishan: It uses push notifications and basically makes sure that the post will never be hidden away. 

A still from the app for Butterfly Apparel (available on the Google Play Store)
Is this an automated product or do you do this manually?
Chrishan: It's done manually, all manual. An automated system might be bugs. The Facebook API changes from time to time, so we can't let our programs be broken because of things like that. Also that gives us more flexibility in how it's designed. 
How is it sold / monetized?

Yasasi: There are two packages, Premium & Freemium. In Premium the customer has to pay a one-time fee and own the app. But when we searched through Facebook we came across some non-profit pages that can use this app to grow their community. So we introduced the 'Freemium' package, which give the service for free and we embed a Google advert to cover the development cost and the maintenance fee.
Chrishan: We don't use local ads at the moment because Google Adverts is easier for us at the moment – since we don't have to pursue ads and so on. Anyway, already large companies like Etisalat and Dialog are advertising, so it's very viable.
How did you come up with the idea?
Chrishan: So on the first week of December, Facebook changed their algorithm. You need a drastic number of fans and a constant interaction with them to be presented in your fans news feed  – only a small percentage, like 16% on avaerage, will actually see your unpromoted posts.
That low?
Yasasi: Yes, so the thing is no matter how many likes you have on your page, only a very small percentage actually sees what you post. So we thought of a solution to this problem….and ended up with Page2App.  Chrishan: That's how Facebook makes money, you know, you have to pay them ..
 So what are your backgrounds? How did you two get Cinnamon started?
Chrishan: I had this entrepreneurship craze since my school days at St. Josephs. Yasasi was studying at SLIIT and so was I, which is how we got together for our own venture. Eventually we had the chance to start this thing – especially with all the help from the Spiralation program – so we began Cinnamon. At the time Yasasi worked at a private company, and she'd just graduated. I'm an undergraduate, still.

Any particular reason for that?
Yasasi: No time! At one point he had a client meeting and an exam, so we had to choose between the two. It's always been work or study since we started. Eventually we acquired an investor, but we didn't get on so well, so after 6 months we broke up. We came out of the partnership and decided to fly solo.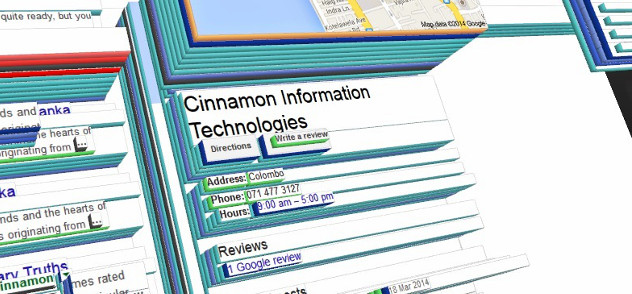 How has Page2App been received thus far? Who are your biggest clients?
Yasasi: Currently we have two apps, one Premium  and one Freemium (writer's note: these are on the Google Play Store) and we're talking to about a hundred others and some positive responses from a very well-known page in Sri Lanka – but we can't confirm that yet. 
What's the most traumatic experience you'd had so far as a company?
Yasasi: Every day: every day we think what'll happen tomorrow.
Chrishan <laughs>: Every day is either the best day of our lives or the worst day. There's no in between.
 How do you see yourself five years in the future?
Yasasi: We have a number of products in the works, and we see a future with a group of apps – in fact, we started to do another product entirely, but after some research we decided to wait until the time was right. Pag2App is not our only product. We have plans to diversify.
Chrishan: We also do custom software development, mainly on Android, and we try to give the best user experience for the user – we see thousands of "Android developers" in Sri Lanka but so few of them are of international standard.
Yasasi: When we go to a potential client and talk about an app, they ask "What is an app? It's useless to us." We want to change this. We want to show that apps are just as important as websites.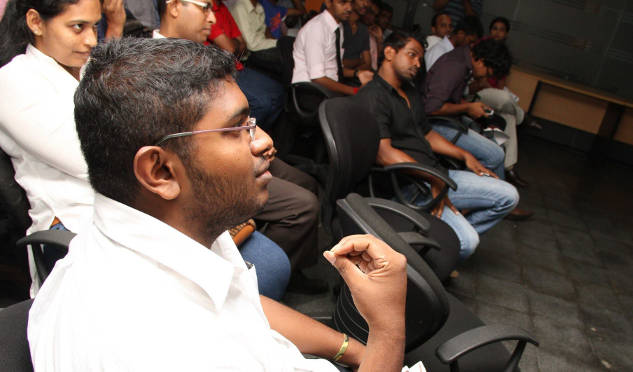 Who's your competition?
Chrishan: We see our main competitor as websites. Even now most people want to go for a website rather than an app. But in Sri Lanka we still haven't see a mobile-first venture for anything. There's also TV and radio – and even SMS: people still think SMS is the biggest thing, but it isn't. We know that 99% Sri Lankan users have dumb phones but the spending percentage is still higher among smartphone users. That's the future.
Yasasi: The biggest problem is the mobile context is still new in the market.
 How did your families take this?
Yasasi: < facepalms > Hard. A hundred times harder than I expected. They think I'm wasting my time.
Chrishan: Her family thinks that, if she goes to Virtusa(for example), she'll come home by 5.30 with a fat pay cheque.
Yasasi: They don't see the reality of working in the IT industry – long hours everywhere.
Chrishan: I'm having a very hard time with my father to complete my degree, but the rest of them are very supportive…
Yasasi: Compared to my family, he's having an easier time.
Chrishan: Yes, they believe in me, and that makes it easier.
Anybody who really helped you on the way?
Chrishan: There are a few people we really need to thank – Chalinda Abeykoon who was involved in Spiralation, Ashique M. Ali, Chamara Udugampola who believed in us from the start, Purnajith Warnakulasuriya – their support also convinced us that we should do what we're doing.