Affordable travel is something that appeals to a majority of international travelers as well as young local travelers who are looking to seek holidays regularly without burning a hole in their pocket. But with affordable travel comes a host of other issues such as security, hygiene etc.
Enter Vista Rooms. Claiming to have connections with Sri Lanka's largest chain of branded hotels, Vista Rooms aims to be a one stop hub that connects you, the traveler to any one of the hotels that are on the platforms list, in order to make your travel that much easier.  The company has currently tied up with over 200 properties across 25+ cities in Sri Lanka to offer these quality-assured properties to travelers.
Their website certainly does have a certain something to it. The layout is nicely done and all available information is in place without being too cluttered. The landing page gives you direct access to search for a hotel in a given city and lets you specify parameters such as check-in and check-out dates, number of guests and number of rooms.
There is also a "View Cities" button on the top right of the page to enable a wider search experience. Once you select a city, you are then taken to another page that displays all results of available hotels in the selected city along with the price of each room per night. You can also sort results according to price if you're on a budget or pick the most expensive if you have the cash to splash.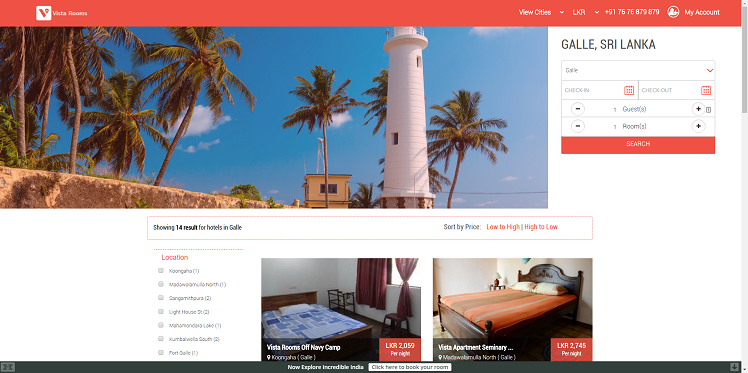 Once you have found the room that suits your budget and need, simply click the result and you will be redirected to another page to confirm your booking. The page also has details about the hotel such as the distance to the hotel from either bus, train or air flight. You can select your check-in and check-out dates, number of rooms required and number of guests for each room. Once details have been entered, the system will check availability and once everything is in order, you can proceed with the booking.
The next page is the Guest details page where you will have to enter in your personal details such as name, contact number and email address. You can also apply a coupon code (if you have one) to enjoy discounts or further benefits. Once you fill everything in, and check the customary box for terms and conditions, you're good to go.
No payment will be done on this page, rather it is just a booking and confirmation. The actual payment will be carried out when the traveler checks into the hotel and submits the booking voucher.
In addition to the actual booking area, Vista Rooms also contains a blog that offers things such as travel tips and smart travel hacks. From hotspots to visit, to new year destinations to tips on how to enjoy your vacation and even to the rather whacky 10 unbelievable laws around the world, the blog offers plenty of reading material that you can peruse through when you have some free time on your hands or are planning a vacation and could use a few tips.
Overall, the concept of what Vista Rooms is trying to do is not entirely new. We've seen it done with AirBnB and Zen Room, both of which are also available in Sri Lanka. We commend Vista Rooms on the ease of access and usability and also for the UI which is rather catchy. It does tend to have a few bugs such as the layout not adapting when the browser window is resized. Nothing too serious, but also nothing that a few lines of code couldn't fix.
Another thing we noted was the lack of a background about Vista Rooms themselves. There's no "About Us" section which we find rather disturbing. There is however a team page listing the 3 members behind the platform but an overall look at the company and their goals would be a nice addition.