Slasscom's HR summit kicked off on the 26th. Usually, not our alley. But this being SLASSCOM, they figured out a way to tinge HR conferences with enough tech to keep us interested – namely, analytics and how they figure into the hiring process.
Perhaps it's also a mark of how far HR events have come over the years. We've gone from having people talking about hiring other people to people talking about how they hire people – with analytics. A host of Indian HR experts had flown in to share their expertise with the people.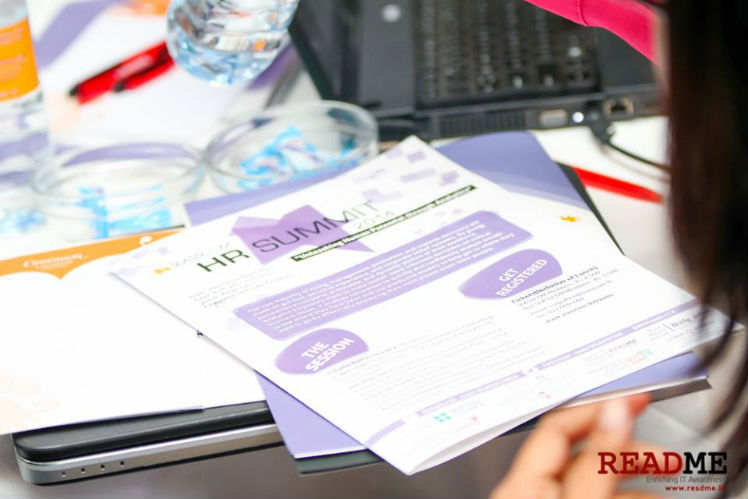 It's a given that HR is generally behind the rest of the company when it comes to tech. That's not just our opinion, but also that of V. Abishek, a Director of strategy and operations at Deloitte India. He opened the event by introduce analytics to the largely HR-personnel audience assembled before him, talking about how it paid off in his line of work.
Coincidentally, the next speaker had the same first name: he's Abishek Sen, a Director of Aon Hewitt Consulting, South Asia. "There's a gentleman who lives with his daughter and wife," he said, launching  One fine day, he starts getting promotions from companies selling baby products. Prams, the lot. So he thinks "Is my wife not telling me something?"
So he starts investigating, He calls these companes. Some of them have no idea why they're sending stuff.
"A month later, his daughter comes up to him and says 'Dad, I'm pregnant.'
"This is the power of analytics. When the daughter learned that she was pregnant, she started searching for baby products on Amazon. These searches were tracked. It was predicted that this person was pregnant. Her behaviour – as a consumer – was predicted. That's analytics, and this is a true story published by Amazon.
"We're going to see how this applied to recruiting. It's critical for you guys to realize that you – Sri Lanka – are at a vantage point. Not only are you 5-6 times cheaper than running a business in the US, you've also got a 92% literacy rate and 30,000 graduates coming out every year. You're giving the right signals."
He began with an overlay of the hiring process – and the variables that one must factor in, starting off with questions like "What universities too I want to hire from?"  Mind you, we weren't exposed to actual tools – it was more about the critieria and the keystones needed to integrate a more thorough analytics process into the hiring. His speech shifted into the correlation between and the value of big data and psychometry.
Next up is Ashutosh Mundra, Oracle Applications Consultant. He used a case study to point out that there's absolutely no use having a performance management system without having integrated analytics. After a break, we had Poornima Muniswamy, Managing Consultant of PwC India, on future-proofing a workforce by using analytics. Her presentation was followed was a panel discussion, which concluded the SLASSCOM HR Summit 2014.