While a lot of exciting things were happening at 99X Technology with the birth of a new community, not too far off at the Royal College Union Skills Centre, another community gathered together once more. This gathering folks is known as the 2nd MongoDB Colombo user group meetup, organized by Ensiz.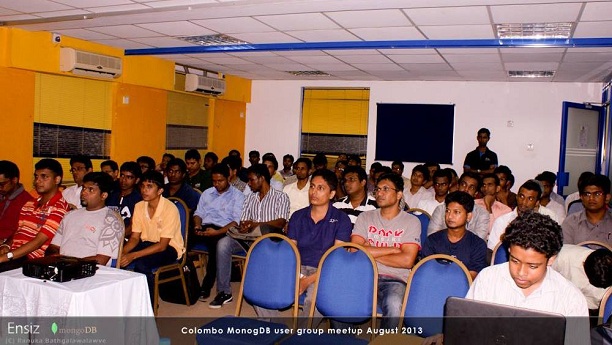 The 1st MongoDB user group meetup took place early this year at the DHPL auditorium in Nawam Mawatha, attracting over 25 attendees. This year saw an increase up to 60+ attendees, which indeed was a nice thing to see.
Moving on to the details of what happened here, in case you missed it. The event kicked off with Mr. Prabath Kumarasinghe, Senior Tech lead from Ensiz welcoming everyone, after registrations.
Following Prabath's speech, Mr. Ross Lawley (@RossC0), Scala and Python Engineer at 10gen (the company behind MongoDB) was the 1st speaker of the event, who joined us from the UK via Google Hangout to give an introduction to MongoDB.
Ross began his presentation by explaining the challenges with modern relational databases and the reasons as to why 10gen built MongoDB. He added that MongoDB is available on GitHub and commercial licenses are also available. He then moved on to explain the performance of MongoDB. He stated that in MongoDB it's possible to have as many indexes as you want to make finding data easy. He also added that in MongoDB you can design your own relational schema, which is the most flexible feature of MongoDB.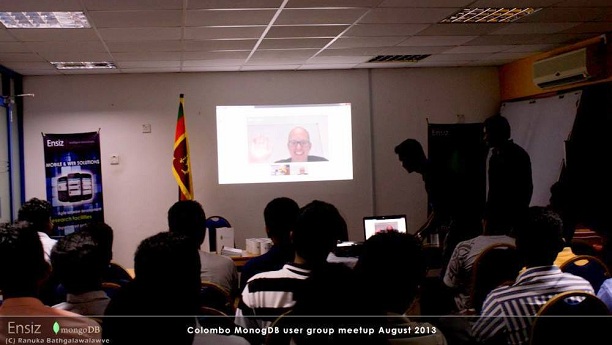 Following the explanation on MongoDB's performance, he moved onto explain some terminology in MongoDB along with a few examples, which was well simplified enough that newbies to MongoDB could get some idea. He also talked about the release history, announcing that there will be new updates coming to MongoDB by Christmas and then wrapped up his presentation after answering a few questions from the audience.
The 2nd speaker of the event was Dimuthu Fernando, a Software engineer from Ensiz, who gave a presentation on some useful commands in MongoDB, who like Ross simplified it to a level that newbies could easily understand. Dimuthu started off his presentation, by skipping some parts that Ross already covered and moved onto explain the MongoDB shell, which is an interactive JavaScript shell that allows developers to test queries and carry out a bunch of other tasks.
Following that he moved onto to explain caped collections, which are fixed size collections that overwrite the oldest entries once it reaches its maximum size, with an example. After the example on caped collections, Dimuthu moved onto explain commands that are used to query and update data in MongoDB. According to him, the main command in MongoDB was the 'find' command and also stated that in MongoDB, it's possible to update multiple data records with a single query.
Dimuthu wrapped up his presentation after explaining some simple aggregation methods in MongoDB. The 3rd and final speaker that followed him was Prithiviraj Kulasingham, an Associate Database Architect at Pearson Lanka, who gave a presentation on replication in MongoDB.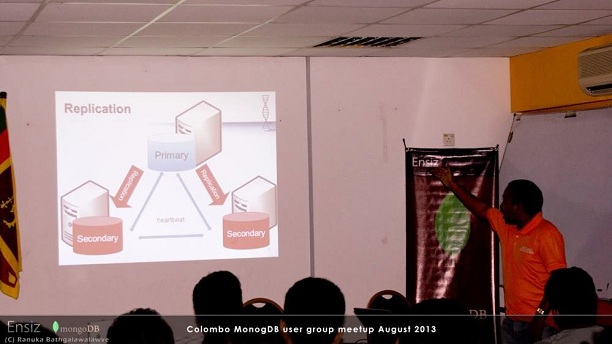 Prithiviraj began his presentation, by giving a few definitions of points related to replication. He then moved on to give a live demonstration of replication using MongoDB. With the demonstration being a technical one, some bumps were encountered but there were many attendees that were offering helpful advice.
During his presentation, Prithiviraj stated that high end servers are unnecessary when using MongoDB, and he boldly claimed that his organization had not suffered any downtime after switching to MongoDB.
When Prithiviraj was done the Q&A session began. Unlike last meetup we didn't see any debates in the Q&A session, however there were some simple questions directed at the speaker.
Following the Q&A session, the meetup was almost over, with free goodies distributed amongst the attendees – a handbook on MongoDB: The Little MongoDB Book (you can read it for free here) and for certain lucky attendees that won a raffle draw, a lovely branded MongoDB coffee mug. We'd like to take a moment to thank Ensiz for giving us that last coffee mug and a copy of the informative handbook as well.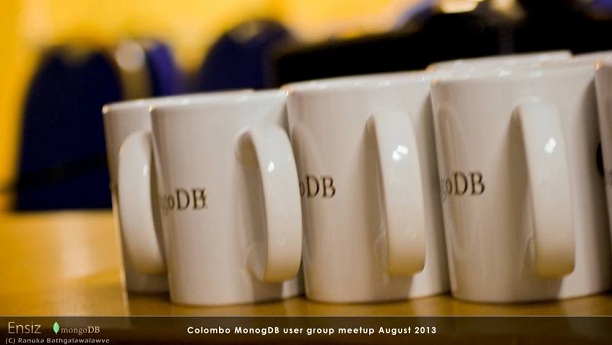 Once again, Ensiz did a commendable job in organizing the event allowing newbies and experienced users of MongoDB to get together, providing an opportunity for all of them to learn, discuss and share knowledge on MongoDB.
Have something interesting and IT related to share? email the [email protected]