Mobile gaming has grown over the years, with the arrival of Android and iOS; suddenly we had console quality games on our phones at a fraction of the price. With this growth we've seen many great games coming out on mobile, such as Angry Birds, Temple Run, Infinity Blade and even the official games for various movies such as Iron Man 3 and Despicable Me 2.  
Another game that we would add to this category is: Flappy Bird. The goal of the game is simple: tap on the screen and help the bird avoid touching the pipes that look like they were from Super Mario.
Actually accomplishing that goal on the other hand is not so simple to say the least. A touch, no matter how slight on the pipes would result in sending Flappy Bird back to the start and most likely you screaming in frustration and then trying again.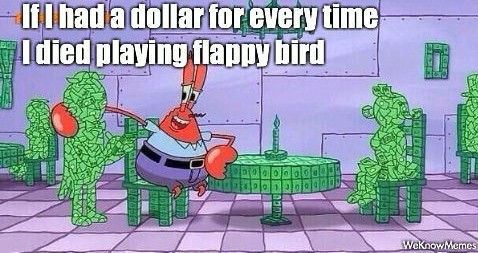 Released in mid-2013, Flappy Bird rose to fame over the last few weeks thanks to the power of tweeting and articles such as this one from BuzzFeed. Furthermore as of today, Flappy Bird has been downloaded over 10 million times and generates $50,000 from ad revenue per day, according to TheVerge.
With those numbers you could say Flappy Bird is on the road to becoming one of those classic smash hits we would introduce to our grandkids as one of those classic games we played back in the day, which we would get them to download and play.
Sadly (or luckily), it doesn't look like we'll be able to do that – how challenging Flappy Bird is, because the creator of Flappy Bird: Dong Nguyen (@dongatory) tweeted last morning: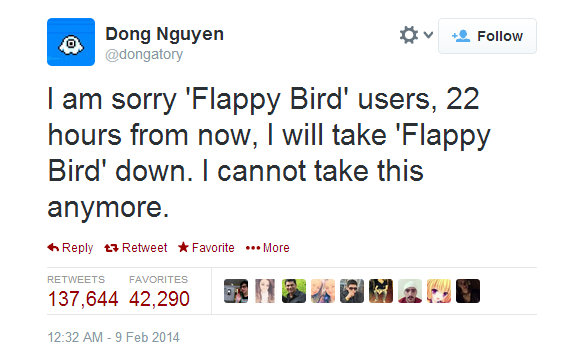 Yes folks, that's right, Flappy Bird's father promised to take him away from us, a promise that was sadly kept. If you're wondering why this has happened well, after Dong Nguyen tweeted that he's taking the game down he tweeted the following: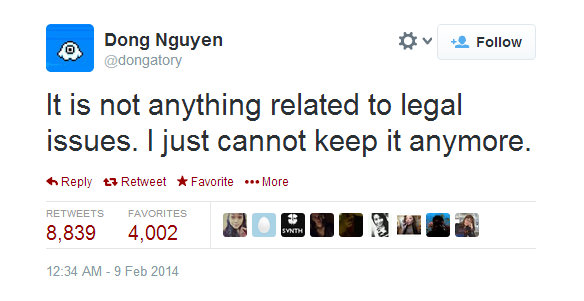 So we can definitely rule out Nintendo sending him a lawsuit for the pipes, but what does he mean by "I just cannot keep it anymore"? Our answer to that question would be that Dong Nguyen hates the success he's achieved with Flappy Bird.
Wait a minute, fame, $50,000 per day and 50 million downloads to date, how can someone hate this kind of success which most of us dream of obtaining one day, you ask? That's another interesting question Dong Nguyen answered yesterday: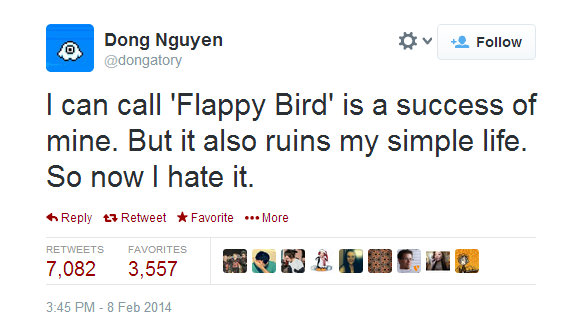 Though this wasn't the 1st time Nguyen expressed his distaste for the success he earned, previously he also tweeted the following: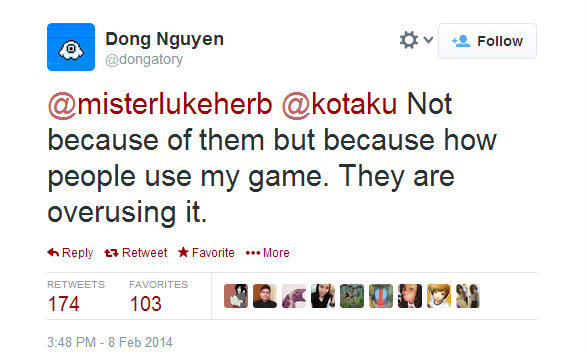 And this;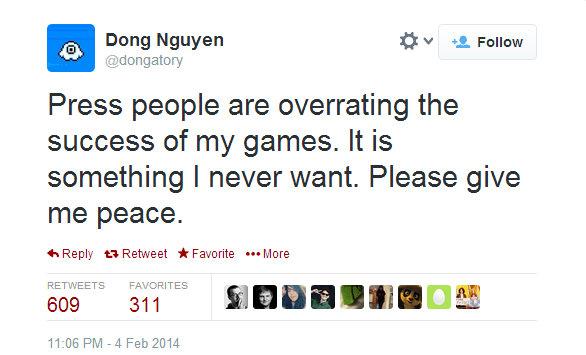 As unbelievable as it is to some of us, as they say, facts are facts and the fact here is that Dong Nguyen is a simple man, with simple goals in life and he has no plans on changing that any time soon. Of course he will be continuing to make games in the long run.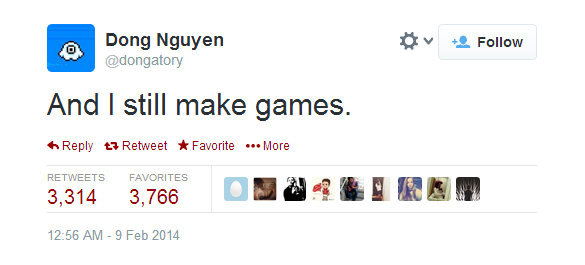 While we were unable able to prevent Flappy Bird's death, we definitely learned some lessons from it's existence.
Simplicity…
One such lesson would be in app design, because Flappy Bird is extremely simple in terms of design. No unnecessary menus or unnecessary icons or anything unnecessary for that matter, taking up valuable screen space.
Just the basic app where all you have to do is tap the screen at the start and to play the game, with the only real icons being the restart button and leader board button which appear only after you've lost. This simplicity is probably another reason why the app went viral: its easy to learn as a game and extremely easy to play.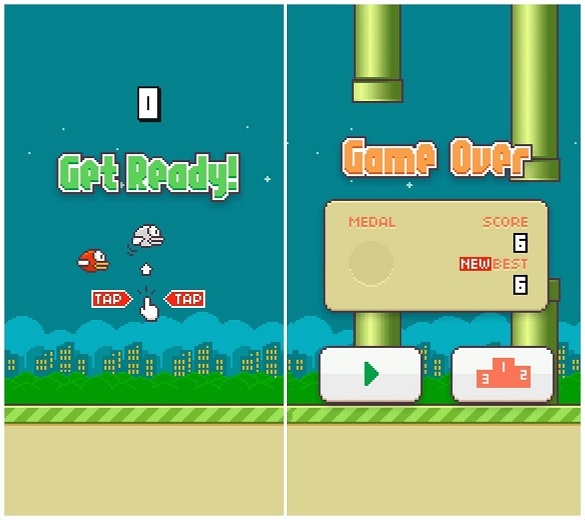 Rest in peace Flappy Bird, it's been a short fun ride, grueling but still fun somehow. Your legend will live on, in the phones of those who downloaded you before you were pulled from the app stores. 
Well, if you couldn't download (or play) Flappy Bird before it's demise but are interested in playing it now, you can still do so. All you have to do is pay $1500 and buy and iPhone with Flappy Bird on it.