Everybody hates traffic. We all complain about the traffic even more than we complain about the weather, but no one does anything about it. The good news is, this may finally be changing. New tech, coupled with your smartphone, might actually help you identify traffic hotspots in advance – and detour around it.
This is what road.lk's new traffic app does. Real-time traffic updates by frustrated tweeps are grabbed off Twitter, marked on a map and pushed right to your Android smartphone. It works surprisingly well. Where there're smartphones, there are tweeps. 
Even if you can't access the app, you can easily pop over to the website and use that. Or head over to road.lk's FB page. These folks are all over the 'net. Expect information like this popping up on your screen:
  Nallatanniya, Central Province, Sri Lanka
@road_lk Road from Nallatanni to Adam's Peak is jammed with a slow moving #traffic ; No idea about the cause yet #LKA
@foreverExiled via Twitter on Feb 2
  Delkanda
traffic double the heat urghh!delkanda bridge #trafficlk #trafficsl @road_lk
@LahiruG via Twitter on Feb 2
  Negombo Road, Wattala, Western Province, Sri Lanka
Heavy outbound traffic in #Negombo road. Minor accident in #wattala
@trafficlk via Twitter on Feb 2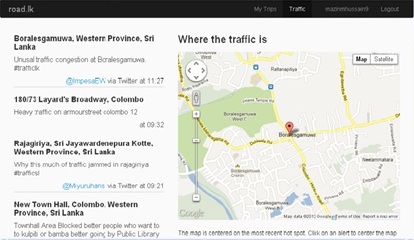 Road.lk also has another extra feature: a trip calculator which shows certain details of any trips you take such as your average speed and duration using your phone's GPS. To use this feature, you would need to create a Road.lk account and have the app installed on your Android phone. In fact, this is the only feature you need to actually have an account for – even submitting alerts doesn't require an account. It's pretty useful when you're on buses. Or trains. Or in the backseat of your friend's car.
With more than sixteen thousand Facebook fans, 5,000 app downloads and over 300 Twitter followers since launch, the folk behind road.lk continues to be enthusiastic about their product. "We plan to be in Bangaladesh in a few weeks time. The enthusiastic response from our fans has inspired us to raise the bar higher and higher," says M. Boralessa, Marketing Manager at Road.lk.
Road.lk claims to provide real-time traffic updates all over the island and to this end has a search feature built in to show the traffic alerts by locality. To put this to the test, we checked out 4 cities: Colombo, Galle, Kandy and Nuwara Eliya. In Colombo and Kandy, we easily found plenty of up-to-date alerts. In other regions, well, not so much. It appears the Twitter population is significantly lesser in the outlying regions. Rule of thumb: where there's Twitter, there's road.lk!