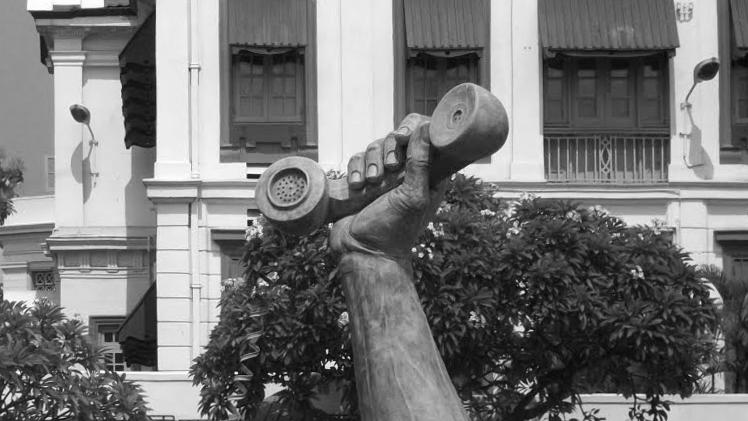 A week ago, Fitch Ratings, one of the "big three" credit rating agencies, affirmed Sri Lanka Telecom's National Long-Term Rating as AAA. The Outlook, they said, is stable. Yahapalanaya for the win.
SLT must be very happy, because in addition to being the de-facto choice of voice and Internet for Sri Lanka, their fiber expansion is going well. However, come April 1st, President Maithripala Sirisena's government is dropping a massive axe onto the heads of the entire telecommunication industry in Sri Lanka. SLT, even in the light of this, is stable, but other operators are going to be hit. Hard.
A step back: what is this axe?
One: a one-off tax of Rs 250 million on each operator. 
Two: a one-off super gains tax of 25% on profits
Three: a recurring levy of 25% and 10% tax on prepaid voice and data revenue (respectively) that cannot be passed down to the customers. 
That's a lot of tax.
One can imagine the kind of thinking that precedes such a law. Firstly, someone must have read Robin Hood. Someone must have been really, really inspired by the idea of running around in green tights robbing the clergy. Unfortunately, since that kind of behaviour is frowned on in modern society, the choice is to skip to option 2) go after richest companies.
And then someone must have mentioned that telcos make a lot of money. After all, Dialog Axiata, the top dog in the game, posted a net profit of Rs 6.1 billion for 2014. What's a mere 250 million? What's a mere 25%? And this 10%? That's nothing, surely?
It's quite a lot, really. Especially when you consider that 25% on prepaid voice revenue or 10% on data revenue is not the same thing as profit. Revenue is a much bigger number.
In fact, the proposed much that Fitch has revised its outlook on the entire sector from stable to negative. Should this happens, Dialog is going to get hit most the lot: 38% of their 2014 revenue was from voice. Next comes SLT, with 21%. Dialog, as the only Direct-to-Home Satellite provider in Sri Lanka, is also to fork out another Rs 1 billion on top of all this.
That is a lot of money.
Even SLT, the national giant, is being hit pretty hit pretty bad: Fitch estimates SLT will have to fork out between Rs 3.5 billion and 4 billion. SLT's ranking remains, but its balance sheet – and as a consequence, its operations – are actually hit pretty hard.
But what of the smaller operators?
Bharti Airtel and Hutchinson Telecom are in trouble. It's one thing to fork over 4 billion in taxes when you're SLT. It's another thing entirely when you're an underdog in the industry. Fitch points out that smaller operators might even end up being bought over and consolidated. While nothing of the sort is happening at the moment, everybody is being squeezed like mad. Because there's two ways to build that kind of cashflow: either embezzle a lot, or work really, really hard for years on end. Right now, a lot of hard work is going down the toilet – or rather, to the government coffers – for nothing.
Perhaps the whole point of all this is to thin the ground and cut down the number of telco operations running here (we're one of the most saturated markets in the world). That would make sense, because that's the only reason anyone would launch something like this. Then again, we're talking massive unemployment, billions of investment wasted, industry ratings down the toilet.
I'm no expert on legal terms, but I believe that what the government is doing is not taxation, but highway robbery. This is not a Robin Hood budget: it's Hannibal Lecter in a national dress.
Disclaimer: ReadMe counts Hutch Sri Lanka, one of the abovementioned telco companies, as one of its sponsors. While this article is not funded or written at the instigation of any third party, and no bias is intended, opinions represented in this article must be taken in consideration of this fact.