It's do-or- die for Nokia with the Lumia 920 when almost all of the smartphone market is dominated by Android – and of course iOS.
But the moment you pick up the Lumia 920 in your hand, there's no turning back: Nokia along with Windows Phone 8 is all set to take you on a breathtaking ride into the land of silky smooth transitions against the nagging lag of Android devices and, bright eye candy colors instead of boring black or white shells of iPhones.
Disclaimer: This review is all about the awesomeness of the Lumia 920. And that only.
*Buckle UP!*
The Packaging
It's just the standard packaging you get with any other Nokia handset. The box includes the device, a charger plug, USB data/charger cable, standard OEM Nokia headset + mic with a few extra pairs of ear plugs which match the color of the device – which in my case is bright RED. Also included are the User Manuals and the SIM eject tool to bring out the micro SIM tray.
But wait! The party just started…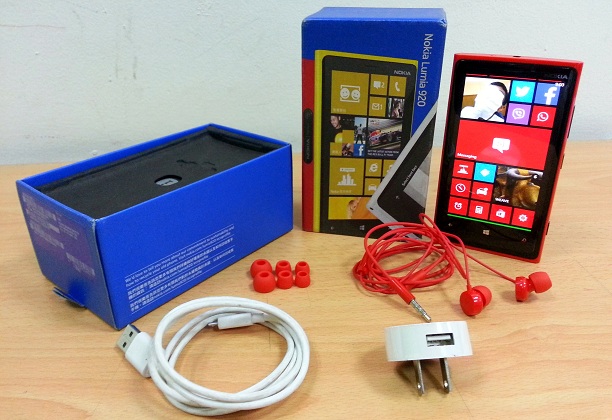 First Look
When I first took the phone out of the box I was like "Whoa Man! This this is HUGE".
At 185g out of the box this little monster borrowing the design from the N9's brickish body, does feel a bit heavy for a person who lives in a world where smartphones are all about 'how well you shouldn't feel a phone in your hand or pocket'. But I have to admit, that little (bit more) pull of gravity this phone exerts on your palm is nothing but of pure class and a feeling of using a premium device.
The sturdy and tough feeling unibody sealed (Shiny Red) polycarbonate construction is nothing but class.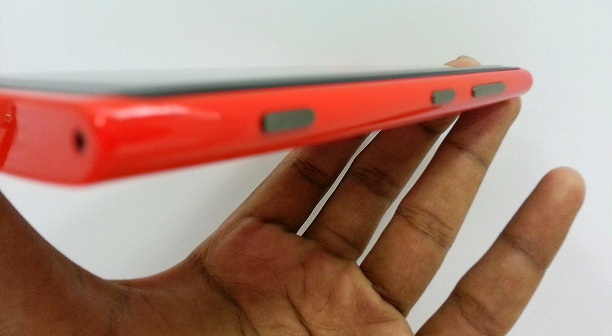 The Outer View
The front has the earpiece, a 1.2 Megapixel front camera capable of up to 720p and a Proximity sensor hidden below the nicely curved Gorilla Glass 2 which almost wraps around the front bezel of the phone.
On the right side are the (only) 3 buttons you'd ever get on a Windows Phone 8 device: the volume rocker, power button and the camera shutter button. The buttons too feel extremely firm (if not too firm) but very responsive when you press them every time. The two step camera button does what it does extremely well in this case.
The top offers you access to the standard 3.5mm headset jack, 5 tiny micro drilled holes for the Noise Cancelling mic and the SIM tray on which you install the micro SIM.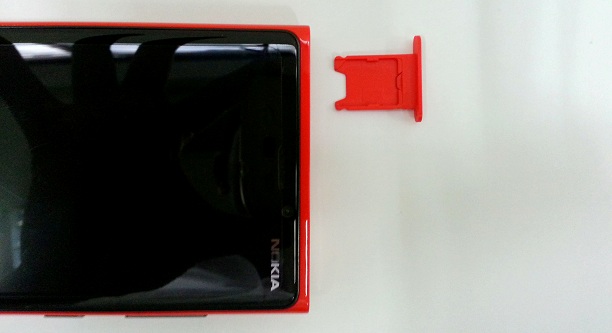 The bottom of the phone is extremely busy handling the micro USB charging / data port, two sets of micro drilled holes  offering twin bottom speakers for really loud sounds whether  you're playing music or using the speaker phone. And two screws on either corner to hold everything together.
The Camera
*DRUM ROLL*
Welcome the crown jewel of the Lumia 920 – an 8.7 Megapixel, Back-Side Illuminated Carl Zeiss PureView lens kit which is assisted by a truly functional Optical Image Stabilization technique which operates by keeping the lens in a floating state to give us jerk free snappy pictures and steady shake free 1080p HD videos. The lens is surrounded by a metallic plate which says NOKIA | Carl Zeiss which adds more to the 'Classy' feel to the back of this little monster.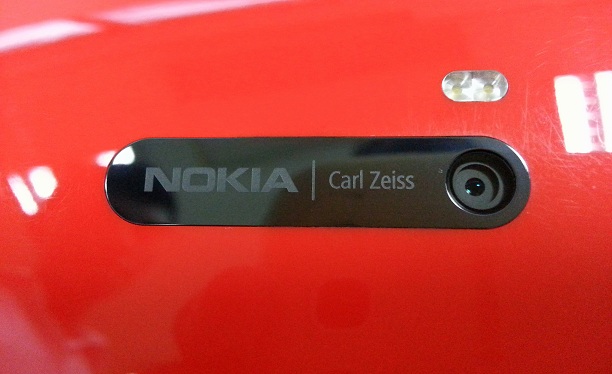 Aided by a lovely 4.5" IPS LCD panel with PureMotion HD+ & ClearBlack technology which flows pure blackness (not like an AMOLED panel, but still better), the 8.7 Megapixel wide-angle BSI OIS sensor really does walk into the Hall of Fame along with the SGS3 and the iPhone 5 – and clearly push past them quite comfortably. Do check out the various 'Lenses' available for the camera to add more functionality to the Carl Zeiss kit.
Video recording is also very impressive. The lowest possible quality being 720p (Wow!) it can do up to 1080p, coupled with OIS – I can happily say the output is extremely awesome. Eating up almost 1GB for a 15 minute video I recorded, the person I videoed was a wee bit concerned on how much wrinkles he was able to point out in his shirt when we watched it on a 19" LED, along with some decent sound clarity thanks to the noise cancelling mic kicking in for video recording.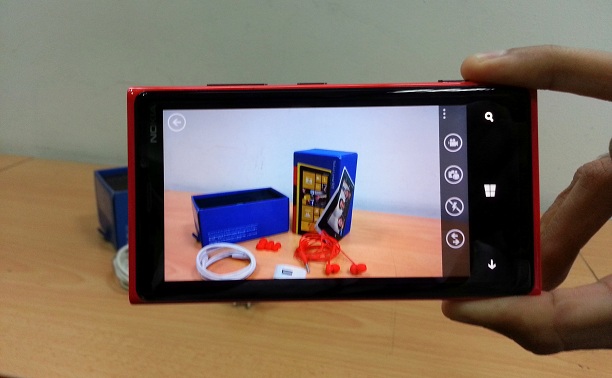 It really does deliver very well in Low Light conditions as promised by Nokia in all their ads. I was impressed by how much clarity and light is captured in every low light image. Daylight images aren't failing either, but they tend to be a bit on the softer side compared with the strong competition against which the 920 is pitted against.
There are reports that with the upcoming GDR2 Amber update for Lumia devices the camera softness issue will be addressed – we'll hope on that.
But on a whole, the camera is worth all in itself if you're a hardcore Lumia fan who'd forgive the minor squiggles.
The Display
GSM Arena says: IPS LCD capacitive touchscreen, 16M colors 768 x 1280 pixels, 4.5 inches (~332 ppi pixel density) Corning Gorilla Glass 2,  PureMotion HD+ & ClearBlack display.
I say: OH MY GOD! Show me something better than this and I'll kill myself! This is probably the best thing Nokia could've done to the 920 apart from the PureView camera and the whole array of bright and playful colors.
Thanks to Nokia's ClearBlack polarization layers installed on top of the IPS panel, the blacks are (really) black as night unlike a very dark shade of almost black. This helps the Windows Phone OS to feel a lot livelier with the Live Tiles oozing out lot more fun and excitement when they are happily flipping to the dark background.
Add to that a Super Sensitive touch capability; you just got the killer display baby! I did actually try the display with gloves on and it works just as perfectly as it is advertised.
If you do feel that it's a bit too 'touchy' there's always the option to switch it off through settings.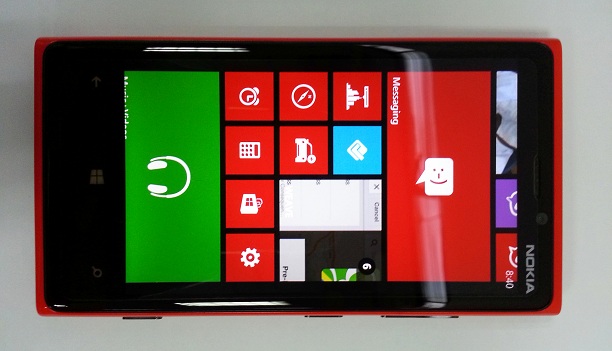 Thanks to the 1.5GHz Dual-Core Krait CPU, 1GB RAM & Qualcomm S4 SoC, the display does absolute justice to Windows Phone 8 by providing the perfect – lag free transitions and smooth 3D gaming performance that'll breeze past the Quad core or even Octa core devices out there in the market. After all, raw performance and specs is nothing if your software doesn't use the most out of them.
Great job by Microsoft for holding tight on the H/W specs for all WP handsets across all three manufacturers to provide a similar experience to the users of WP7.8 as well as WP8.
Multimedia & Sharing
Those who have used a WP device very well know how tightly Social Networking is integrated into some of the more vital parts of the OS.
The Lumia 920 doesn't hold back anything in that context as well. Given that you have synced your Facebook and Twitter accounts when setting it up, sharing any image or video captured with the device can be instantly uploaded onto your profile with just a few taps and a steady data connection. The built in 32GB storage (usable 29.1GB) is sufficient enough for general use – Pictures, HD video recording and a decent collection of music.
7GB of cloud storage provided out of the box through SkyDrive.com is also very useful if you're really tight strapped for storage.
Nokia site states the following formats are supported for audio and video playback: Audio – MP3, QCELP, AMR-WB, AMR-NB, WMA 10 Pro, WMA 9, G.711, AAC LC, AAC+/HEAAC, eAAC+/HEAACv2.
Video – VC-1, Windows video, H.264/AVC, H.263, MPEG-4, MP4, WMV, AVI, 3GP, 3G2, M4V, MOV.
Thanks to the incredible display in the device, 1080p videos play as smoothly as they can and show some really incredible color quality and detail without stutter even when skipped in mid playback. Now that, I'm am sure will help a lot of us during various aspects of our personal lives. *wink* *wink*
Calls, SMS, Internet & Battery
The standard big key dial pad of WP is all about hitting the right digits every time your finger feels the panel, and needless to say it does exactly what a dial pad is supposed to do, very well. And the speaker does well even in loud environments offering a clear voice of the calling party, and there weren't any concerns rising from the listeners of my calls either, highlighting any voice clarity issue or too much background noise. However the mic on the bottom does pick up a lot of wind noise if you're in a windy situation. (i.e. flying a kite).
Thanks to the outstanding intuitive spell check function present on the Windows Phone OS, you won't have any trouble in getting exactly what you mean across the board without much embarrassment. If you add the frequently used regional words and names to the dictionary, as time passes you will breeze through texts and (hopefully) longer literary works with incredible ease. (I did do some serious proof reading of this article on the Lumia 920 – thanks to full Microsoft Office Mobile suite support out of the box).
Unfortunately I couldn't get my hands on an LTE version of the 920 – But don't let that put you off from getting one!
But the 920's HSPA modem really hits its mark without any trouble. Advertised with a maximum capable HSDPA speed of up to 42Mbps and an HSUPA speed of 5.76Mbps, during one of my occasional 0300 hours broadband speed test I did actually hit 31.38Mbps D/L and 1.852Mbps U/L.
Peak hour speed tests made the counters hit numbers between 12-20Mbps at excellent signal locations without much trouble and did maintain those numbers consistently.
The 2000mAh sealed in battery is more than enough to pull you through the better part of a day with calls, texting and some moderate background apps and web browsing with one full charge given, the 3G signals are good. If you wish to delve into hardcore video streaming (I meant 'serious') I'd say you better be close to a charging port to be on the safe side. Switch to 2G mode and turn off background apps – you can really juice it through one full day or more for sure. Always keep in mind to keep the Brightness on 'Auto' so that the screen doesn't strangle you out of essential battery power
In the end
If a good camera, solid premium feeling of the device and a cool Operating System without minding much about many apps is what you want from a phone and don't mind tugging a bit of weight in the process – The Nokia Lumia 920 is certainly the one for you.
Get it, and don't look back – You're gonna love it!