[pullquote_left]Here's Share Your Moment – a smartphone app review contest. All you've got to do is, make a video review of your favourite smartphone app and submit it right here![/pullquote_left]
It's not even YOUR app. But you can't stop bragging about it, coz you've got it tucked in your smartphone working like a charm. Perhaps it's your own creation, and you want to explain how it is different from the rest. Sounds all too familiar? Well, we've all got that one favourite app that we can't resist showing off wherever we go – I'm reminded of Any.do – a neat todo app which is near fabulous!
Smartphones today play a larger role in our routine lives. And what better is a smartphone without apps – the icing on cake. Lights went out? Don't worry we've got Flashlight. Too many post it notes on your desk? We've got Google Keep. How about managing your project team remotely? Asana it is!
Lets face it. There are countless apps on Google Play and App Store – close to 2 million apps on both market places combined with an assortment of categories ranging from work, personal, health to entertainment. But how many of these do we actually come across and download? How many hidden gems are yet to be discovered? Imagine the endless possibilities with all the top notch apps loaded on your own device.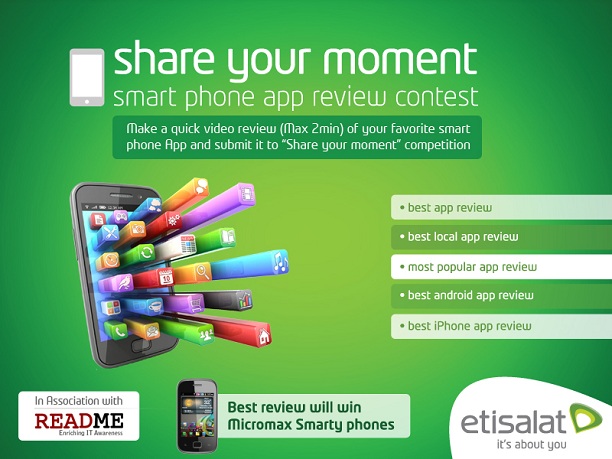 So what about all this? Well, here's the chance for you to show it off in style – to share that one great app that was perfect and can add value to other fellow smartphone holders. All you've got to do is grab your camcorders and webcams, and get it rolling to record a 2 min video, letting the world know what's so special about that epic app you use – yes, please try explaining Fart Bomb!
What's the reward? Apart from you becoming an instant celebrity online and helping out a few friend circles, Etisalat is joining hands with Readme to pick winners from five interesting categories. That is;
Best app review – Overall competition best review
Best local app review – Apps created by local developers
Most popular app review – Through audience voting system
Best Android app review – Downloaded from Google Play
Best iPhone app review – Downloaded from App Store
Best app reviews will be selected by a panel of judges and the most popular review will be decided by the audience. Oh, and you also get some handy smartphones to take away home too. So, why wait? Time to put your videogenic skills to good use right here!