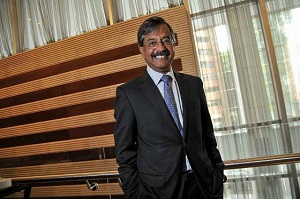 SLASSCOM is like the elephant in the room. The smallest change in the National IT/BPO Chamber of Sri Lanka is bound to have repercussions through the entire industry, so if you ARE involved in any way, you might want to pay attention to this new change: SLASSCOM's advisory board has gotten a new member.
Meet Mr. Pramod Bhasin, founder and vice chairman of Genpact, chairman of the Skills Academy, India and former chairman of India's National Association of Software & Services Companies (NASSCOM).
He's also heavily involved in Indian industry: NDTV, Bank of India and SRF Ltd. and a couple of large educational institutes have him on their boards as well. TL; DR: this guy is Involved. Capital I.
More relevant is the fact that he is regarded as a founder of the BPO industry in India, which currently employs roughly a million people. There's not much we can tell you that Wikipedia can't – in fact, this article on the Island will serve as ample record of Mr. Bhasin's achievements.
The ultimate result of this is that Sri Lanka will be getting another veteran hand to help guide and shape its BPO industry in years to come. 
Have something interesting and IT related to share? email the [email protected]