Ah the classifieds, that one place on the planet which can be filled with ads and yet not annoy us. Classified advertising started and to this day of course, is famous for being those sections in newspapers that are swamped with various ads.
Though like many things in today's modern world, the classifieds have also embraced technology and moved online. A quick Google search will show you those in Sri Lanka, though few seem to have embraced mobile.
One of these few classifieds websites is SMSads.lk, an SMS based classified ad portal (the previous being mytrader.lk) in Sri Lanka. Currently smsads lists: vehicles, properties, jobs, useful home goods, lovable pets and of course electronics.
To create a new ad with smsads, all you need to do is type ADD on your Dialog subscribed mobile, then your advertisement with your contact number/email and send an SMS to 77100. Similarly, you can also browse for ads by typing FIND, then a keyword explaining whatever it is you're looking for and send an SMS to 77100.
We ran a few tests to searching for ads and in each test we got results within a minute of sending the SMS. The results contained most of the information about the ads such as information about the products as well as the seller's contact number; however some ads didn't have one of the most important pieces of information: price.
Currently at the time of writing, SMSad's SMS service is only available on Dialog, but if you're on another network then you can head over to their website to check out what they got in stock. When you head over to the website, you're greeted with a page that is surprisingly clean that lists all the latest ads along with a search bar and a menu bar above them.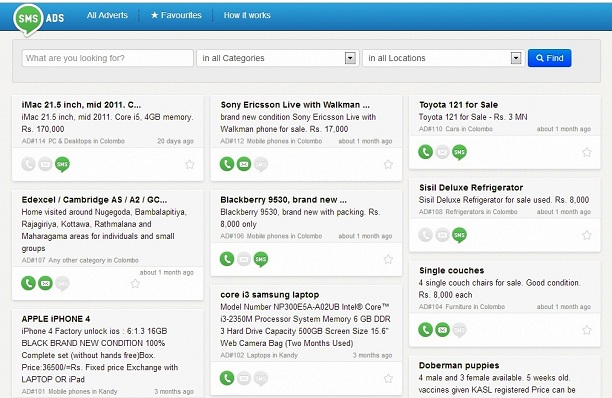 The ad listings on the site contain the same information as what you get after carrying out a query via SMS; this means you shouldn't expect to see any pictures on the listings on the site. The listings on the website do have one extra bit of information which is the sellers email address. You can also contact the seller via SMS on the website; all you have to do is give your mobile number.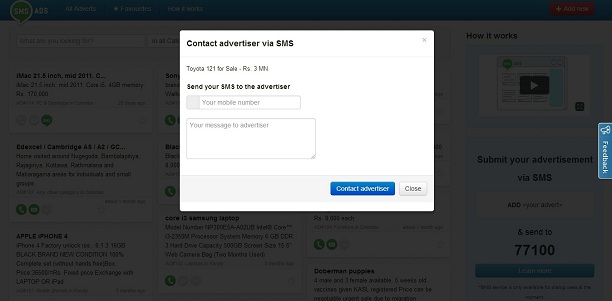 The search feature on the other hand, is a level above that of the ad listings. On the website after entering a keyword, you can filter results by category, as well as by location, which means you can get the ads you want a lot easier.
The website also allows you to add your own ad's as well. All you need to do is simply click the small red button, "Add new" and then a webpage form is loaded. On the webpage form you must give a title and description of whatever it is you wish to sell and select the relevant category along with your location. Surprisingly contact information and price remain optional.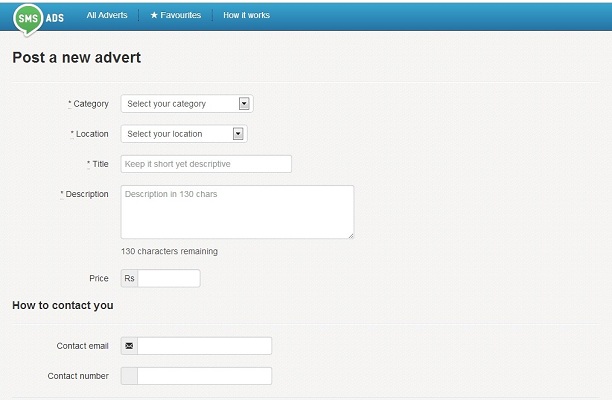 Overall we have to say, we are pretty impressed with SMSads, though it does have its flaws. Firstly, it should put more emphasis on asking for price as well as contact information when anyone wants to create an ad. Secondly, if it could work with MMS so that we could see some pictures with the ads that would be great, after all it'd be nice to know what condition the gadgets that have been listed are in.
Bottom line: SMSads is a cheap and easy to use classified ad portal, which you should take a look at the next time you plan on making an ad, particularly if you're using a Dialog subscription.
Have something interesting and IT related to share? email the [email protected]