A T-Shirt that helps you make new friends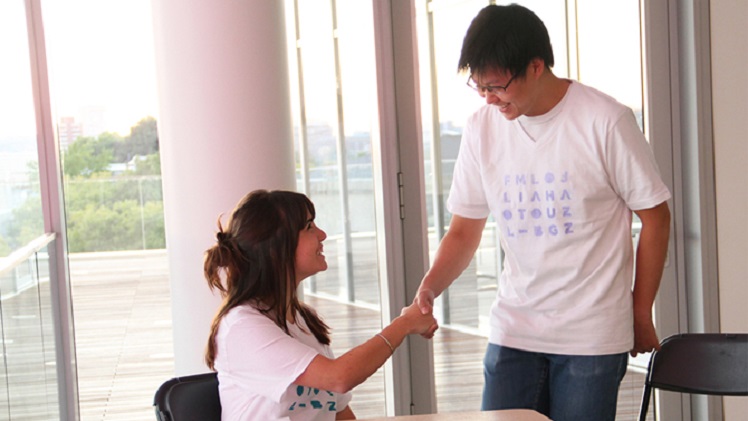 A group of students from MIT's Media Lab have developed Social Textiles, wearable shirts that inform you when another Social Textiler is within proximity and then automatically communicates your shared interests.
It uses a few kinds of technology already familiar to us such as smartphones, apps, thermochromatic ink and haptics.
Although this form of social interaction actually requires you to leave your house (not the most comforting thought for those of use who tend to be very reclusive), once you put on the T-shirt and go out in public, the shirt, which is wired and connects to your phone app via Bluetooth, lets you know if another Social Textiler is in the area by gently tapping you on the shoulder via the haptic sensor.
The tap is your cue to look around for someone wearing a Social Textile shirt. When you see that person, you greet him/her by shaking their hand. The skin contact generated by that sets off a tiny electrical charge that activates both of your shirts. If you have any interests in common, the thermochromatic ink on the shirt will spell it out.
For example, if you both like rock music, the word "rock" lights up. Quite a conversation starter eh?
WhatsApp hints at voice-calling, then takes it off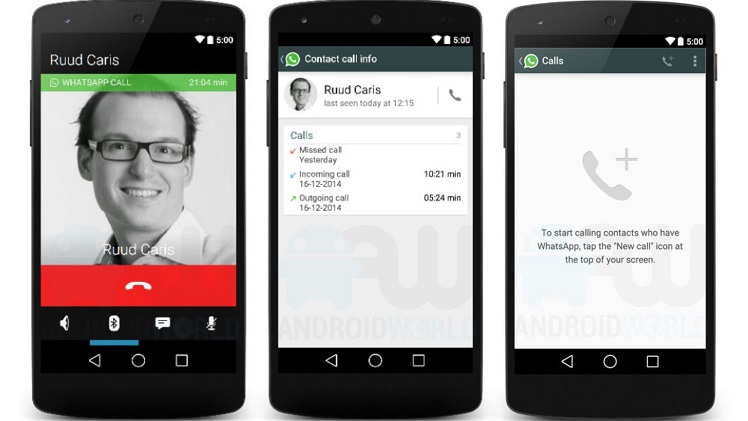 You probably heard over the last few weeks about WhatsApp's new calling feature. It is one eagerly awaited functionality. The feature was activated for some users who could pass on the invitation to their friends by making a WhatsApp call. But alas, this has since been disabled by WhatsApp.
Apparently, if you were running WhatsApp version 2.11.528 from the Play Store or 2.11.531 from WhatsApp website who saw the caller icon on their app, could make a call to their friends and thus pass on the invite, the invite being a call from someone who already had the calling feature activated.
Although users who have activated this feature, can still make calls to their friends, they cannot activate the option for others. It would appear that WhatsApp was simply testing its servers for the call functionality.
First seen in India, via Reddit user pradnesh07, users who receive the voice-calling feature will notice an icon for it, beside the Chats and Contacts tabs. The call interface seems to quite similar to a smartphone's contact directory. The app keeps a record of recent WhatsApp calls as well.
BGR India also claimed to have received a call in the testing phase from WhatsApp India head Neeraj Arora. According to the site, the call quality on 3G and EDGE networks was quite good with 3G networks giving better audio quality.
Google Inbox is coming to Google Apps accounts.. Finally!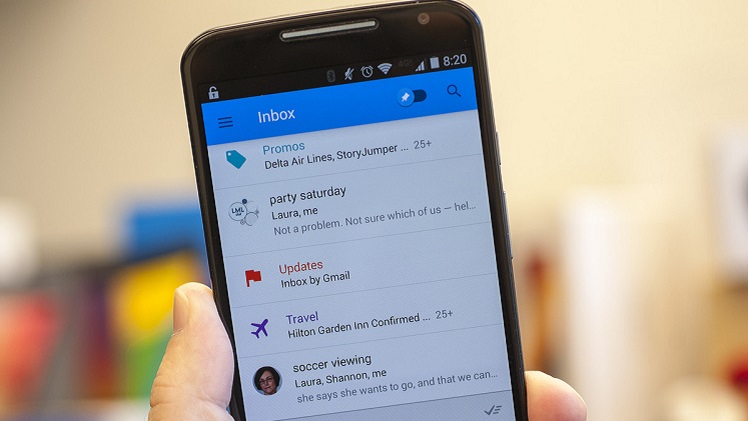 Google Inbox was touted to reinvent the email app, And for some, it did. But work accounts have been unable to use the service, Until now.
Google is expanding Inbox to include Google Apps for Work accounts. Although this doesn't mean anyone with an Apps email account can just connect with Inbox, the account's administrator must apply to join the "early adopter" program for Inbox and then wait for approval, which is not likely to happen at least until March.
This news however, does move Google's vision of email forward by including what is very arguably the most important party: work accounts. Among Inbox's most notable features are instant creation of to-do lists and the ability to dismiss all messages of a certain type quickly, which are both obviously good for work accounts.
So how do you apply for an Inbox for Work account?, Well your Google Apps administrator can email [email protected] to request Inbox be enabled on a specific account. According to Google, it will start enabling Inbox for Work next month, although it plans to work closely with the early adopter companies, so it won't be approving every request.
The app is currently available on iOS and Android as well as in desktop browsers.