It looks like retail tech (and other things) giant Softlogic has been downgraded by Fitch Ratings from A- (lka) to BBB+(lka).
While investors no doubt have much to say about this, what concerns us more is this statement: Weakness in IT and Retail Business: SHL's IT business continues to face margin decline due to intense competition in the mobile phone and computer hardware markets. SHL holds the distributorship for Nokia phones and Dell computers in Sri Lanka. Earnings at SHL's retail business have also come under pressure due to strong competition.
On the mobile phone front, this may be readily apparent: we've seen an expansion of the gray market that's sent most retailers with high margins reeling. Take the Nokia Lumia 920, for example: a phone which, at the time of writing, Amazon is selling unlocked for $599, Softlogic is selling for a whopping Rs 86,000 and QTel Holdings in Liberty Plaza is selling for just under Rs 40,000. The gray markets of Liberty Plaza and Majestic City effectively have cornered this market. It's not just Softlogic that's suffering – any large retailer looking to make a high margin have had their knees cut out from under them by legions of "shoppers" who surreptitiously hand-carry stuff in from other countries. 
On the computer hardware front, Softlogic appears to be suffering from a major weakness: an almost negligible online presence. Softlogic's byzantine main site seems more concerned  about touting their brands and corporate history rather than providing a decent retail interface, price list or even a central point of contact: their store locator (http://www.softlogic.lk/map_locator-6.html) is hidden all the way at the bottom of the site: their social media might as well be nonexistent. In this, Softlogic is losing dangerous ground to smaller, nimbler retailers.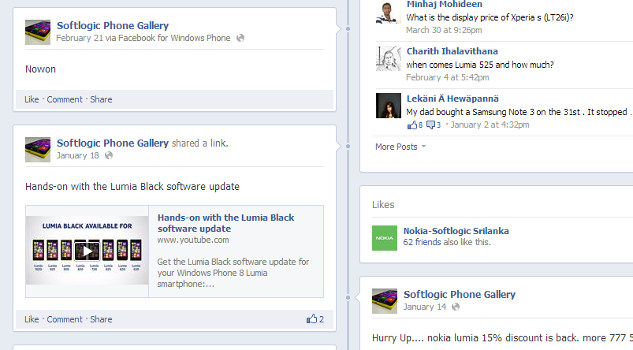 Nevertheless, Softlogic is a staple of Sri Lanka – they've existed since 1991, long before some of us owned a computer, and they've long since expanded past the IT sector. We have confidence that they'll bounce back without issue – but on the retail front, they'll have to try a bit harder.