The tourism sector of Sri Lanka has set an ambitious growth target of 22,500 additional hotel rooms by 2016 – a required CAGR of 7.4%. While a few large hotel chains have entered the market, many mid and small tier operators are opening properties at a rapid pace. Destination management companies are actively looking to enhance their strategies to position the unique product Sri Lanka has to offer the world and compete aggressively with other Asian options. Positioning the country as the best option in front of the target market and delivering a consistent guest experience have been identified as the key challenges of growth.
The BIG asks by Sri Lanka Tourism Industry:
Attract:
Position Sri Lanka as a unique and optimal destination with targeted clients through their medium of choice.
Showcase the variety of options that cater to different tastes and help individual destinations and experiences captivate and welcome guests.
Service:
Incentivize and capture increased revenue spend from each visit.
Optimize cost management in order to enhance profitability.
Retain:
Deliver and manage consistent guest experiences in keeping with our signature Sri Lankan hospitality.
Enhance loyalty and referenced reach to friends and family.
In April 2013, AMCHAM Sri Lanka and Sri Lanka Association for Software and Service Companies (SLASSCOM) in partnership with Sri Lankan Tourism and ICTA called out for compelling and effective IT solutions that would help drive Sri Lanka Tourism. This initiative gave birth to Sri Lanka Tourism 2.0: a search for innovative local IT solutions that would benefit the Tourism industry in Sri Lanka.
Companies that are currently serving this industry and have solutions that enable any of the predefined key focus areas of tourism were invited to apply. Interest sparked online and offline with Maharaja Corporation's TV and Radio sponsorship and an impressive total of 35 local companies called in by the end of 31st May.
Evaluating the companies on the nature of their solutions, the applications were grouped into four major categories:
1.    Marketing Sri Lanka as a destination
2.    Marketing individual properties, destination management companies and experiences
3.    Enhance and manage top line enablers
4.    Optimize cost management
After a screening process based on information provided, 6 solutions falling into each category with a total of 24 convincing IT companies were shortlisted and invited for a pitch contest on the 13th of June. The presentations were assessed by a panel of five distinguished judges, comprising Srilal Miththapala, Project Director, EU – SWITCH ASIA greening hotels project, Dileep Mudadeniya, VP Brand Marketing JKH Hotels and Founder – Center for Research and Sustainable Studies in Tourism, Udana Wickramasinghe, Director / CIO at Sri Lanka Tourism, Wellington Perera, DPE Lead at Microsoft Sri Lanka and Rohan Jayaweera, Country Consultant at Google Inc., with a thoughtful blend of two from the IT industry and three from the Tourism sector, and based on their combined scores, three companies from each category was selected to present their ideas at the grand finale to be held next month in parallel with an exhibition open to the general public.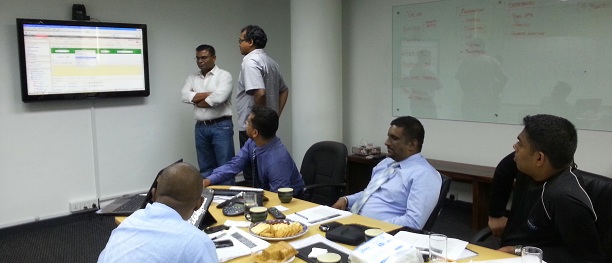 This year, the first of many, will see a healthy participation of some known and reputed companies together with a handful of SME's who have been shy of the limelight. Among them are Fortuna Global and Holiday Triangle Travel in the Marketing Sri Lanka as a Destination category. Marketing Individual properties/ experience/ DMCs would accommodate Trekurious and eMarketingEye. Enhance and manage top line enablers will have the promising iPhonik, and Optimizing cost management category will welcome Enterprise Systems and John Keells Computer Services.
Interestingly, CodeGen International will be eligible to participate in the first three categories and Scienter Technologies in the latter two. The selected 9 companies will participate in the final pitch and exhibition, and not only will have a chance of clinching the coveted titles but will also have the opportunity to gain much needed media publicity and awareness by showcasing innovative and effective solutions that will have long-term tangible impacts on the Tourism industry in Sri Lanka.
Have something interesting and IT related to share? email the [email protected]