As extracted from GSMA Intelligence – Country Overview: Sri Lanka.
Word Puzzle is an interactive SMS based service which aims to improve the user's English language vocabulary. The service is developed by a Sri Lankan start-up, Square Mobile and is currently offered through Etisalat in Sri Lanka and Nigeria. The first tri-lingual offering of its kind in Sri Lanka, Word Puzzle offers service delivery in two local languages Singhalese and Tamil. The service records each user's response to vocabulary based questions and then ranks users in comparison to other players. This creates healthy competition and provides an incentive to learning.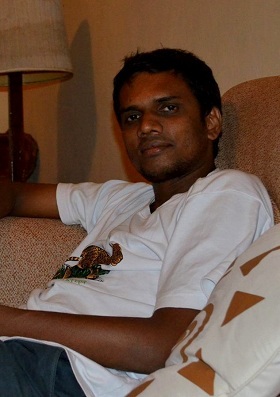 What's the story behind the Word Puzzle app and Square Mobile?
I developed Word Puzzle when I was in second year of college at University of Peradeniya. The idea came by chance when I participated in Etisalat's Appzone Champions competition in March 2011 and won the intra-university level. I was interested in their workshops on app development and decided to participate.
The success of Word Puzzle after the competition boosted my entrepreneurial spirit and the exposure I received through the competition events led me to launch Square Mobile.
Recently, the growth of smartphone penetration and mobile app development has been strong in Sri Lanka. The youth are keen to own a smartphone and are buying new phones more frequently. So faster technology adoption is creating more business opportunities for companies like Square Mobile.
How is this service being scaled to reach a larger audience?
Since our launch in 2011, we have increased our Sri Lankan subscriber base to 5000. We have been using LinkedIn to find and connect with potential partners abroad. [pullquote_left]In Nigeria we're adding almost 300 subscribers per day and expect around 100,000 users in the next six months.[/pullquote_left]Through LinkedIn, we found IntoMobile and partnered with them to launch operations in Nigeria in February this year.
In Nigeria we're adding almost 300 subscribers per day and expect around 100,000 users in the next six months. We're scaling our business; we have expanded our team by three members and are moving into a new office in Colombo next year.
What is the value of partnerships, particularly MNO's? What support did you receive from operators?
Sri Lanka proved to be a good launch pad for us. We started locally but we were always thinking of scale, and the global context. After our success at home, it was easier for us to launch the product in Nigeria. The Nigerian telco industry is boosting up now, so they are thirsty for value added services and feature phones are the most prevalent devices there.
This means there is a good chance for SMS/WAP services like ours. We have partnered with IntoMobile in Nigeria and the product is hosted by Etisalat Nigeria. In Nigeria, Etisalat is providing free bulk promotion of our service amongst their subscriber base, whereas in Sri Lanka we have to pay for such mass marketing campaigns. We are also in talks to launch Word Puzzle in South Africa.
What are the internal and external challenges you have faced?
We faced some issues in setting up partnership agreements because we did not have any legal expertise. Lawyers are not only expensive but very hard to find for our field of operation (IT and communication). However, getting initial funding was the biggest challenge. There are very few funding opportunities in Sri Lanka. We raised some initial money from our friends and family, and since then the revenue from Word Puzzle has helped us sustain operations. We also got $5000 from ICTA's Spiralation competition to develop a travel app. Before we were selected by ICTA it was hard to find mentors. There is no ecosystem for start-ups in Sri Lanka yet. But the market is opening up and there will more opportunities in the future.
What is the future of mobile for development services in Sri Lanka?
The education system in Sri Lanka is evolving. When I was in school, IT courses were not compulsory and there were no IT teachers either. Now the government has trained teachers to achieve their IT literacy target of 75% and made IT courses compulsory for every student. This is creating more interest in ICT in the country.
In the last two years, mobile developers have become interested in developing applications in the local context. Earlier there was no local language support for Android mobiles, but Sri Lankan developers overcame the problem and now there are more mobile apps in native languages. This is a good foundation for the mobile app industry in Sri Lanka.
Find original article here.