Mobile phones one of the great marvels of technology that has evolved into a need. Well not as much as food, water, shelter and medical care but almost after all, without it we wouldn't be able to check-in to the theatre before the movie begins or instagram our meals or listen to some good music on YouTube during those long bus rides and in general keep in touch in this ultra-connected world.
Speaking of mobile phones, recently Sri Lanka set a record by shipping 0.71 million of them, according to a market review by CyberMedia Research. Just to be clear folks, by shipping we are referring to the phones that went from the factories to the numerous retailers, which helps identify the demand for mobile phones here in Sri Lanka.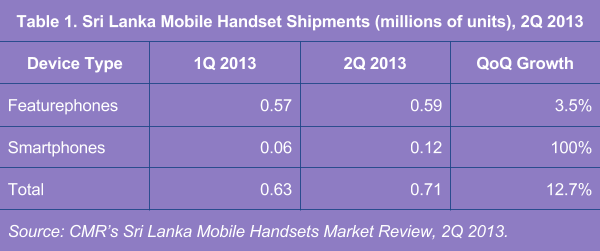 Looking clearly at the shipments as shown in the above table, Faisal Kawoosa, Lead Analyst, CMR Telecoms Practice said, "As the results suggest, there has been a marginal increase in shipments of feature phones in Sri Lanka, while growth in smartphones has been comparatively much higher. Therefore, it becomes imperative for vendors to establish a strong presence in the latter segment."
So currently who rules the mobile phone market in Sri Lanka during this historic moment? Considering feature phones were the most shipped phones here it's not surprising that Nokia is dominating, with Samsung and Micromax trailing in 2nd and 3rd place respectively.
However Nokia's reign is on a timer. As we can see from the above table and Faisal's comments, smartphone shipments are rapidly increasing in contrast to shipments of feature phones, and if we take a look at the state of the competition in the smartphone market we see a slightly different picture: Samsung and Micromax fighting it out for dominance, with their cheap entry level Android phones, with no sign of Nokia.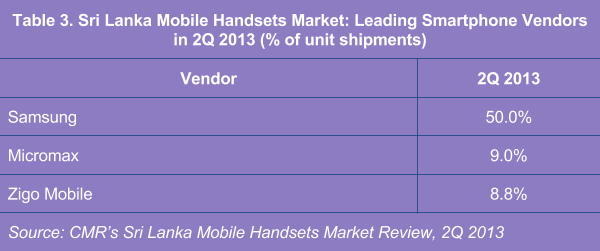 Faisal also commented on the state of smartphone market saying, "Handset OEMs, especially Nokia must strengthen their smartphones portfolio to be able to monetize the increasing trend of adoption of smartphones amongst Sri Lankan mobile telephone subscribers."
Tarun Pathak, Analyst at CMR Telecoms Practice also commented on these results saying, "The second quarter of 2013 saw a significant increase in the entry level Android smartphones in the island nation. More and more subscribers are now opting to shift from feature phones to smartphones in the urban areas as 3G coverage increases steadily. Due to this shift in consumer preference towards smartphones, many local apps were launched in the quarter that suits the needs of Sri Lankan smartphone users, particularly in the entertainment, banking & insurance domains."
As Tarun mentioned, indeed we saw quite a few local businesses take mobile seriously, such as Yamu.lk and certain businesses like Takas.lk optimizing their websites for mobile. With the increase in smartphone shipments and by extension usage, chances are we'll see more such efforts which we are most definitely excited for.