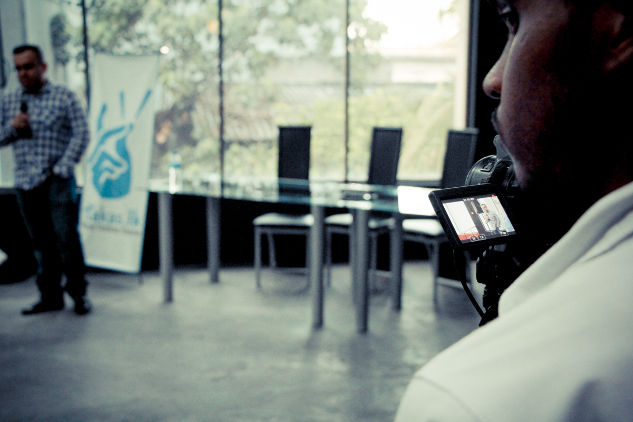 Orion City: March 3rd. The upper floor of the aptly named Chips and Bytes cafeteria suddenly finds itself with a 5′ O clock crowd. We take our seats in front of a crowd of tech heads and business enthusiasts from all walks of the IT industry. All of these people are two things in common: they're in the same geographical location as each other, and they all have a passion for startups.
Other countries have their Silicon Valley power meetings and what have you: here, we have the newly-created Sri Lanka Tech Startups forum, the brainchild of Manoj Ranaweera, with Readme's own Enosh Praveen serving as the host. The idea, we were informed, being to bring together people who've taken the plunge into startups of their own and to to give them a leg up. Let's dispense with the introductions: after a very short ice-breaker, the first lessons started flowing – from Manoj Ranaweera, the force behind the creation of today's event. Manoj, who in his own words is a "self starter", specialises in SaaS startups. His speech is the initiator of a line of speeches guiding startups on how to define themselves, pitch to investors and secure funding. 
"All start-ups start with an idea," he started, talking about the actual process of beginning a startup. It's easy to begin: you can simply wake up one day and decide to start something up. The question is, what – and how – do you proceed from there? And how do you reach people and get them to use your product? Manoj's study was in how to get a startup off the ground-successfully-using companies like Salesforce, Whatsapp and Facebook as examples. His short-and-sharp presentation concluded with the importance of a proper distribution network for your product, regardless of it's nature.  
Next came Lahiru Pathmalal of Takas.lk. "There are two types of people in the world: those who have money, and those who have none," laughed Lahiru, sharing the lessons learned from his fundraising rounds for Takas.lk. "So basically you're going around with your hat in your hand asking for money."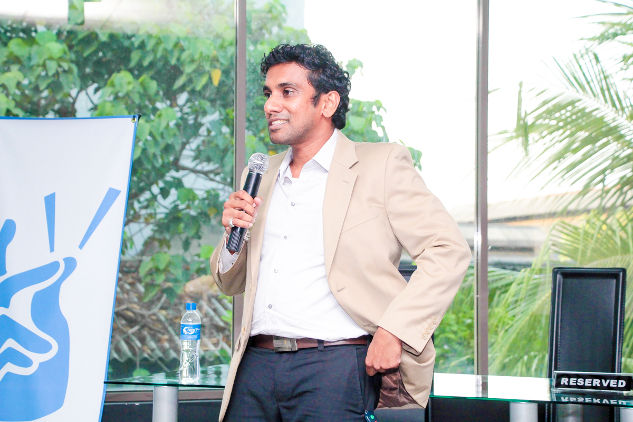 Lahiru's first lesson was how gut feelings aren't enough: you need to back your idea up with research and analysis – ideas are cheap: execution is never easy. "You're telling a story to your investor," he stressed. "You're not just pitching an idea: you're telling a story. And to get though and connect you really need to learn to tell a good story. Have a concise, short story that makes sense. The first slide you show should be the problem you solved with your startup's product. Start from there and tell people why you're important."
The third speaker flipped the tables: it was Jeevan Gnanam, CEO of the Orion Consortium and the creator of this particular piece of real estate which we now inhabit with our laptops and whatnot – to wit, Orion City. We expected the tale of how Orion City evolved from five desks in a corner office to the gargantuan IT Park it is today: what we got was something more relevant – what investors expect from startups. 
"One thing is, we don't look at people who grow companies to sell them off," he stated. "We look at long-term growth plans, we look at how flexible they will be – but we rarely look at companies built to be sold off. For example, take Orion City: I'm not going to sell it. I'm going to be here until..well, until I die. That kind of commitment matters to an investor."
Next came the first panel discussion. As the moderator, Enosh got the ball rolling by quizzing Lahiru on how he got into the startup game. 
"An entrepreneur is more like a jack of all trades," said Lahiru. "The moment you specialise in something, you figure out ways to do just that and make lots of money off it. But in my case, I didn't specialise: I basically had a choice – a path where, by the time I was fifty, I could afford a fancy car – or I could take a risk and see what happened. I took the risk. "
The next question was particularly valid: how Sri Lankan society perceives an entrepreneur – and how the Big Three (Doctor, Lawyer, Engineer) espoused by parents all over the island may become a Big Four and include Entrepreneur in those ranks.
"It depends," answered Jeevan, pointing out how need often drives entrepreneurship and how success ultimately changes everybody's minds. Manoj talks about how the UK – and other countries – look to Silicon Valley and think "How can we do that?" 
"But entrepreneurship is not a job," he stated. "It's something you are. It's not for everybody. You need the specialists. I think two, three years down the line, we'll be able to see this as a viable option – but as a choice, not a rigid path."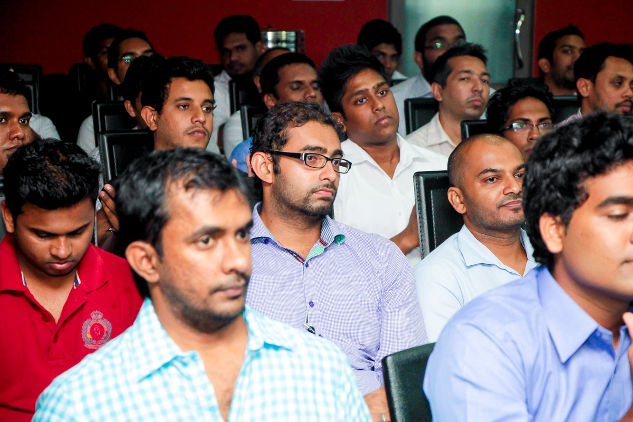 Enosh's next question was straightforward: "Why is it that most of the entrepreneurs are foreign-educated? Is there something lacking in our system?"  Whoops.
 
"I really think the problem is spoonfeeding," replied Jeevan. "It's like – here's the problem, here's the solution, end of story. Here's one answer. But that's not how entrepreneurship works: you need to have many answers and you need to come up with them on the fly all the time. I think Sri Lanka as a whole needs to get out of this spoonfeeding – and also accept failure not as a social stigma but as a natural stepping stone to success."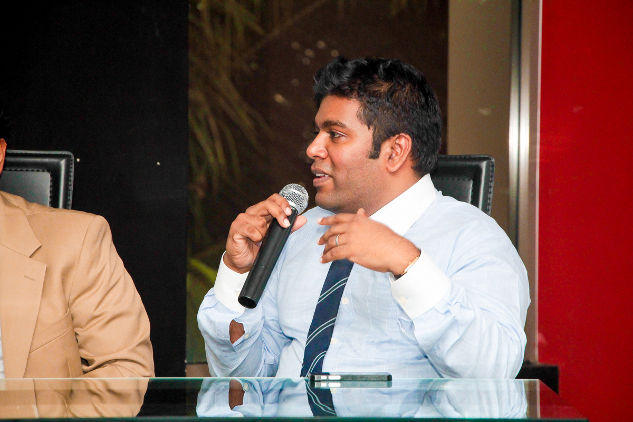 That's a very valid lesson right there. Fear of failure is certainly buried deep in our education system: whether it'll be rooted out or not – well, one can only keep one's fingers crossed. 
The final question: technology-wise, how far has Sri Lanka come in terms of technology? These ARE tech startups, after all. Manoj, drawing on his extensive experience at Manchester, points out that we're actually pretty high up on the curve – a small population, a small area, extensive cellular coverage – the basics are all here.
"Actually, there's another way of looking at this," pointed out Jeevan. "We're in a unique position where we can actually do more with less. Don't focus on what you don't have – focus on reaching further with the tools at your disposal."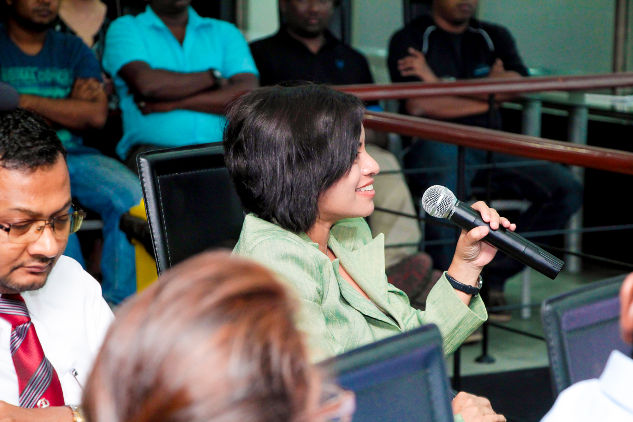 The second panel (yes, there's a second) was the more legal of the two. Chaired by Manoj, the second panel explored what needs to change on the policy front. To that end, we had Ruwindhu Pieris of SLASSCOM, Deshal De Mel (Director, Sampath Bank), Anushka Wijesinha of the Institute of Policy Studies and Fayaz Hudah of Spirilation.
Manoj kicked off with an examination of how the government is or is not helping this massive industry. It was pointed out that Sri Lanka's education system is not very responsive to the market:  for the system to be more useful, you need to have a feedback loop between the market and the education content itself. The topic inevitably strayed to the question asked in the previous panel – why most entrepreneurs tend to be foreign-educated: Anushka pointed out that it comes down quite a lot to the external leadership roles offered by schools outside the syllabus.
"More than the hardware, it's the soft skills that matter," he said. "I've known people who've been involved in societies and events at school and been far better right out of school than any graduate, local or foreign."
Past a maze of legislation, navigated by Fayaz, the disappointing lack of support from the government was revealed. Startups in Sri Lanka have quite a few hoops to jump, and it's the efforts of private corporations and individuals that are currently driving the startup wave.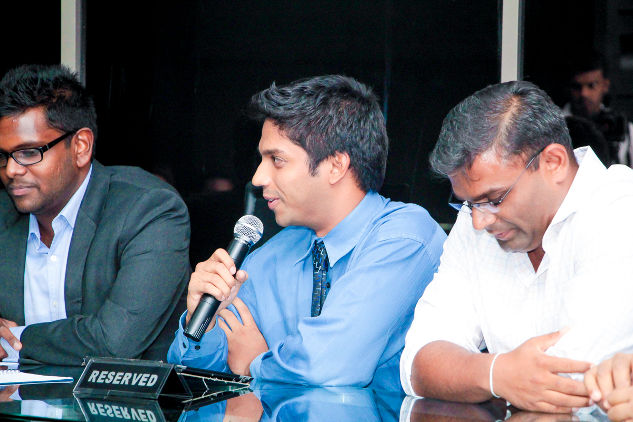 "I think for venture capital to be successful, we need a meeting of minds," said Deshal. "There were some early funding projects that failed, because the investors  – mostly banks – ran the startups just like they'd run themselves. You can't run any startup like that. I think investors in this country need to know more about what they're getting into. Plus I think it's important that the government also steps in and sets a right framework for this kind of thing – there's so many ways we can expand if allowed to. Take Paypal: take crowdfunding."
"I think another thing the government can do is to make things easier for startups," finished Anushka. "If you want to attract VC funding and the VC is a foreign investor, what do you do? There're many regulations here that are making things more difficult rather than easier. A little bit of help here would go a long way."