It's evening as we – and by we, I mean four of the Readme crew – rumble into Col. TG Jayawardena Mawatha, a small road wedged firmly between Flower Road and Duplication. A row of houses greet us there: we put-put-put our way down the path, scanning the neighborhood for number 30/3: a two-storey house with no decoration save for a screen on the second floor.
Inside, studio founder and head Prithvi Virasinghe ushers us into one of the geekiest offices ever built in Sri Lanka: two floors of dual-screen computers, comfy leather chairs and Star Wars posters.This is Dawn Patrol, perhaps Sri Lanka's biggest (and possibly only) game studio. In this space, twelve people make games.
Upstairs, a group of volunteer testers are bent over iPads, play-testing Dawn Patrol's latest creation – Nitropia, a brutal sci-fi tower-defense game that brings back memories of Starcraft and Zerg rushes. Two developers hover behind them, jotting down feedback. (Click here for the full photo album of our tour through the studio).
Dawn Patrol began almost three years ago. Prithvi, then Creative Director at 345 Games (MTV USA's game division), had just finished wrapping up Deadliest Warrior, a Bushido Blade-inspired 3D fighting game with a realistic approach to combat. Deadliest Warrior scored well among the players, and Prithvi suddenly found himself with a unique opportunity: the chance to break out on his own. He promptly set up Dawn Patrol with four other partners, including his wife, and began his quest for funding.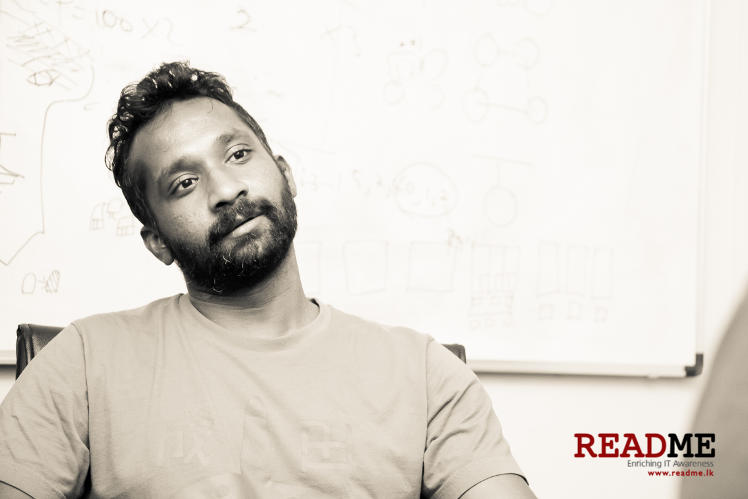 "I think you always want to make your own games if you're a game designer: it's a point where you have the chance and can take the risk," he says sombrely. "We were initially going to set up in Singapore.
But then Sri Lanka Shipping came in with funding. Sri Lanka Shipping doesn't sound like a tech company, but they used to have major tech investments in the 80's: in fact, we're their first tech investment in quite some time. It was a chance. We threw in some of our own money, packed our bags and came to Sri Lanka.
It wasn't easy. At first we had timezone issues with the other founders – it got really hard for them to work, them being in the US and us being here in Sri Lanka and all – and two of them eventually turned away, with no hard feelings. Both went on to do really cool things – one of them became creative director on the Last of Us.
We're doing really good right now. We have twelve people – four technical artists, programmers, one producer, accountant, project manager: I handle the production end, and my wife is our director of art. Our current work – Nitropia – is looking good. I'm optimistic."
Dawn Patrol's design process is two-fold. On one hand, they have their major projects – large games, like Nitropia, which start off with a design meeting and are heavily data-driven: a major part of making the game is deciding what kind of market it has. These ideas are then mulled over, and a design emerges with different people in charge of different aspects of the game: Prithvi, for example, is the designer of Nitropia, while his wife, as the Art Director, is responsible for the look of the game.
Then they have Prototype Friday, where everyone comes up with their own ideas. There's a vote and people start working on the best ideas.
It's certainly not hard to imagine the Dawn Patrol team chilling upstairs and discussing quirky new games over a couple of beers and a game of Foosball.There's a distinct sense of freedom here – a lack of cubicles, a huge recreation area up top, an actual Commodore 64, big-screen TV and consoles to muck around with – it's a huge departure from the average Sri Lankan office.
But like any startup, getting Dawn Patrol up to this state was a trying experience – even more difficult given its scope: game development. While the office hasn't changed much since I first visited them in 2011, the team certainly has.
"The biggest issue for us is that there isn't really anyone here who's done professional game development. Finding the right people, getting the team together, it took a lot longer than i expected. You need four things for a game: art, design, tech and sound. You need a diverse set of people – you need an artist, you need a designer, and so on: you can't just put a bunch of people together and tell them to make a game.
Finding artists, especially, was hard: there isn't real 3D industry here. We were lucky to find some really passionate people – we had a few misfires, we had to lay off some people who didn't fit," explains Prithvi, when questioned about the issues they faced. "When we say "I'm making a game" I sometimes get this thing where people don't know what we're doing – I think in Sri Lanka you need to be a doctor, lawyer, engineer to get there.
The concept of working for equity, which is what startups usually use to attract people, is a bit alien here. So if you want to attract the best talent, you need a good package."
How successful has Dawn Patrol been, given the conditions? According to Prithvi, their first project failed, but it served to bring the team together – a trial by fire, as it were. "We're at industry standard right now: the stuff that we're doing right now is on par with what anybody else is doing anywhere in the world. Mind you, we're not breaking even yet. We're still trying to get better things going: the current game we're working on, Nitropia, is what we're really staking our claim on – the other were games that we had to do to get better."
But the future isn't set in stone. Horror stories of indie failures are two a penny: indeed, in today's industry, even AAA game studios are struggling to stay in business. Part of this, of course, stems from the fact that most of these stories come out of the US, where expenses are pretty high; another part stems from the crowded app stores and competition on pretty much all distribution channels.. What happens if Dawn Patrol fails?
"At some point you know the money's gonna run out – that's the inherent risk of running a startup – and if you keep failing continually, you have to ask yourself if what you're doing is right.
If we don't make it with this (Nitropia), I think that would be really good point to take stock. The thing about game development is, you can make ten different games: ten will fail, the eleventh will work. You can spend nine months on a game: you can spend two weeks on Flappy Bird and the bird would sell." Prithvi points out, addressing the biggest challenge of the gamedev industry: there's simply no formula for fun.
"There are intangibles that nobody understands. You can tell people that you've made a game, but can you tell people that you've made an experience? That's what we're trying to do.
We've worked together, we know how things fit, we know how we work with each other, which is why we're ready to get on the next big thing. But we also have a small bunch of gaming initiatives – some of them might work. Not just large, dense games, but something super light, funny, quirky, simple that people can enjoy."
Being a relatively big fish in a small pond can get very lonely at times, Prithvi points out: generally, there's a whole indie culture in which people can get together and discuss and bounce ideas off each other – that culture's absent in Sri Lanka. "A lot of indies are driven by other indies: there's just so much energy. Here, there's a huge disconnect.
I think in order for the industry to grow, we need people to connect with each other and share that spirit. At some stage we'd love to help that along.
It's happening. Three years ago there was almost no startup scene: now there is. I'm optimistic about this. Hopefully the team we have right now, too, will eventually grow and maybe set up their own teams in the future. Sure, it'll be a great loss for us, but a huge gain for a new industry in Sri Lanka.
We can definitely support our own industry here – the beauty of it is, Sri Lankan people are really passionate about supporting Sri Lankan things. If you're outside Sri Lanka, and you meet Sri Lankans, you start a conversation based on that. There is that spirit. It's a matter of taking it in this unknown direction – game development – and making something out of it."
Editor's note: Dawn Patrol Games has shut down.