Tech One Sri Lanka is a Distributor of Microsoft, and a certified partner for learning solutions providing certified trainings. It's not everyday that we see Tech One Global on the local news. This discreet and prolific company, as we found out recently, is a Global company that has operations in 7 other countries that include Brunei, Bangladesh, Maldives, Philippines, Nepal and Singapore.  This dedicated software and educational services company caters mostly to Corporates, SME's and individuals. An MI6 of software, maybe?
Full of curiosity, the Readme team dropped by Tech One Learning Open Day: a CSR project that focused on helping students to identify and pursue their future career path. It was, needless to say, the very first Tech One event we had attended.  Open Day apparently began with a light introduction to Tech One Global, moving onto a short introduction via Skype by Akfash the manager for Learning Solutions, all the way from Tech One Brunei. By the time we arrived, all this had been dealt with. We entered Tech One premises, took in the audience of around fifty young and energetic students – all listening closely to a rather motivational speech on career guidance by Mr. Wellington Perera, DPE Lead at Microsoft Sri Lanka.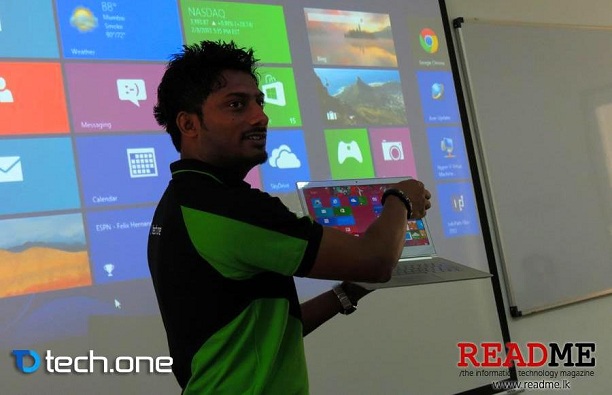 Later, Suman Subramaniam (one of the most experienced trainers at Tech One Sri Lanka) took on a technical demonstration: a complete and thorough run-through of Windows 8. Particular attention was given to the most controversial aspect of Windows 8 – the UI. While we've read plenty of reviews on Microsoft's newest OS, this was the first thorough review we've seen with a Sri Lankan perspective.  Love it or hate it, Windows 8 is Microsoft's latest "Big Thing", so it was worth our time to see what Suman had to say. We all agree it looks brilliant on a touch device – on a desktop, it's going to take some time getting used to.
The demo-slash-walkthrough was followed by more career-building guidance and inspirational speeches by Mr. Balachandran Gnanasekaraiyer (IT educator and consultant) and Mr. Sujith Bandulahewa (master toaster, HR trainer and Sportsman) and a short award ceremony for those who won Tech One's FB contests. This apparently took place during the week running up to the event and during the event as well. With that, we broke off for lunch – quite delicious – and eventually departed pondering whether or not to install Windows and see if we like it as much as everyone else does!