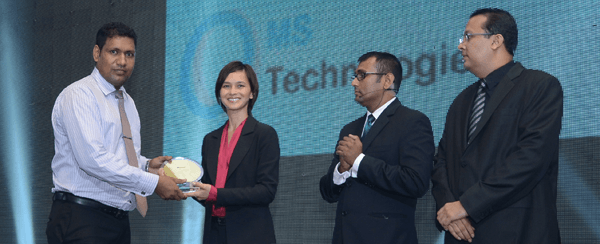 MS Technologies (Private) Limited was honored with the Microsoft Best Public sector Partner of the year award at the recently held Microsoft Sri Lanka Partner Awards 2012. The event was held on 3rd August 2012 at Waters Edge, and the award was received by Mr. Padman De Silva, CEO of the company.
MS Technologies which has been a certified partner of Microsoft for the past 2+ years is a trusted solutions provider for Public, Cooperate and foreign organizations and provides Core infrastructure solutions, Unified communication, Messaging and collaboration solutions using Microsoft award winning products.
MST recently tied up with ZAP Software of Singapore thus further expanding it's offering to the business intelligence segment. ZAP is specially designed for Microsoft Dynamics customers to gain the BI advantage from their Dynamics ERP systems.
MST has been the preferred partner for unified communication, messaging and collaboration for the defense sector, considering their excellent track record in past projects and proven ability in delivering large scale implementation solutions.
Expanding its foot print in the defense sector, MST also signed a partnership with TwistedPair Solutions, USA to enable individuals and teams of people to instantly communicate on their preferred devices from anywhere on any network.  TwistedPair software transforms smart phones, tablets, and PCs into powerful team communication tools providing integrated voice, text messaging and presence into one powerful yet easy to use application.  TwistedPair battle-tested communications platform removes common technology barriers by enabling full interoperability with Land Mobile Radios, PBXs and other communication systems.
MST has reached the highest level in Microsoft partner echo system by maintaining the highest standards in terms of people, skills and knowledge. MST practices a strict code to ensure Commitment and integrity to all stakeholders involved in the business by always measuring and monitoring the quality of delivery and ensuring incomparable service standards and committed to always meeting Customer needs at the best possible level.
M S Technologies Subject Matter Experts (SMEs) and consultants carry numerous industry certifications from Microsoft, Cisco Systems, and many other hardware and software manufacturers. As a company, MST also holds a number of premier certifications and partnerships, our pool of SME are well recognized in the market and hold various industry certifications such as Microsoft Most Valuable Professional (MVP), Microsoft Systems Engineer (MCSE), Microsoft Certified IT Professionals (MCITP), Microsoft Certified Technology specialist (MCTS), Microsoft Certified System Administrator (MCSA), Cisco Certified Network Professionals (CCNP) and Cisco Certified Network Associates (CCNA) to name a few.
Some of our consultants have participated in preparing exam questions and answers for Microsoft exams such as Exchange Server and Windows Server MCP exams.
Our expertise has spread across regional countries and thus have opened doors for MST to serve international customers with its world class service.