[bsa_pro_ad_space id=1]
TED, short for Technology, Entertainment, Design, is a set of conferences held globally. Their motto "Ideas Worth Spreading" revolves around many scientific, cultural, and academic topics.
TEDx on the other hand, is an independently organized TED event. Organized by a set of young dynamic individuals, TEDx too is about expressing your ideas. Held on the 23rd of August at the Hilton Residencies the event was quite a scale up from the previous years, with participation increasing significantly from 150 in 2014 to 550 participants in the year 2015. In addition to the 550 participants, the event was also live streamed at Coco Veranda – Crescat and Next Campus.
This year's theme was to reimagining spaces. Space is ubiquitous to human life, yet we barely give it a second glance.
Chris Anderson, the curator  of TED, was with us via a video played back on two screens on either side of the stage. His introduction was short and sweet, covering the history of TED and TEDx.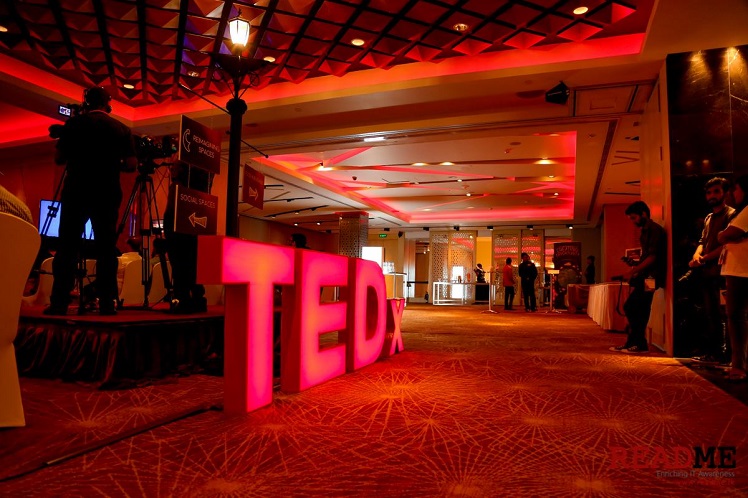 With that, it was time to get on with the show. The first speaker for the day was Abdul Halik Azeez. He had quite a thought provoking first liner indeed.
"What if I told you that the world we live in was constructed for us and not by us?"

Success after all is the purpose of our lives, but nowadays, success is measured by economic values.
Rather than working for happiness, we tend to work for wealth and economic stability. For every big idea out there, there's an institution out there waiting to control it. He talks about how freedom of thought is now an illusion. Even our process of critical thinking has been outsourced. We are so hell bent on making money, that we even destroy the environment around us without question. He talks about his life as a Muslim citizen and his views on the Qur'an and his interpretation of the term "Jihad" which is an internal struggle or strive; along your life journey, you will have obstacles and struggles. Overcoming this is Jihad, Halik says.
His talk then shifts to the Internet which is also according to him, owned by a number of large corporations that control what we want to see. He also talks about his life with photography and his introduction to Instagram. A photographer he says, has the ability to manipulate and control the very reality we live in by adding or removing elements in a photograph.
The best way to combat an oppressor is to mirror his tactics.
His talks are in fact quite real. He also takes examples from The Matrix and even Plato's Cave in which he says that we cannot see reality the way it is but each of us can see a potential glitch in the matrix with the final goal being to unshackle each other and see reality how it really is. Cognitive dissonance he calls it.
There are only two mistakes one can make; not getting started, and not going all the way.
The next speaker for the day was Selyna Peiris. Her talk revolved around a social entrepreneur's guide to building a nation.
After a full analysis of her purpose in life, she decided what she would do, all thanks to her mother, who is always right, she adds. Her purpose? To become a social entrepreneur right from her home. Presently she runs Selyn Handlooms which is a Fair Trade guaranteed Handloom Company that engages the traditional Sri Lankan community of Handloom weavers. Those who work with her age from 30 to 65 and are not economically stable and as such have no employment opportunities due to various social stigmas and dilemmas.
She uses an example of one of their most successful entrepreneur. She was in the handloom industry and was in debt. In her time of need, she turned to Selyna who took her under her wings and helped her gain her footing and now she has her own profitable business.
"It's not easy she says". You have to have your customers happy and you also have to keep the business running smooth. Keep your prices competitive.

No matter how cute they are, no monkey business.
In conclusion, she gives advice to any budding entrepreneurs to follow their dreams and to strive amidst toil and struggles.
The next session is an online talk by two artists on how painting can change the views and outlook of a community. They use examples of a small village in Copacabana, and a few more places. You can watch the entire talk here.
"Maybe one day, the whole of Vila Cruzeiro will be painted".
After the first set of talks, it was time for a bit of music. A few members of the Symphony Orchestra of Sri Lanka calling themselves "Stringendo" entertain the audience to a bit of Mozart, more specifically their rendition of Serenade No. 13 for strings in G major. They then kick things up a notch to more western orientation with a string and percussion rendition of George Ezra's Budapest. It then takes a shift somewhere over the rainbow, where we were transported to the magical land of Oz.
Thariq Azeez was up next to talk about the TED Open translation project. The project is massive, he says. In the Sri Lankan environment, we have 7 translators for Sinhala and 47 for Tamil content.
How can you be a part of this community? Well there are several ways to do so.
Translate – You obviously need to know two languages to translate. More are an added benefit. Once you translate something, a senior translator will collaborate with you to identify potential weak points and become a better translator.
Transcribe – This is the heart of translating. Usually TED events have transcripts. But for TEDX, you need a translations too.
Tell People – Just because there are transcripts and transcribes, that doesn't mean that everyone knows spread the news and the word or words about TED.
Translating is a learning process. Local ideas can be made global ideas and we can use that to spread the word of our ideas to the people of the world. World domination? Yes/No?.
The first half of the talks came to an end we got up to stretch our legs and indulge in a little food and drink courtesy of Coco Veranda. There was also an area in the hall where one could write down any ideas one had attach them to a small fence. Quite a novel idea indeed.
After a refreshing round of food and drinks, we were back in our seats The next speaker for the day? Mishal Mazin. His topic? Money. More specifically, how money makes the world go round. His words are sheer poetry, literally. Using his poetry skills, he maps out how the world reacts to people with money and the idiosyncrasies and the ironies of life. He talks about how society reacts to being rich is the best thing you can be. Rather than chase after money and wealth, let it come follow you. "Follow your dreams" he says.
Sohan Dharmaraja was up next to talk about Perspective. After finishing his studies in the US, Sohan talks about the events that occurred after Google launching their search history. He runs us through a bit of big data analysis using examples from how to get a girlfriend, to the Sri Lankan elections and even the launch of the apple watch. After understanding the concepts, he decided to "scratch his itch to teach" and decided to become a consultant. But it wasn't exactly a piece of cake. With Sri Lankans price-conscious views, it was rather hard for him to get investments.
"In Sri Lanka mostly, it's not what you know, but rather WHO you know".
Is the glass half full, half empty or should smaller glasses be manufactured?
The second part of his talk was about opportunity. Rather than offer generic solutions to clients and customers, there is a genuine need for personality.
The session was pretty much a statistical analysis about the little things in life with examples such as touchscreens not being effective for visually impaired people, to how long people take to get to work etc. the solution for the former was a braille screen.
Sohan concluded his session with a few choice phrases for us to follow.
Just do it.
Honesty pays. Don't overdo yourself
People crave experiences, not products.
Diversity – Fresh eyes, fresh perspectives.
Next up us another video of TED, more specifically Theaster Gates on how to revive a neighborhood with imagination, beauty and art. The video complete with transcript can be viewed here.
Umeshi Rajeendra was up next taking about reimagining spaces; reimagining dance to be more precise. The session kicks off (literally) with a dance involving a fruit (the session was called "Transforming the fruit"), in this case a banana.
She then draws from life experience where she was diagnosed with a learning disability at the age of 6 where she discovered dance.
By questioning what if, we question what we can do which opens our minds to other ideas.
She went on to explain that through dance, we can express ourselves and share our views of the world. Apart from being a form of expression, it also has mathematical and scientific backing. The researcher Howard Gardner identified 9 types of intelligence. Dance applies to all 9 of them. From war to mathematics, it's all there.
Creativity is essential to economic growth and with the way our world moves.
Tilak Dissanayake was up next. Boeing and Xerox. Heard of them? Well Tilak has actually worked there. His talk; the exact opposite of Mishal, money. Exports, imports, economies of scale, these are some of the keywords thrown at the audience.
He went on to explain that the reason that there were very few startups in Sri Lanka was that they lacked the very thing he was talking about; money or more specifically funding.
Even the issue of world hunger, he says isn't a supply problem but rather a logistic problem. He went on to explain how most developed countries have invested heavily in Product Development and also asked a number of thought provoking question, among them was that "Shouldn't we be hiring people locally and creating jobs while increasing the education budget?"
In conclusion, Tilak leaves us with these wise words.
Design and certify one. Sell millions.
Nathan Sivagananthan and Sarinda Unamboowe were the last talk for the day. They take to the stage as a duo. They talk about their lives especially with regards to the war that ravaged our country and a promise made by Sarinda that he would walk from the southernmost point in Sri Lanka all the way to the north which was Jaffna if the war was over. The 19th of May was the day that this became a reality and the promised walk was also miraculously given a cause; cancer research in Jaffna. Nathan lost his sister to cancer and his experiences in the war torn areas of Jaffna both acted as a catalyst to make this dream a reality. They created a website where a person could register for a walk and then take part. The first crowdsourced walk in Sri Lanka as it were. Over 250000 people sent money for the walk.
They even got people to buy bricks and bags of cement to help with the construction of the hospital in Jaffna. Called "Trail", the project was the first of its kind in Sri Lanka, entirely crowdsourced.
On the 1st of July 2011 the journey of a thousand miles (well not entirely) began with a single step. The journey was smooth but there was a certain restlessness about walking in war torn areas but to their amazement there were people giving ice cream, people throwing money from buses and even one beggar who insisted that his entire day's earnings would go for the fund. Over 10 million rupees was collected from this walk. Truly an amazing feat indeed. The stories they shared were certainly inspiring. With a total set on 1 million dollars, they collected a staggering 2.6million dollars and were able to construct a 120 bed hospital in Jaffna.
Needless to say they received standing ovations as soon as their speech was over, and rightly so.
With that, the sessions for TEDx officially drew to a close. Safra Anver, Licensee of TEDx Colombo walked on stage to deliver the vote of thanks.
A shoutout went to all the sponsors of the event. We would especially like to thank Hutch for powering our live coverage for the live tweets and Instagram album along with the article being the Internet partner for the event. A shoutout goes to the sponsors from us as well:
The Hidramani Group – Venue Partner
Truecaller – Co-Partner
Next Campus – Educational Partner
The Sunday Times – Media Partner
TNL – Radio Partner
Takas.lk – E-Ticketing Partner
Coco Veranda – Beverage Partner
hiStory – Storytelling Partner
Readme – Digital Media Partner (but you already knew that)
Surge – Growth Hacking Partner
Rommelaru Design – Design Partner
Emojot – Event Partner
Mailchimp – Email Marketing Partner
Stephen Lodziak – Photobooth Partner
As with all good things in life, this too came to an end. It was by far one of the most inspiring TEDx we had attended and we left the halls of Hilton Residencies full of warm and Zen feelings and also the happy notion for next year's TEDx.