Good evening, folks. Yes, this is our third liveblog and our second event today: TEDxColombo.
TED, if you haven't already stumbled into it, is a nonprofit dedicated to ideas worth spreading. To that effect, they bring together some epic speakers and let those ideas flow in the form of TEDTalks – speeches that will change the perspective of whoever sits down to listen. It's that simple, and also that complex: it's a multi-national thing – head over to www.ted.com to see just how large this is.
A TEDx is an independently organized TEd event sanctioned by the central TED organization. Colombo's had a fine TEDx tradition to date, bringing together some truly fine people.
Unfortunately, we're slightly late – as we roll in, Lonali Rodrigo has already finished her speech on "Waste: A New Opportunity" and Isura Silva is wrapping up "SMART Future – together".
Where things begin for us, then, is a recorded speech by master illusionist Apollo Robins.
The next speaker is a Member of Parliament, Eisenhower Fellow, holding a doctorate in Economics from the University of Missouri – in case you're wondering, this is Harsha De Silva.
"It's an honor to be here," he begins. "Before I start, can I have a vote of hands? How many of you voted at the last election in March? Ok. About half.
Let me tell you a story. I had to go to Galle, came back, four functions back-to-back, and on the way, my wife and I bumped into a well-dressed woman by the name of M from the company P. She introduced herself, asked me what I did, and I said I'm Harsha De Silva, MP.
She talked about her international 30-billion-dollar company, and when she was done, she asked me: "how is your jam business?"
I was taken aback. And then I realized: none of my comments had gotten through to her. I said, "Look here, MP stands for Member of Parliament. I'm not in jam." Needless to say, she was embarrassed, and after apologizing, she said, 'Harsha: I have no interest in politics. It doesn't worry me.'
So I thought, "Alright, she's pretty happy. In fact, a lot of people in Sri Lanka are happy, like in the Pharrell video. But the reality is different. I downloaded the world happiness report, only to find out Sri Lanka is almost at the bottom of the happiness index.
True happiness stems from living in a good society, employment, opportunities, education, healthcare, freedom – so I called Professor Siri Hettige, who was working on the National Youth Survey.
He was kind enough to give me quite a thick book on the subject. In this, I saw a curious statement: Sri Lanka as a nation has been unable to win the trust of young people…and has failed enlist young people as partners of development. 
I looked further at the survey. Out of the youth who had answered it, 50% said they wanted to do Bachelor's degrees: 92% wanted a professional or academic qualification after school: 7% wanted to do a Masters. This is what they want.
Now consider the reality. LIRNEAsia did an interesting study last year: take all the public and private universities together and some 23% enter their for their degree. Compare this with what the 92% that want a qualification. Happy, happy happy? I don't think say.
So what do we do? Nothing. The vast majority to nothing. They complain, do jack, They're frustrated. A small majority fight. 92% want in: 23% get in.
The problem is, we do nothing. I had my office look at the youth vote, between 18 and 25: only 41% voted. The rest didn't give a damn. They are on Facebook or watching TV shows or whatever.
The problem is, I sit in Parliament, and when most of the young people are effectively telling me "I don't care what you do; I don't care about politics; I don't care about your existence?" how do we know what to do? 
It's not that young people don't care: they care: it's their lives. You have to care. Do it for yourself. It's your life. The way forward is mutual beneficial trust. We have to collaborate for progress: progress builds trust: trust builds more progress. Do it for yourself – it's your life."
Next, we have Toby Shapshack. His presentation, "You don't need an app for that," shows the innovation in Africa – and how it predates some of the tech we take for granted these days.
29 years old and the Operations Manager of MAS Holdings: that's Shamal Boyagoda, who's taking the stage right now on "Journey to the Wilderness (Antarctica) and Sustainable Leadership". It's a long-winded title.
"At the age of twelve, whens someone asked me, 'Who do you want to be?' I said 'Doctor.' At 16, I said 'Engineer'. At 18, I said 'Pilot'. And today?" he grins. "I make lingerie. I've been doing this for ten years. And I feel happy."
The audience grins.
"In the next seventeen minutes, I'm going to show you what I learned at Antarctica, and how that changed me," he says, launching into a description of this icy land, which some call the Last Wilderness. "No governments: no prisoners: no war. Nobody owns it. It's the seventh continent in the world. And in the year 2041, the superpowers in the world are going to come together to decide whether to go to Antarctica for water, oil or land.
Eighty of us from twenty eight countries went last year, and every year, Sir Robert Swan takes a bunch of young people to this place. The trip was not easy. It was the roughest sea in the world."
He pulls up a series if images: the massive scale of a glacier, compared to the ships: ice floes floating in the water
"It was about change, and it was about changing minds to understand how global warming works. We jumped into water below zero to see how it felt.
We explored the continent, and we came across one problem: why are there lots of cracks on the ground of a continent that's twice as large as Australia?"
He shows a clip of a massive ice wall collapsing and just sliding into the sea, tons upon tons of it. It's staggering: an ice mass so exponentially larger than a human that the scale is barely valid. "This happens every eight minutes," he says. "In another two minutes, another one will go off."
His speech suddenly switches from the effects of global warming to leadership.
"How we usually view leadership is: these are the guys on my side. These are the guys on the other side. I will make them believe me. There is an inherent amount of uncertainty in this proposal. So what if we eliminate the uncertainty? Where there's uncertainty, I say eliminate it. This goes for global warming just as much as it goes for insurance. 
Remember: We don't borrow our time from our parents. We borrow it from our children."
With that, it's time for the next speaker: Aamina Nizar, on :Telling a story".
"A photograph is an imitation of life. I'm going to tell you how this relates to my food choices. I wanted to capture the whole debate between chocolate and vanilla.
One day, we were shooting for a glassware company which had just introduced a glass bowl that could be used in the microwave. My eye was on this gorgeous cake that solved my problem – it had chocolate, it had vanilla, it had whipped cream.
I ate a piece. I swallowed. I realized something had gone terribly wrong. I'm experimental with my food, but this wasn't something I could eat. As I was running for the bathroom, I passed a bottle of shaving cream. Our food stylist had been using that to make the whipped cream. I also remembered a can of red paint next to the ketchup, which she had again used to make the sauce.
So remember: when you're looking at those food shots, all those shining dishes…they're not really real. This is why I say photography is an imitation of life."
"Photographs take you places," she says, flipping through scenes of India, a mishmash of food, life, politics. "Photographs can influence your opinion. You may not be in Rajasthan. You may not be at a political rally. You may be on Facebook, but you can be taken there.
What do I hate about photography?
"When you've done a glamour shoot, you've Photoshopped it so it looks perfect. You've got the perfect skin. The perfect hair. And this is unrealistic, because we can't have perfect skin, you can't have perfect hair. We refuse to deconstruct our photographs, but that's what happens.
And we no longer look through the naked eye. Now whwne we go on a holiday, we prioritize recording it over experiencing it. It's not about experiencing or absorbing your time there: you go home and live your holiday through your photographs.
Freezing a moment means we have to make sure the moment that is frozen is perfect, and that can be stressful. Now, you see me on stage. You see me move, you see my angles, the good, the bad. Now when you just have a photograph of me speaking, that's limiting. You have to get the best angle.
And since we live in a photo-heavy world, we see this rubbing off on people. We see people trying to look their best all the time. We stop being ourselves. People's entire perception of reality now comes through professional and personal photographs. A photograph cannot absolutely convey something. We didn't feel the cold: we don't know what it was like to plunge into the ocean: we need to remember that.
Pictures can be more powerful than words, but a photograph without context is dangerous. All you have to do is shift the angle. People don't deconstruct photographs anymore, but we're very, very dependent on the images around us to tell us how the world is and how we are."
"Photography is not like your furniture. It's more potent. It today's world, because our perception of the world is so completely dominated by the images we see, we need to start looking at the world again – not at pictures, but at the world. We don't need to read articles that people have posted online. We don't need to wait for the photographs to come to us. I think we need to go to these places, go to these photographs. Stop taking the picture and looking at it and instead look at the world."
Our last speaker for the day: Aman Ashraff. Google him and you'll find a ton of material.
"I'm an advertiser, and I've been in advertising for a while. An idea is when a wave of inspiration hits and crystallizes: it can be anything – it can change a nation of it can be something humble.
So how do you find this inspiration? You can't sit at a desk and expect it to float by. Tried it. Didn't work. In many cases, people are inspired by things that they like. In my case, I like movies and comics. The characters – Batman, Superman – I don't view them as fetishist creations by someone miles away: I believe in them.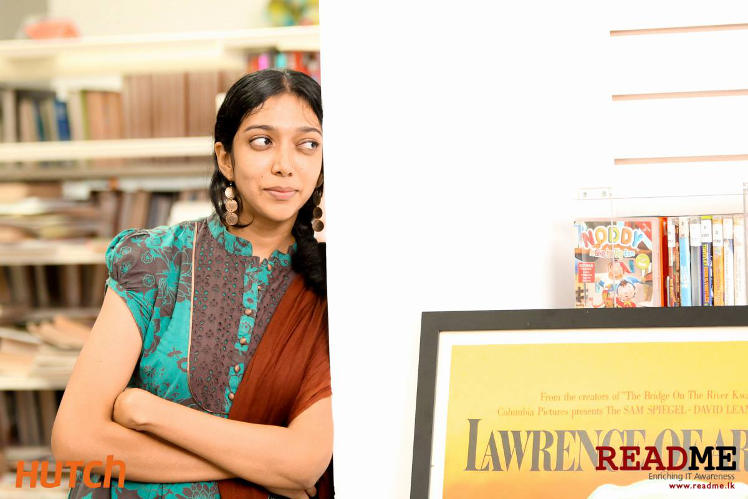 The point I'm trying to make here is that i believe in connecting with people and talking to people, and that is where I get my inspiration from. Everyone. Not just the people who sit and Coco Verandah, but the people who go to the pola. What are they thinking? What's on their mind? These are things that I need to know in order to do my job as an advertiser. I need to connect with all sorts of people – from real people to supermen.
Here I am, standing in front of you for the first time. You've never seen me before, you don't know me. What kinds of car do I drive? What's my favorite food? What do I do in my spare time?"
The audience answers: their view of Aman is a Toyota-driving, comic-loving, beef-steak-eating guy.
He shows an ad that he made some time ago: a cement ad set in a village, in a Rome-Juliet esque scene where the angry father uses the cement brand to built an impenetrable wall dividing the couple for years.
"Now that you've seen this ad, what do you think of me? You wouldn't associate me, Toyota-driving, steak-eating, to make an ad like this. I created this because I understood something, and how I understood was because I talked to people. I associate with people from all walks of life. When I go to a coffeeshop, I spend more time talking to the baristas than drinking coffee, because they're full of new experiences I haven't been exposed to. When I talk to them, I start learning from them. When I learn from them, I understand. With that understanding, I'm able to create experiences like this. And this is something I really believe we're lacking in modern society."
He shares an experience he had once, when he and his friends went down South, and after a brief incident, received a lesson in humility and self-image – out of all people, from a fisherman. 'We were dumbstruck,' he recounts, 'we came all this distance and we were taught so much about humility and self-respect from a fisherman. So what can I say?
We all have our preconceived notions about people from different walks of life – but go out and learn from people, no matter who they are. Learn about people. In doing so, you only learn more. Cheers."
And on that note, TEDxColombo ends. This is the README Live team, signing off – for some rest. Cheers, folks.