What with Lolipop, so many exciting changes, and what seems to be thousands of apps pouring into the Google Play Store every second – saying 2014 was a busy year for Android would be an understatement.
However, there's one drawback to the hordes of updates and apps hitting the wires, and that's the problem of choice. Even with the excellent lists put out by the likes of TechRadar and the Android Authority, even with Best Selling lists and Editor's picks, there's still far too many good apps to pick from.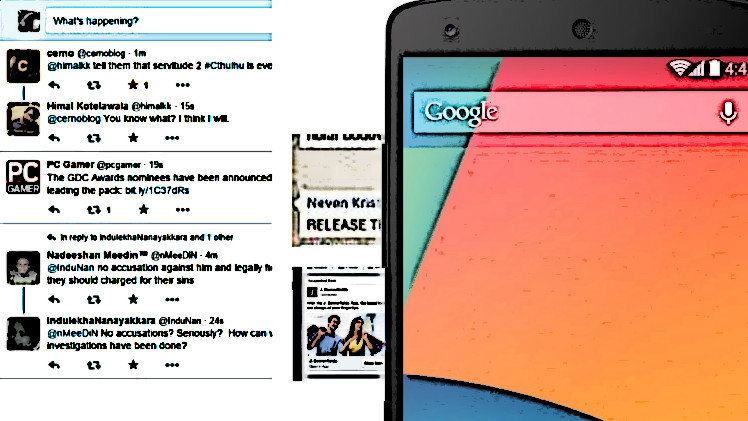 We've taken a different approach. After checking our own phones, and surreptitiously spying on a great deal of Android users on the streets, in the buses, at events and so on, and a small series of random, spontaneous surveys, we at Readme have come up with our list of the most used Android Apps of 2014.
Love it or loathe it, you can't ignore it. Facebook access is one of the most sought-after things among Sri Lankan youth, and even older generations are catching on. You'd be hard-pressed to find a smartphone without the Facebook app on it.
Despite Enosh's valiant efforts to get the team to switch to Viber, nobody's willing to leave the message-spam-infested world of WhatsApp. The little tinkle has become an annoying staple of most conversations these days.
Interesting fact: we expected Twitter to be here alone. Instead, most die-hard Instagrammers seem to have the Twitter app and most Tweeps have Instagram on their phones – the two seem to go very well together. One enhances your photos and narcissism, the other enhances your reach and frequency of random thoughts. Even when they're used rarely, these apps still exist on almost everybody's phone.
Temple Run (and its derivatives) is the new Angry Birds. It's fast, fun and possibly one of the very few games you can play competitively while swinging from one hand from the footboard of the 154 bus.
After a great deal of effort, Facebook's successfully convinced us that we need two apps to do what one app did before.
There's a great deal to be said for this app, especially because it makes your like on apps 1, 2, 3, 4, and 6 so much better. Being able to message people in correct English also makes everyone sound marginally more intelligent and everything a little easier to read.
The guide to the city's fantastically useful, and everyone uses it to good effect. Especially when there's a company dinner or a date involved.
Flipboard is one of the best feed reading experiences for mobile. It curates stories from all over the web and delivers them in an amazingly convenient UI. There's a similar local product, called MogoReader.
Nobody really wants to pay for apps, but if it's one thing everybody ends up paying for, it's this. Despite a dated interface, PowerAmp still offers one of the best music experiences for those on stock Android (read: almost everybody). We've found that those who do step beyond the stock music player eventually arrive at PowerAmp after a plethora of trials, and it seems to stick.
Keep in mind that this list corresponds very closely to a demographic within Colombo, between the ages of 18 and 28, the majority of them fluent in English, and is in no way universal. We've also taken out mention of Google services. These apps are the bare minimum you need and basically are 90% of what the demographic seem to use their phones for.
*Despite the plethora of phones and features that we all have, it's interesting to note how the majority of our time on these devices (discoutning calls) goes for these four apps, all of which barely differentiate between a flagship and a budget smartphone. Incidentally, they also prove that the phone hasn't lost its original purpose as a tool for communication.
** Also note that four of the apps on this list are now products of or owned by Facebook.