Expensive ultrabooks are a particularly odd thing to review. They are thin; they are light; they invariably use a very select crop of Intel's latest processor. They are fast, because often they have SSDs at their heart.  They have good screens.  And with the hardware ecosystem being what it is, the higher you go, the fewer choices you really have.  What you end up with is a whole set of very premium devices that function almost exactly the same, regardless of make or manufacturer.
Where the differences really lie are in the form.  Manufacturers have really, really tried to chase their own unique aesthetics, and there's few better examples of this than the Asus Zenbook UX302L.
The nitty-gritty
Let's get the specsheet out of the way: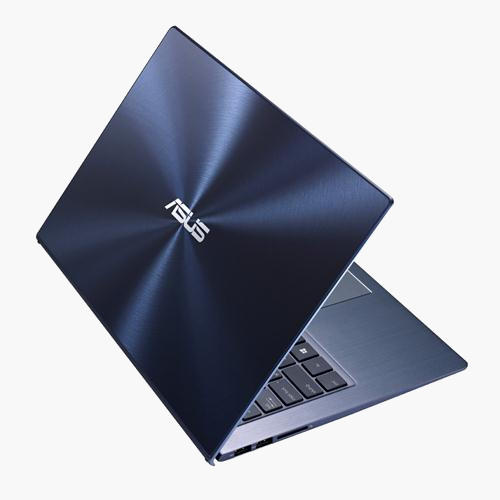 Screen – 13.3in 16:9 IPS touch screen with 1920×1080 resolution
CPU – Intel Core i5 4200U (Haswell)
GPU – Integrated Intel HD Graphics 4400
RAM – 8GB
Storage – 500GB HDD + 16GB SSD
Graphics – Nvidia Geforce 730M
Price – Rs 184,000
It's a Haswell processor. While ASUS has announced the newer Broadwell lineup, high-end Broadwells haven't yet hit this part of the market.  An IPS display means colors and visibility are amazing, a huge step ahead of the usual laptop panels.  They've made compromises on the hard drive (500 GB mechanical + 16 GB) SSD. Obviously, the money's gone towards the touch screen and the Nvidia graphics.
From the outside
From the start, as in literally from the packaging itself, you're given the impression that this is an ultra premium device you're unpacking. The Zenbook has what appears to be a very, very polished top; open the box and the Zenbook sits there, reflecting your face in shades of blue. It's so shiny it's actually pretty hard to get a decent photo indoors without reflecting the lights, your face or the camera.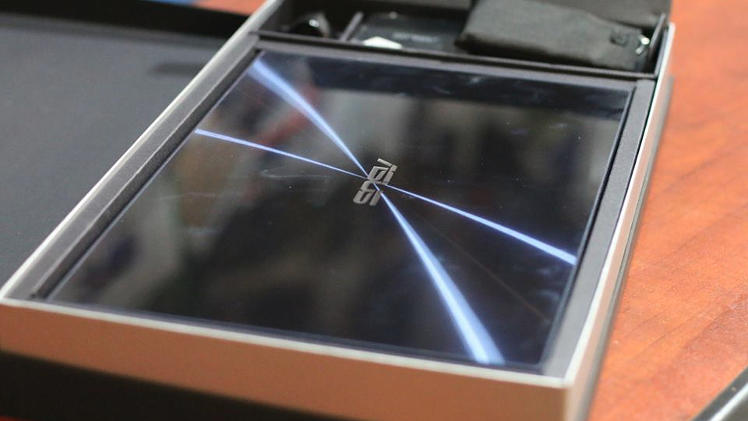 Pick it up, and you realize that the top is actually a blue-hued metal overlaid with Corning Gorilla Glass 3, which is pretty cool. The metal itself is subtly etched with Asus's now-signature circle design. Viewed at an angle, it gives this subtle impression of this thing between 13.3" jewelry instead of a daily workhorse.
The effect is slightly marred if you put a really thin laptop next to it – say a Macbook Air or a Samsung Ativ Book 9 (our test laptops), because the curve is deceptive thick; thin enough to be an Ultrabook, thick enough to be outclassed by a couple of millimetres in size comparisons.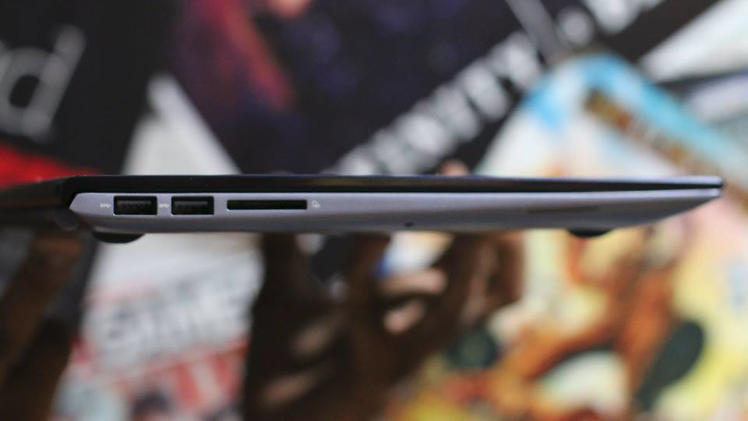 Opened up, it gives the impression of being more compact that it looks from the outside. You're greeted with a black screen and a keyboard set in a bottom of brushed aluminum. Intel and Nvidia stickers site next to the touchpad. In one corner is tiny white text saying the audio tech from Bang and Olufsen. The speaker grille is invisible until you look for it: it's embedded in the hinge side of the laptop, so you never see the grille while you're working.  Honestly, the build quality is great.
Running it
First things first: turn off the auto brightness. ASUS has seen fit to equip this with a very aggressive brightness sensor, which makes it really, really annoying; it's got a mind of its own, so even at full brightness you'll barely be able to see a thing until you disable it.
The UX302L is not a very slim Ultrabook, but it's got the makings of a good workhorse. The i7u goes about its work without a fuss. It's also very silent; at most you hear a very slight hum from one side of the laptop, inaudible unless you your ear down there.
The 500GB drive offers more storage than the usual 128GB/256 GB SSD options and still boots up fairly fast after the first time. The music quality itself is alright; Ultrabooks have never been great for music, and the Zenbook, while average for its class, isn't going to redefine our perceptions on that.
The Nvidia graphics don't make much sense here. You can play a game of Dota 2 and the occasional Unreal Engine 3 game (eg: Borderlands), but everything's playable only at the lowest settings at 1080p; don't even think about installing Far Cry 4. This is clearly not a machine targeted for gamers, both in design or pricepoint. It's also an HD screen, which Intel Graphics is perfectly capable of handling, so I quite fail to see why there needs to be a 730M onboard.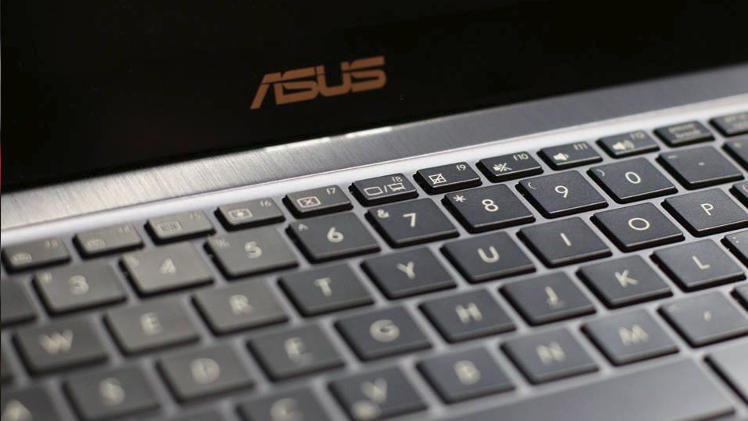 The keyboard is alright. It doesn't flex, but look at it at an angle and you see the little lights underneath, peeking out irregularly from around the corners of the keys. This is ironic, since the keys themselves aren't backlit; you can turn off this rather useless feature by reducing the keyboard brightness.
The touchpad tracking is excellent, better than all the ASUS models we've reviewed. The top of the touchpad is very tough to press down; it's the bottom that's the more usable end. These aren't things that are noticeable to the average user, but are very noticeable once you test it against the two models we mentioned up. However, in all our click-tests, we couldn't find a fault with this system – we tend to press down on the middle and the bottom, and that's just fine here.
The screen is excellent, once you disable the automatic brightness. Even so, it has one great flaw. It's so glossy that even at high brightness you can still see your face in it. This is admirable if you're a closet narcissist, but hardly useful when you want to work.  As a plus point, this is one of the very few laptops on which we could actually use the touchscreen comfortably without worrying about tipping the screen over. The hinge is rock-solid.
Battery life was around 5 1/2 hours. That's very much on the average front, especially for an expensive machine. Doubtless the Broadwell version of this can do more.
This laptop, then, is a balance between good looks, performance and storage.
The Caveat
This Zenbook has one huge flaw, and that's also the coolest thing about it: the Gorilla Glass 3 surface.
I can only describe this as the finest fingerprint magnet I've ever encountered. It smudges like crazy, meaning you are going to have to spend a lot of time every hour just keeping it looking decent. You find yourself itching to Turtle Wax the whole thing. Even the screen, being glossy and a touchscreen, is about as fingerprint-magnet-ish as they get.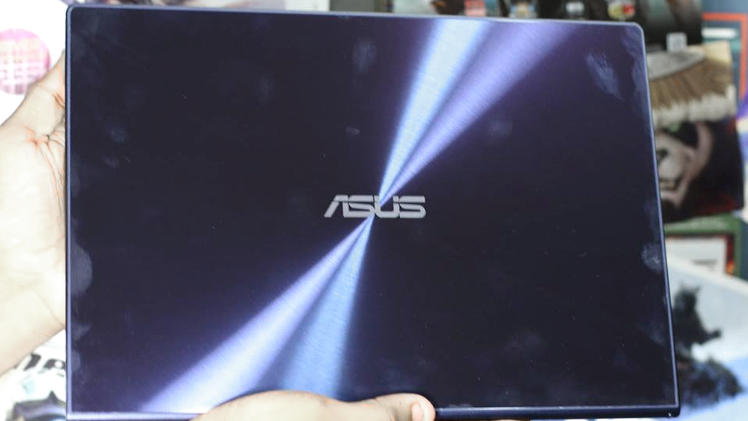 Honestly, I'm not very abusive toward devices (unless we're talking phones), but I draw the line at having to pull out the microfiber every three hours. You can't use tissues, either: there's tiny gap between Gorilla glass and hinge-most edge, where small particles can get stuck. Add a Harris brush to the 3M cloth, please.
It IS gorgeous, though. Even with fingerprints.