Gamer.LK Clans DOTA League finished recently on the 25th of November. It was the 8th time the online-only tournament had been held, and this time it came with a massive 33-slot-double-elimination draw – the largest we've seen so far. Teams from clans such as Tech Morph, Phoenix Gaming, n00b Alliance, and Xiphos eSports, alone with many standalone teams played yet another fierce online tournament for yet another GCDL victory.
(In case you have no idea what DOTA is, it's the multiplayer battle arena that spawned an entire genre of games. Dota 2, the game's successor, is huge in Sri Lanka, with a fiercely loyal playerbase and an international prize pool of $10 million ).
The top 5 ranking teams – Tech Morph's Death Sentence, Phoenix Gaming's Thé Kadé, Xiphos Gamings' Bots and Vicious & [D]elicious, and lastly, iNFiNitY GaminG managed to score their way into the top 10 list.
Of course, with the tournament taking place over a few days, the initial rounds can be safely skipped over – until the 4th round of the upper bracket, where the action intensified. We saw x3 | Vicious & [D]elicious vs. iNFiNitY GaminG and x3 Origin Unknown (Bots) vs. PnX|Cause of Fear. iNFiNitY Gaming, the team at the number 5 position in Sri Lankan DOTA 2, beat X3, and Origin Unknown was put down by Cause of Fear.
By this time, a lot of teams had been bumped down to the loser's bracket, which diluted down to iNFiNitY GaminG vs X3's Vicious & [D]elicious; Vicious & [D]elicious steamrolled iNFiNitY and made it into the losers bracket final, but lost their one chance to make it into the top draw.
While all the other teams had rough paths, Sri Lanka's first and second ranked teams, Thé Kadé and Death Sentence, travelled a clear straight road right through the top bracket, as can be seen from the official draw here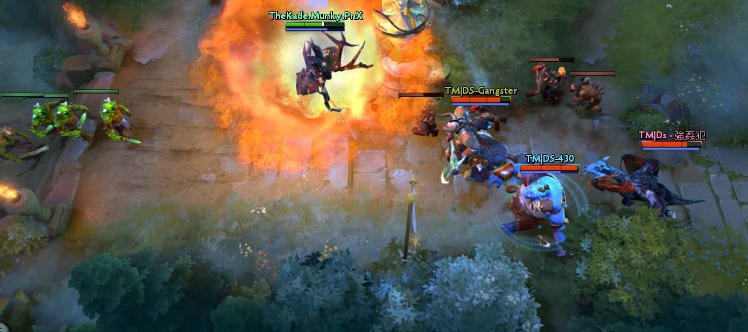 The grand finale started with one-game advantage to The Kade. The second game was also taken by The Kade. Death Sentence recovered fast, winning two games in a row to challenge The Kade for a brutal final showdown. With some epic plays on both sides, the Kade won against Death Sentence to claim the #1 title in Sri Lankan Dota 2 – at least until SLCG, when these titans clash again.
Final results:
Winner – PnX|The Kade
Runner-up – TM | Death Sentence
2nd Runner-up – x3 | Vicious & [D]elicious