In an attempt to enhance innovation and entrepreneurship, Leapset, a California based disruptive technology company, has set up a special place at the University of Moratuwa. It's got white tables coated with writeable surfaces, a hangout area where students can indulge in a bit of gaming, a fully stocked fridge and beanbags, open 24 hours – possibly the first real luxury brainstorm pad we've seen in a local university.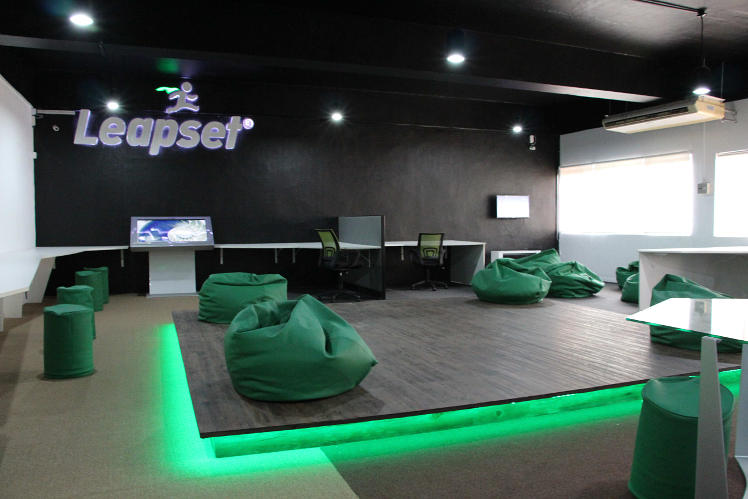 Called the "Leapset CSE Lounge", it was officially opened on the 27th of January 2014, at the Computer Science and Engineering department, at an event graced by Prof. Ananda Jayawardane (the Vice chancellor of the University), Dr. Chathura De Silva (The Head of the Department of Comp. Sci)  and a host of other senior members and lecturers.
After the traditional lighting of the oil lamp, the General Manager of Leapset Mr. Rasika Karunatilleke walked the audience through a quick introduction of the Silicon Valley, its beginnings, development and its success stories among which reside the stories of Facebook, Google and Apple. A video showcasing Air BnB, an online platform that connects hosts and travelers and enables transactions was also shown. The platform, so far the largest disruption in the hotel industry has over 600000 listings in 34000 cities in a 192 countries. His short speech basically stressed the fact that it is not always necessary to develop a complicated product, but rather, to make a simple system that can revolutionize an industry.
Sri Lanka, he pointed out, needs numbers to make this happen. In a population of over 21 million, 83000 are IT professionals, of which 60% are graduates whilst the remainder are diploma holders or similar. Moratuwa is actually quite ahead of the curve on this one – it's the only University in Sri Lanka to implement a full IPR act and allow students to copyright their applications under it.
The final speech for the day was given by Dr. Chathura De Silva, who is the Head of Computer Science Engineering. He started off with a brief history of the Comp. Sci department, which covered almost 30 years of existence. He also jokingly mentioned that there is less than 6sq feet per student – so saying there is no space to work is an understatement. In order for students to showcase their talents and prove their entrepreneurship and innovation, steps needed to be taken.
Hopefully the lounge, such as it is, will help with this.