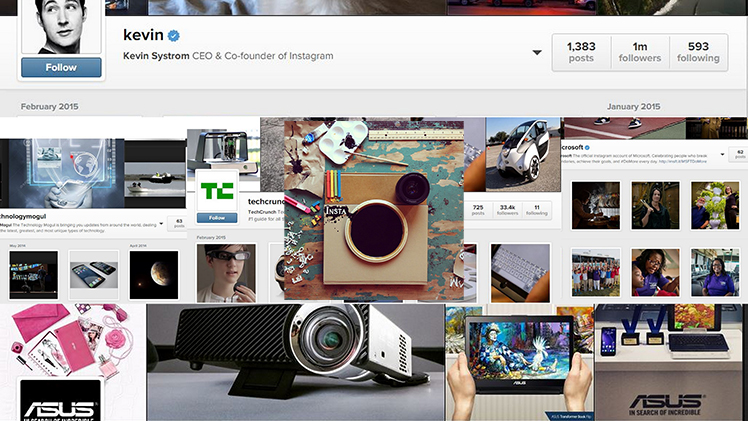 We're techies. Which means we go on Instagram not for selfies, but to see what other techies are up to. Here's our small list of the biggest tech accounts to follow:
This is for all things tech. Primarily a news website, they provide a complete update on all things related to information technology companies, events, and industry trends. In addition, they also host a recurring series of Disrupt conferences throughout the year in New York, San Francisco and in various other locations around the world where startups have the opportunity to present their ideas to journalists, investors and industry leaders.
With almost 224,000 followers, their Instagram bio "Google unfiltered—sometimes with filters" makes a person chuckle when they read it. There's pictures of their offices, conceptual art, even one of their employees practicing her kickboxing in the gym. There was an image of a brown wall with the word "Over" next to a little green android which grabbed my attention mainly because I thought they were closing a project … only to find that the caption for the image read "Good news, y'all. This week is…" Well played Google, well played indeed.
Another tech giant. The whole theme of the account seems to be about celebrating people who go above and beyond to make a better tomorrow. Indeed, their slogan is "Celebrating people who break boundaries, achieve their goals, and #DoMore every day". For example, there is an image of Braylon O'Neill, a 6 year old who has lost both his legs but thanks to a pair of prosthetic legs, he's able to walk, run and even play baseball. In the description it states that his physical therapist uses technology to analyze his gait mechanics and track where his joints are in space to provide him with the best prosthetics possible. It is indeed empowering to see technology being used in this way.
Not putting Intel on our list seems to be a silly thing to do. With their technologies present in almost all aspects of our lives, the Intel Instagram account should definitely be added to your list of accounts to follow.
Asus has a number of Instagram accounts, but we focused on the AsusHQ account. It showcases the companies new products and innovations such as laptops, mobile/handheld devices and wearables and utterly out-of-the-world stuff like the Lamborghini Gallardo DirectCU II mod, where a modder used the chassis of a model Lamborghini to create a custom PC. If you haven' seen it, then that's why you should be following them on Instagram.
This is another account to follow for those of you who want to see the latest gadgets and cutting-edge technologies on the planet. Be it automobiles, smartphones, camera or whatever floats your technological boat, these guys do a really, really good job of keeping their Instagram account up to date.
In a world where the tech industry is traditionally tipped towards the male side of the scale, Google's recently launched campaign called "Made with Code" aims to develop a new generation of female developers, with the goal of showing young females how much of a part coding is in our everyday lives and projects that help them learn to code. Their Instagram account gives an illustration on the wide range of products that are designed with code, all of which – you guessed it -are developed by women.
This is a really cool account. It's the personal account of Christian Sanz, who is the founder and CEO of Skycatch which is a startup. Their specialty? Producing aerial drones that are utilized primarily by construction companies. The drones have the ability to gather information related to maps and thermal imaging. His account features images of his drones in action both around the world and in everyday life at the company headquarters
Unlike the regular use of Instagram to promote the numerous software products that they offer, CA Technologies, which makes systems management software, posts snaps of their employees at work and participating in teambuilding activities.
To those who don't know who he is, this is the guy who founded Reddit. To those who do know him, well, need we say more? You're bound to see new, random and interesting pictures on his account.
*Surprisingly (or not) Apple does not have a Instagram account.