Supposedly, you are one out of university, college, school or the last job and are looking to do something different that would keep you occupied while letting you do what you are most passionate about. The problem is, you just don't know where to start.
The Google Business Group (GBG) Sri Lanka has heard many such plights and in this light organised 'Starting a Startup', the first event on GBG's exhaustive 2014 calendar. The event will feature four successful Sri Lankan tech entrepreneurs, who would share their knowledge on the vital ingredients necessary for a successful startup. The event will take place at the Disruptive Engineering Centre of the Silicon Valley based Technology Company Leapset, Colombo 07 on February 06, 2014 at 6.00pm.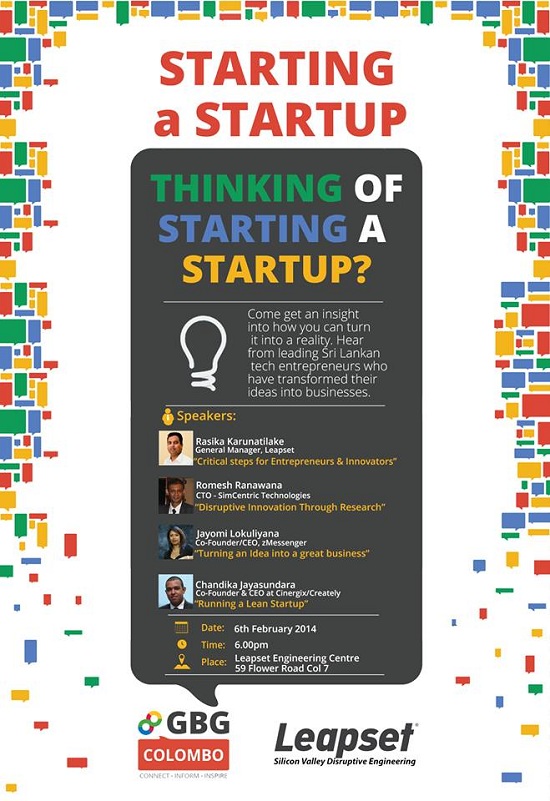 The line up for the evening and their topics of presentation would be as follows:
▪  Leapset General Manager Rasika Karunatilake, on "Critical Steps for Entrepreneurs and Innovators"
▪  SimCentric CTO Romesh Ranawana on "Disruptive Innovation Through Research"
▪  zMessenger Co-Founder/CEO Jayomi Lokuliyana on "Turning an idea into a great Business"
▪  Cinergix/Creately Co-Founder/CEO Chandika Jayasundara on "Running a Lean Startup"
About GBG Sri Lanka
Google Business Group (GBG) is a community of business professionals sharing knowledge about Google web technologies for business success and is run by business professionals, passionate about bringing the benefits of the web to their local business communities, collaborating and learning from each other to help everyone achieve more.
GBG Colombo organises social gatherings, workshops, online hangouts, larger events and other activities where like-minded business professionals can connect, learn and get inspired on how Google products and web technologies can improve efficiency, productivity and impact overall success of their business.
Anyone is welcome, if you are an owner of a company, business professional, or just interested in Google products and web technologies, to join GBG Colombo or GBG Kandy!