With the incredible increase of mobile phone users and the growth in the mobile Broadband translates into optimized smartphone usage, in addition to calling and messaging.  The advent of technology however, has transformed communication experience with intuitive services. While the device usage has enhanced, basic services such as calling has also become more intelligent. Till some time ago, a call if missed, had to be returned just to find out who the caller was and in this process users would fall prey to spam callers. But, the Launch of Truecaller, world's largest mobile phone community will now help users across to take or make the right call and build a robust verified mobile phone community.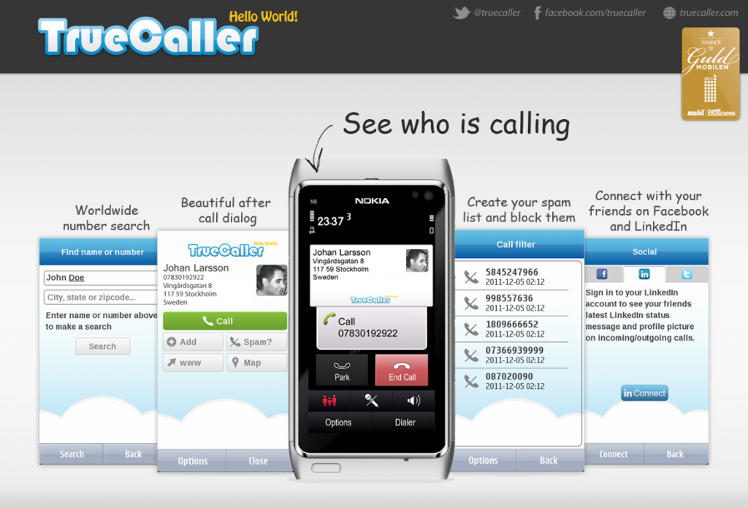 Truecaller currently has over 60 million users across the world and growing. It is a huge opportunity for Truecaller to further extent this service to millions of users across Sri Lanka and the world. Alan Mamedi, Co-Founder, Truecaller says "The idea first curtailed from my frustration that one could not tell the callers whose numbers weren't saved on the phone". Since then, the app has been a triumph with over 60 million. The company is now aiming bigger hoping to end 2014 with 150 million users around the globe.
Truecaller makes your mobile environment smarter by allowing you to connect with who you want, when you want. It enables you to expand your contact list beyond the capacity of your mobile's phonebook. It means that you can see who's calling without even having that number saved in your phonebook. Truecaller can be downloaded for FREE in SINHALA, TAMIL, ENGLISH and many other languages as a smartphone app on iOS, Android, Windows Phones, BlackBerry & Nokia.
About Truecaller:
Truecaller is the world's largest verified mobile phone community, dedicated to helping users make the right call. Truecaller's dynamic community of more than 60 million users is always evolving and is committed to maintaining the integrity of the community by crowdsourcing information to help identify spam callers and verify users. Headquartered in Stockholm, Truecaller was founded in 2009 by Nami Zarringhalam and Alan Mamedi. Truecaller is available on all internet-enabled devices and on the web. For more information visit www.truecaller.com
This is a press release. Opinions presented herein are neither provided nor endorsed by Readme.lk.