Sri Lanka tweeps have a flair for meeting up – be it TweetupSL, Social Media Day or the like, chances are quite high that you'll find the titterati talking shop wherever you go.
Now we've got yet another reason to meet: Iftar. #TweepsIftar, a gathering which began quite simply in a Dinemore at Wellawatte, is happening for the third time today at 6.30pm at the Cioconat Lounge.
We've been to the previous Iftar, held at the Sasakawa Hall, and we enjoyed the food – not to mention the chance to meet even more of the Sri Lankan twittersphere. This time, the event seems to have gotten a little bit larger – there's more people talking about it, Dialog has stepped in with a generous donation and Cioconat Lounge also has a promotion running (tweet a pic and tag @cioconatsl and the one that strikes them as the most awesome entitles the winner to a free meal, on the house).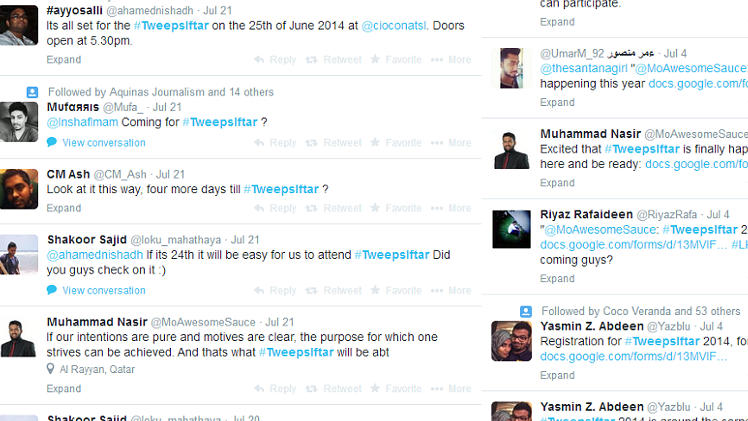 The purpose of the #TweepsIftar is to promote religious harmony and a kindred spirit among all those on Twitter – and as such, it's open to anyone who's registered, regardless of race or religion. There are only two restrictions: you have to be a tweep – and you have to have signed up. If you have, join us at the feast.