In the wake of the recent Presidential Election, it's understandable that everybody's excited about what happens next. In particular, whether President Maithripala Sirisena's highly specific 100-day agenda will be completed. As Sri Lankans take to the living room and the local kade to discuss what the next 100 days will bring, the local Internet has responded with something we've never seen before: election promise monitors.
The first to issue a timeline/chart of the Promises in English was Indi Samarajiva, in this post on Indi.ca. Soon after, the Parliamentary monitoring site Manthri.lk tweeted about working on a system for tracking said promises.
Before that, however, we got 100days.lk, a site using little more than a domain and a PNG file. According to the developers, who wish to remain anonymous, it received some 40,000 unique visitors on the first day alone.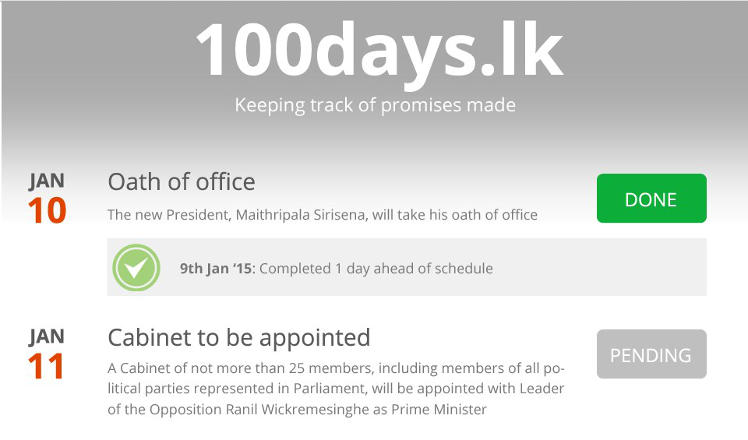 Third on the list is 100dayspromise.com, which seems technically more advanced than the other solutions but harder to use. It uses a calendar view and has a countdown on the site. We're unsure as to why the timer's set for 102 days rather than the actual 100.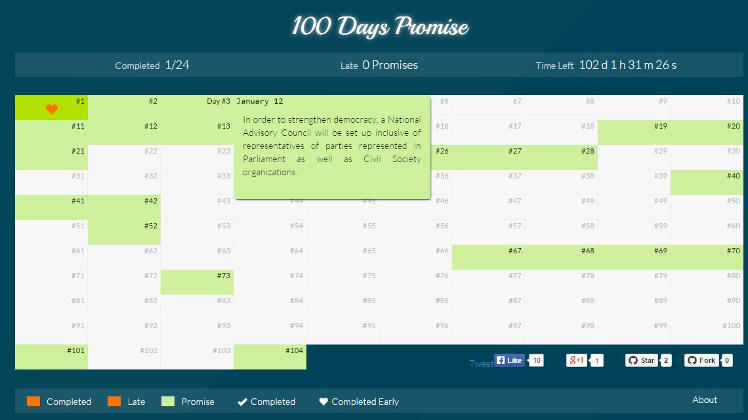 All in all, it's interesting to see how the Internet is stepping to provide the type of accountability that traditional media have been unable to provide to the people of Sri Lanka. Backstage conversations on Facebook are already toying with the possibility of having these systems in place for future promises made by any politician.