We like free Wi-Fi: don't you?
Unfortunately, free WiFi isn't all that easy to come find in Colombo. The weird thing is that a lot of WiFi networks exist: it's just that most of them are closed, or slow, or completely forgotten. 
Which is why, for the past few months, we've been hard at work behind a new project: ReadMe Maps. It's our initiative to put every WiFi hotspot we find on the map. Literally. We've pin-pointed areas with free Wi-Fi all over Colombo and put them on a nice scrollable map (thank you, Google) that's easily accessible on both PC and mobile. And no, this ain't an April Fool's joke. Look for yourself.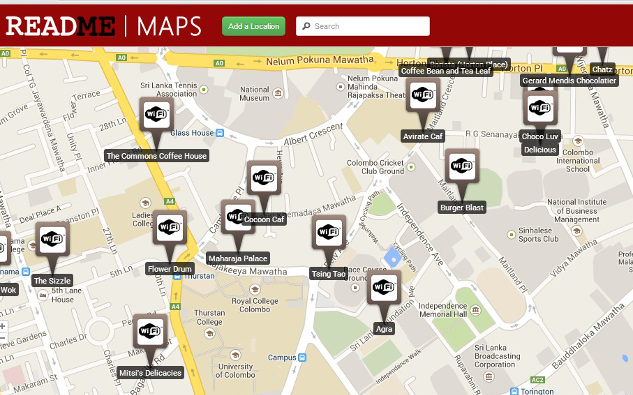 Barista's? Gloria Jeans?  Eastern Wok? Tintagel? They're all here and they all have free WiFi for you. You can add your favourite hotspots, too – with your help we can eventually cover all of Sri Lanka.  
The whole project is based on the excellent RepresentLA framework. Like the WiFi, this service is completely free.  The buck doesn't stop there – we might expand it to other stuff as well, not just WiFi hotspots. Things that everybody has some use for. Suggestions? Contact us on twitter (@readmelk), send us a message on Facebook or drop an email to [email protected] We'll keep you updated.