It was early on a Sunday morning, and all through the land, not a creature was stirring. Except, of course, for the bright-eyed and high-heeled crowd gathered at 'Leads In Heels', that is. Held by the Google Business Group Colombo at WSO2, the event marked International Women's Day. 'Leads In Heels' encouraged participants to recognise that while 'leaning in' a la Sheryl Sandberg, you can still keep your femininity – and hopefully balance.
It also helps to have a few friends to lean on, and the morning began with the mention of groups such as GBG and Women TechMakers that could lend their expertise and support to those starting or running their own businesses.
The first of the featured speakers, Rehana Iyne of Glitteray, noted that having support groups such as those helped her find her way when she first started her purely online jewellery store. Sceptics were aplenty, and there were the usual discouraging remarks that greet any new idea. But, she asserts, "if you have a vision of where you want to be, you'll find yourself driven to it". That's not always an easy ask for a woman in a traditional culture, and she feels fortunate to have had the support of her parents when after trying several more traditional career options, she finally realised that Glitteray was what would work best for her. Even with that to bolster her, she wasn't immune to the expectations that society thrusts on us, but said she's come to realise that you need to make yourself happy first.
It's not all sunshine and roses, though. Embracing failure as part of the learning process is important, because perseverance and commitment are as vital as passion in the recipe for success. Even small failures contain lessons and it is only by paying attention to them that we can make the changes we need.
Asked what makes hers different from the plethora of online stores, she responded that she believes in her brand, and lives it – her work helps her give back to traditional Sri Lanka craftsmen whose artistry goes into what she promotes, and she tries to make a genuine connection with each of her customers.
Next, Himeshi De Silva from Leapset spoke up about the latest buzzwords: IoT. She pointed out that while the effect of the Internet of Things is still felt more outside of Sri Lanka, the effect of mobile penetration is not. Globally, 80% of people check their phones within minutes of waking. This opens up a variety of possibilities for start-ups. The tech savvy entrepreneur will not ignore the effect of these changes, and will find a way to adapt and capitalise on them.
Useful information for start-ups keeps flowing throughout the morning, with Indu Nanayakkara of Loops Solutions giving everyone a quick refresher on how Google apps (and more specifically, Google apps for business) can provide a boost, from Hangouts to Google+ and YouTube. She pointed out that having your personalised business name on the email is much more likely to be taken seriously (E.g. [email protected] vs [email protected]) and so worth paying a fee for.
While building your brand on YouTube, she noted that you don't need to wait until you get huge, expensive gadgets. "If you have a passion for and knowledge about a certain subject, you can start small, just make sure to secure your equipment well and keep the background clear. Don't worry too much about the technical details, YouTube isn't expecting you to put out professional-grade video content, just get it out there."
Several budding start-ups also got a feature spot at the event, with stalls that sold brownies (we tried these and were impressed), and clothes, as well as one that applied Mehendi. The participants' enthusiasm was hard to resist as they exchange friendly greetings during the break and stop to take a picture or two with old friends and new. The diversity of those gathered was something to behold – while a majority are working at tech companies, the gathering include writers, a mechanical engineer working in software engineering, one who moonlights as a baker of delicious brownies, and a trainer, among others.  There's also a competition on, putting to the vote the best pair of high heels, because ladies, if you're going to be sauntering around in heels in the first place, they may as well be a killer pair.
Kosala Perera of 99x Technology capped off the presentations for the day with advice on 'how to fake it till you make it'. This isn't the conventional cure for impostor syndrome, though, because he's actually offering some very pithy advice on user testing. "We often forget that every feature we include is a commitment – a debt – even if it's never actually used," he said, reminding us of our tendency to jump straight to the solution before we've even spotted a problem.
His graphic example drove the point straight home: "Say you're a manufacturer of clothes. Now in the ideal scenario, the clothes you make will fit your customer. Unfortunately, in the real world it doesn't work that way. So assume you get a customer whose pants don't fit. One possible solution is to ensure they lose weight – by cutting bits of them off! Another is to create clothing in every possible size – but that would most likely make you bankrupt. It's the same with features. Not only do you have to make sure a solution works for the customer, you also have to ensure it's feasible for the business."
He then ran through ways of testing the minimum viable product (which is basically your product shorn of everything but what is absolutely essential). These include such creatively named techniques as the 'concierge' method (which involves manual trial first), or 'wizard of Oz' (which allows you to test how an app would work). It's interesting to find out that a user interface can be tested without a single line of code ever being written, by using PowerPoint and storyboarding. Kosala warned it's not always necessary to get caught up in complex methods of testing, saying there are a variety of ways to get feedback – it could be as simple as reaching out to people on Facebook and Twitter and asking what they think.
He echoes Indu's comments on how one can think big but should generally start small, pointing out that nothing is ever really perfected and there comes a time when you need to stop worrying about getting everything right and just ship something. It is vital to keep improving your product, and doing what you do cheaper, smarter, or faster on each iteration of your feedback loop.
In an interesting turn of events for an event filled with tech-types, several of the presenters ran into technical issues with their presentations… leading to Twitter exchanges that got into the entrepreneurial spirit of things: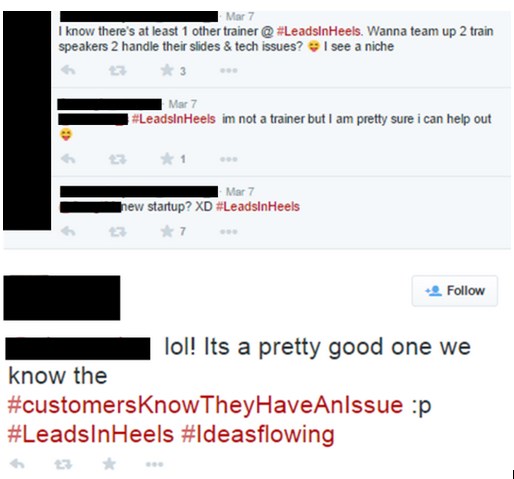 Lastly, we saw a Design Sprint. How this works is pretty simple – eight teams of ten need come up with a workable idea for an app, including what it looks like and how it can be monetised in 30 minutes. Having teams of ten people each seems a bit unwieldy at first, but everyone quickly settled in.
Given the theme, it's not surprising that a lot of the ideas were centred around shopping and fashion with just one fitness app. Sadly, nothing truly disruptive came of the exercise, though a couple of interesting concepts were bounced around. The teams were offered mentors if they want to bring their ideas to fruition, and it will be interesting to see if any do, and what that leads to.