Whoa. There's no other way to express how awesome it is to walk into Water's Edge and be greeted by a master troupe of drummers tapping out a pulsing rhythm amidst gouts of fire gushing upwards from a stage lit by crisscrossing beams of disco lights. Riffs from the Avengers the music float out. For a brief second you wonder whether, despite the massive WSO2 desk outside, despite the the lanyard around your neck, you've wandered into into the wrong event.
"Speaking from my experience as a WSO2 employee – and I've been around for about two and half years – I can honestly tell you that this is a very direct, very honest man – unless you're on the basketball court," crows Geethika Cooray, the compere for the day. "Ladies and gentlemen, I give you – Dr Sanjiva Weerawarana!"
Yup, this is WSO2Con. Yesterday's extended tutorial sessions were but the precursor to this mega-massive event. Without further ado – let the live blog begin!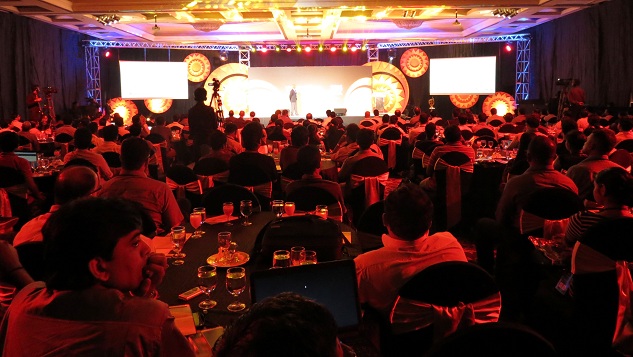 [liveblog]