Bonjour, ladies and gentlemen. Today, the 24th of March, is the first day of WSO2Con Asia as we know it.  We've already spoken about what we can expect during the course of the conference. Now the first day comprises of a series of tutorials and the enigmatic Cloud Bar Camp (we're going to find out what this is soon), and unfortunately for us, it's spread out all over Water's Edge.
The tutorials are pretty WSO2-centric, explaining WSO2 products and their usage to a crowd mostly comprised of developers already using WSO2 products, so for the interests of not writing an extended tutorial, we're going to hit the tutorial sessions as they happen and give you a brief on what's going on. Time to boot up our gear and get cracking.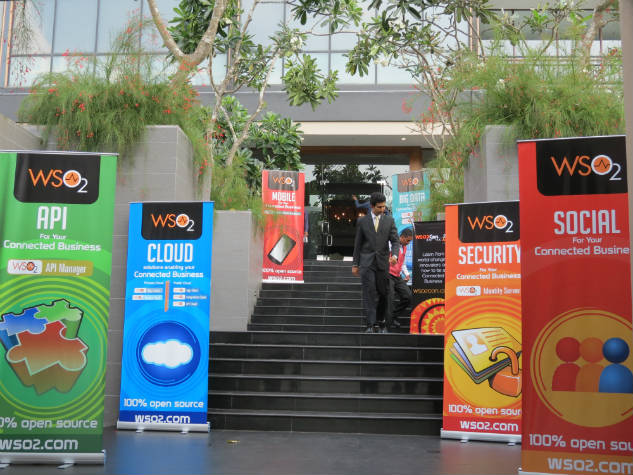 As we head in to the center of the event, a stream of participants collect their lanyards from the registration desk and split up. We follow one splinter, running into Viraj  Rajaguru giving a presentation titled "Rapidly Building Enterprise Apps, APIs and Services with WSO2 Developer Studio. It's an introduction to WSO2 Developer Studio, an Eclipse-based development environment that builds upon the Carbon platform. Kasun Gajasinghe switches over to part two – a practical demonstration of Developer Studio in action.
Meanwhile, slightly beyond the first room is an energetic presentation on the WSO2 integration architecture, with the Dushan Abeyruwan going into quite a bit of detail on how WSO2's services tie into the cloud, WSO2 Message Broker and how it overcomes common problems faced when dealing with what it does – such as security, a distributed nature, queues and so on.
Downstairs (we'd like to say "in a parallel universe), Ruchira Wageesha and Madhuka Udantha are speaking on Javascript everywhere – detailing the massive role Javascript plays in today's web. a few members of the audience are busy scribbling down notes on Jaggery, the Javascript framework being enthused about by the presenters.
The fourth tutorial session for the morning is Cloud Strategy for enterprises. This particular session seems to be focusing heavily on the use of Apache Stratos, WSO2 Private PaaS and WSO2 App Factory for designing and deploying cloud services to suit the organization's needs.
Lunch kicked off shortly after we tried our hand at locating the presentation on API management. The afternoon session consists ov five more WSO2 – centric tech dissertations – there's one on turning events and big data into insights, reducing operational burden and increasing QoS, a discussion on a pragmatic approach to SOA, one on enterprise mobile appps and another on security on the cloud and mobile. Again, we're dropping in and out of these highly technical presentations to see briefly what's going on.