I've lost count of the numerous times amongst multiple occasions where I've wanted to head out somewhere, tried to think of some place new, failed, given up and ended up doing the same old thing once again.
Living in Colombo, you're bound to have at least one obstacle or the other that would try to stop you from having the perfect outing; be it the lack of a new venue, insufficient finances or simply the inability to get yourself somewhere.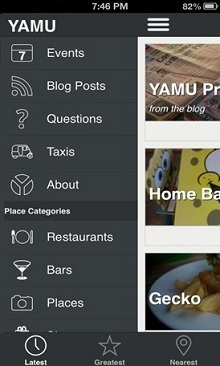 So this being the scenario for quite a while now, you'd think it's about time that someone figures out a solution; and so the awesome team at Yamu.lk did exactly that.
This is indeed their take two on the app market; they've definitely outdone themselves this time in comparison to their debut at the Google Play Store. Clearly surpassing the not-so-major flaws that they had going on in the android version, this updated version of the YAMU app has been perfected; signed, sealed and outstandingly delivered.
Unlike with most things, I was pleasantly surprised as to what the app turned out to be. Upon launch, it opens up to a list of possibilities around Colombo (and beyond), showing you what the latest around town is; be it where to dine, party, shop, splurge or just chill out on a Sunday evening; YAMU keeps you in the loop, helping you make the most out of every time you're out.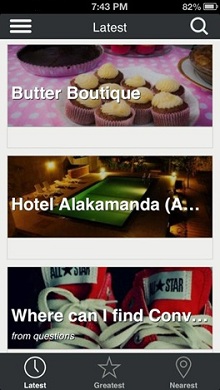 With a free flowing user experience and an interface that'd make sense to even a 5 year old; everything you want to know comes literally with the touch of a finger.
You've initially got three main categories to shuffle through, when you're slouched down on your sofa and have got nothing better to do other than look for a place that'd be appealing enough to make you get up. Like I previously mentioned; there's the "latest" which pops out all that's new around town, the "greatest" which gives you the highest rated options and everything that's actually worth checking out, and of course the rather impressive "nearest" which (once given access to access your current location) identifies where you are and shows you all the places that are closest to you. That third option in particular is what I would consider a lifesaver. I mean how many times have you had to go all "So where do we go from here? Oh Dinner? Hmm..what's closest? Alright, erm……oh heck, let's just go to Mcdonalds!".
Next up is their extended options drop down menu. Now I could go on about this, but to kick it all up in a nutshell, you've got your pick at choosing between Events, to Bars, to Restaurants, to Places to wherever you desire to be.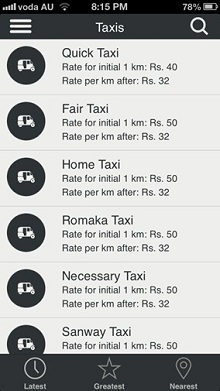 So let's just say that you've figured out where you want to go, but how do you get there? YAMU comes in to the rescue – with their handy "Taxis" options that comes with an aptly given icon of a tuk-tuk. Not only does it give you a lengthy list of all the private taxi companies in Colombo; together with their charges per Kilometer; it also gives you a convenient little price estimator so that you can actually calculate what your journey may cost before you take it – very helpful  on the wallet I must say.
And now the highlight of the application; the advance search option. This allows you to take control of your plans and customize it so well that it would show the exact options or choices you want. Starting from selecting how much you're willing to spend (price range), the filter options go on up to your choosing of what sort of place you'd like to go; be it fine dining, bars, shopping and more; what attire you're dressed in, and also other personal specifications such as narrowing it down to places that serve halaal or vegetarian food to sum up a few.
Last but not least, the app also provides a rather useful question and answer forum so that you could ask whoever that's out there for help in looking for something that you couldn't find; be it a place to buy affordable converse shoes, or the perfect spot for a candlelit dinner.
Now correct me if I'm wrong, I haven't come across an app; a Sri Lankan made one at that; that helps me as much as the YAMU app does. It's like a mini tour guide trapped in your phone; one that knows Colombo (amongst a few other destinations) in and out.