It's not a new concept: dedicated Android users have been finding ways to do this for quite some time now. There's plenty of ways to get your Whatsapp fix – from Jar of Beans (a neat Android emulator by XDA developer Unrealmanu) to manymo.com/ (a web-based Android emulator). Nearly all of them involve emulating the entire Android operating system. This approach has its advantages, but it's not always convenient.
If you're not into running an entire OS through Windows, BlueStacks App Player may be what you're looking for. Firstly: BlueStacks is still in BETA. It doesn't work as well as it should – yet.
It allows you to play Android applications in Windows PC. Essentially, it's a full-screen application that acts like a menu and app store combined. Even though it IS essentially an emulator, Bluestacks hides the whole OS-emulation aspect and gets down to the apps. The "home screen" lists featured apps that you can click to download. Apps you download are stored in the "My Apps" menu. It's all click-to-download, click-to-play, with little or no settings to adjust. There's also a handy App Search application that searches across multiple app stores for what you need. First port(s) of call: Fruit Ninja and Whatsapp. Fruit Ninja, with the large amount of objects it throws up, is often a very simple lag test for emulators. BlueStacks does a decent job. Aside from slight lag a few moments after application launch, the ninja experience was smooth and uncluttered. Things clogged up a bit during my trial run of Whatsapp. The camera app and Android image gallery were revealed, both of them useless as of the moment.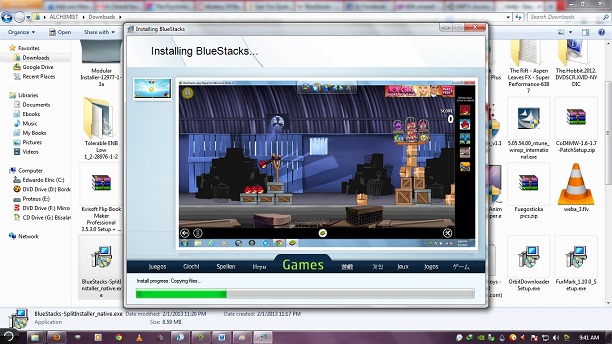 Despite this, stuff simply works. BlueStacks has a good concept: a fact illustrated by both Qualcomm and AMD, who have invested a good wad of cash into it. It's got Instagram,  Pulse, Temple Run, Angry Birds, Evernote – compatibility issues are apparently dead. It's available for both Mac AND PC – something jokingly referred to at its alpha launch party at the Google I/O conference, where they staged a mock wedding between Mac and Android. BlueStacks is wasted on anyone with an Android smartphone, but for the rest of the world (fellow Blackberry users, take note) : try it out. You might find it useful. Especially if you're running a Windows tablet device.
Especially for  playing Fruit Ninja!