By now anyone and their grandmother have heard of Asus and their portfolio of high end products. We previously looked at the Asus Transformer T100 laptop/tablet combo. Today we got something a little bit different: The ROG G56JK. It will cost you around LKR 220,000 inclusive of a 2 year warranty (may vary by country).
What's inside the box?
The price you pay shows from the packaging itself. From the box – which is packaged in a sturdy hard cardboard box with ROG logo along with a carry handle – to the innards of the packaging, the G56 oozes a level of class that is associated with Asus and they make no qualms about it. It even manages to make ye perfectly ordinary testbench look good.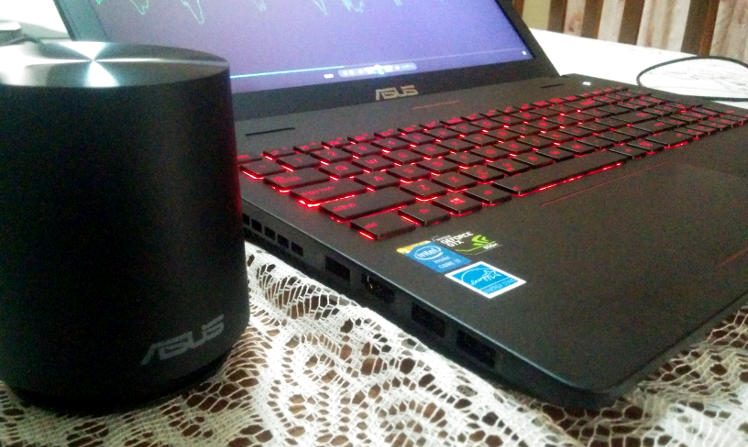 With regard to what's inside the box, this unit has a lot going on for it. You get an ROG branded mouse (pretty run of the mill but gets the job done) along with an external SonicMaster subwoofer. Similar packaging was done with the Asus N550JK laptop and Asus have decided to bundle it again with this ROG laptop.
Power is given to the unit via means of a 19V, 6.3A power adapter. It's a bit on the chunky side but it is to be expected as it needs all the juice it can get to power all the bells and whistles of the unit. Asus also bundles a coupon that gives you free in game rewards for WarFrame and Marvel Heroes. Sadly the coupon expires on the 30th of June 2014 meaning our test subject was pretty much worthless. The unit also comes with genuine Windows 8.1 installed. Complete the initial setup, connect to internet, activate Windows and you're good to go.
What you get for the money…
Now that we covered the accessories, let's take a look at the bigger picture; the G56 itself. On first making eye contact with it, your eyes are drawn to the slim design and bezel, red accented lines along the top and the Asus logo that lights up in red when powered on.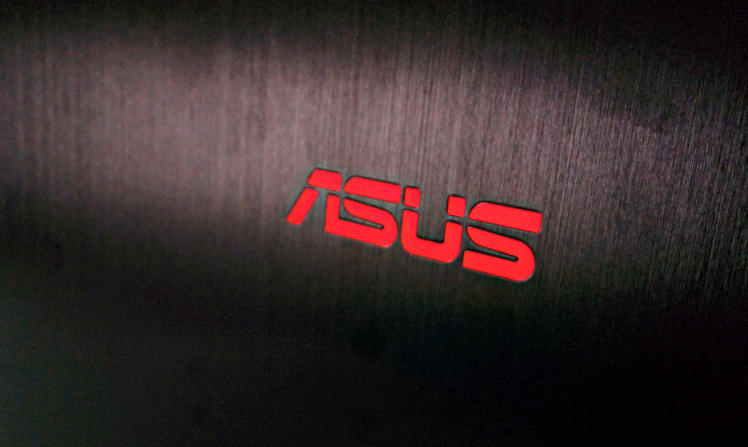 Not that "slim" is a relative term when it comes to gaming laptops: most of them are really quite thick. For a gaming laptop, the unit is squarely in the middle of the pack with respect to size. We've seen much fatter, much heavier models. This one weighs in at just over 2.7 kg with battery.
Lifting the cover reveals a metallic aluminum-esque body. It should be noted thought that even though the body of the unit is metallic, it is a huge fingerprint magnet and even the tiniest bit of finger oil can be seen on the body. You'll be spending around 50% of your time cleaning the grubby fingerprints off the laptop than actually using it. You have been warned.
With regards to the display, Asus packs a 15.6" HD anti-glare screen coupled with Asus's exclusive technologies such as Splendid Video and Zero Bright Dot. The anti-glare feature is the first thing you notice when you power on the unit – it displays quite vivid colors and vibrancy but is also easy on the eye. All in all, a screen well done: you can look at it all day long and not get a headache.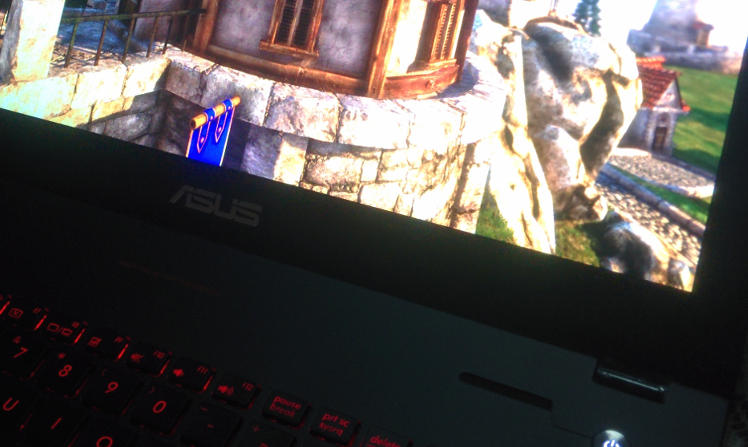 The biggest issue I found was that there was an alarming amount of flex between the top cover and the screen. The top cover literally bends inwards at the slightest pressure.
The keyboard is quite comfortable to use; typing is not strained or tedious. If you're the type of gamer who likes to frag noobs in the dark then you won't have any worries because it's illuminated as well; in a somewhat ferocious red. Illumination levels can be adjusted via the function keys on the laptop. The touch pad is ye average run of the mill pad with a subtle red illumination.
The mouse on the other hand felt thoroughly uncomfortable for me. Maybe because I use a SteelSeries mouse and I have got used to the feel of it; but in my opinion I would ditch the mouse and drop the price.
Inside the belly of the beast
Under the hood the G56 is powered by an Intel Core i7 4700HQ at 2.4GHz with a turbo boost of up to 3.4GHz and backed up by 8GB of DDR3 RAM, expandable up to 16GB. Needless to say, it has all the power you would need to game all day long. The unit also does a decent job of keeping things cool whilst being virtually silent during the heat of battle (pun intended).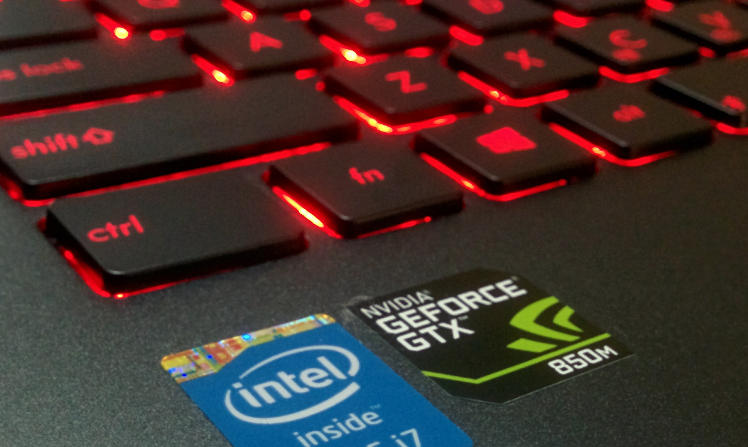 Graphics-wise the unit consists of an Intel HD4600 graphics chip as well as a discrete Nvidia GeForce GTX850M with variants of 2GB or 4GB.
The newer Maxwell chip is the replacement for the previous generation Kepler based chip and as such performs almost on par or slightly better. But is it enough? The '50Ms are entry-level graphics, for a gamer, and that hasn't changed.
Overall, the graphics were a letdown for me, especially considering the price you pay. For example, the MSI GE60 laptop packs an almost exact set of specs but with a more powerful graphics chip: an Nvidia GeForce GTX 860M. Whilst the G56 has an 850M bear in mind that it is a GDDR3 variant as opposed to the MSI GE60 which packs a GDDR5 version of the 860M.
The performance disparity between these two chips is vastly noticeable and so is the price. Whilst the G56 retails for LKR 220,000, the GE60 retails for LKR 210,000. Again the Gigabyte P15F V2 offers the same specs as the G56 but for a expected street price of around LKR 170,000 with two years warranty. Another possible competitor would be the MSI GX70. Powered by an AMD A10 CPU coupled with a Radeon R9290XM, this has all the mobile graphics power you can possibly muster, but its underpowered CPU tends to upset the scales a bit. It's also a lot bulkier.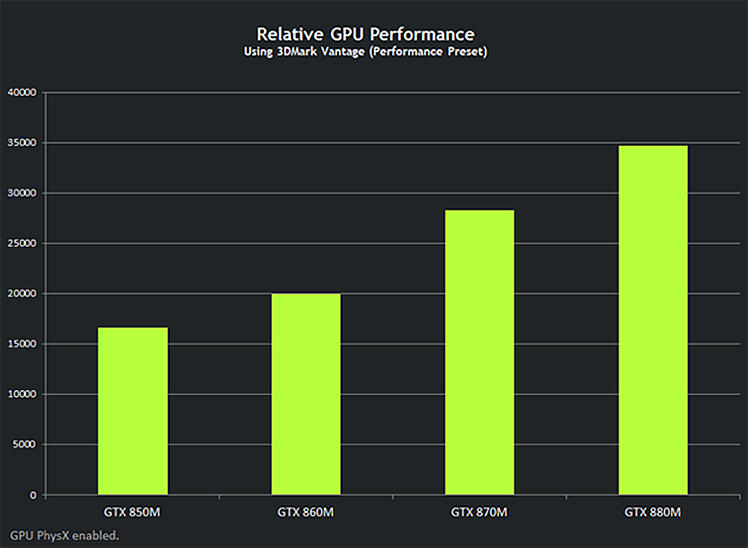 See what we mean? Long story short, ASUS has a lot of competition at that price range, and in terms of graphics, it's legitimately outperformed.
In terms of storage the G56 comes with an 8x DVD-RW and a full 1TB of storage so that you can store all your games, movies and music and enjoy it on the go. A 3-in-1 card reader is also added to the mix as is with standard laptops nowadays.
With regards to audio and sound, dual speakers are mounted. They're good: Bang & Olufsen ICEpower® technology, SonicMaster Premium and MaxxAudio support at your service, sir. I loaded a few of my favorite tracks ranging from heavy metal to rock to pop and electro and I must say I was quite happy with the overall quality. For a laptop, the sound output was quite loud and more importantly clear.
Connecting the external SonicMaster subwoofer gives it that extra bit of punch and the music is deeply engaging (oblivious to the outside world, dog barking, phone ringing, neighbors shouting etc.). You also have the "ROG AudioWizard" tool and the MaxxAudio interface panel that can be used to set custom audio profiles and audio tweaks such as bass, treble and everything in between.
Connectivity wise, it's pretty standard spec for laptops of this price range and caliber – HDMI out, VGA out, USB 3.0 support and an HD webcam added in for everything and headphone/mic jacks.
To buy or not to buy? Accessories vs real power
There's no denying it, the G56JK is an expensive laptopm even for the budget gamer. For a retail price of LKR220,000, you could build a much more powerful desktop that would run circles around it. Or if you're really set on a laptop, there are much better models for cheaper. Sure you don't get THE ROG mouse and speakers but you get a more powerful graphics chip. And for a gamer, that's where it counts.
You're getting a good product but you're also paying a premium for it. Same goes for products such as the Razer blade. The laptop is underpowered due to the GPU and Asus tries to make up for it by giving you fancy accessories.