Bill Gates drinks water recycled from human faeces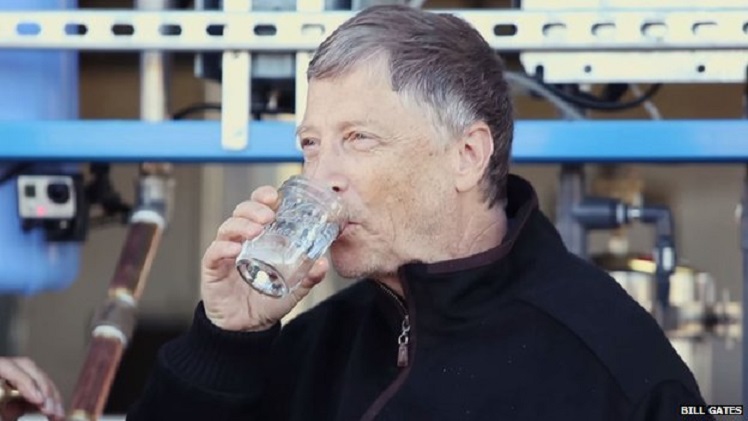 Yes you read that correctly.The one time head honcho of Microsoft has drunk a glass of water made from human faeces in an attempt to show off the technology he said could provide clean water in the developing world. In a video demonstrating the technology, Gates is seen drinking water from a glass and smiling too. The device responsible for this is the Janicki Omniprocessor which takes human waste and boils it. The water vapors released are captured, filtered and then dispensed as 100% clean drinkable water while the remnants are incinerated which powers a steam engine that generates electricity. The project was welcomed by WaterAid, which said that it could particularly help in urban areas as some 748 million people worldwide lack clean drinking water.
According to a report released by the World Health Organization and Unicef in 2013, data collected two years earlier showed that 2.5 billion people worldwide lacked "improved sanitation facilities".
WaterAid which is a non profit organization with the sole purpose of providing clean drinking water suggest that the number of people in the world without access to safe water has fallen by about 20 million since then.
Ada Oko-Williams who is a sanitation technical support manager at WaterAid went on to explain that If the technology can be rolled out at a scale that makes it viable for smaller investors or entrepreneurs, then it could be a catalyst for changing the sanitation landscape in urban areas in the developing world
Mr Gates said that a prototype of the Omniprocessor is scheduled to start Senegal later this year and that he hoped to begin sending working plants to India and other countries soon after.
Meet the Belfie: It's like a selfie, only for your butt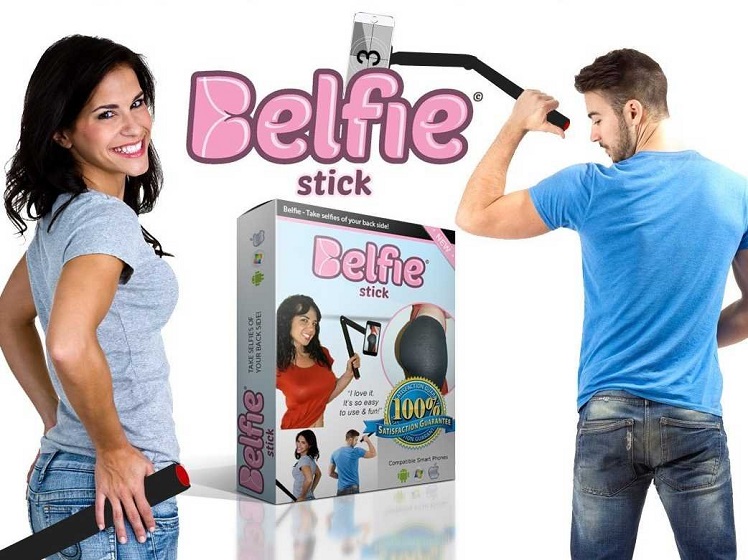 You thought the weirdest thing around was the selfie? Think again. Created by the selfie experts at ON.com which is a photo-based social networking site The Belfie Stick shoots your rear side. In the past, we have seen users adopting to the selfie stick which turned out to be quite popular and successful. The term Belfie was apparently coined by Kim Kardashian whose photo literally broke the internet a while back and since then the term and the action both have been used by other celebrities such as Miley Cyrus, Rihanna and Nicki Minaj.
Comprising of a titanium steel stick, the belfie stick can be bent and angled according to your preference.
According to a survey carried out by the people at ON.com, they found that many users wanted to highlight their 'assets' from behind, but had difficulty maneuvering this type of shot with a traditional selfie stick thus, the Belfie stick was born.
Brace yourselves. More belfies incoming.
The concept of wireless charging revisited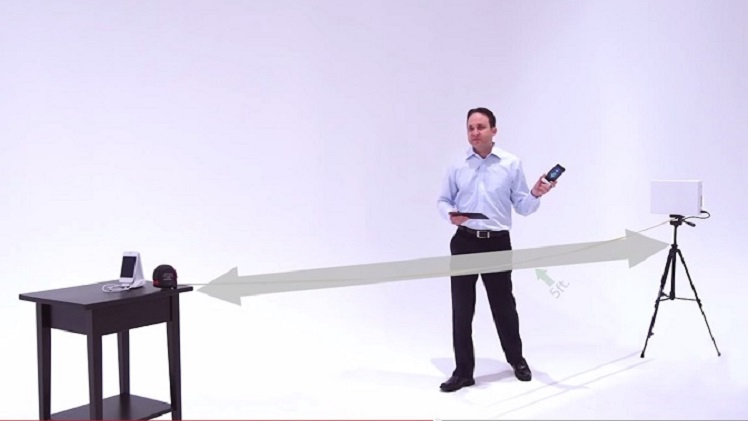 Even though the concept of wireless power transmission has been around for years, the actual execution of it has not received the attention it deserves,; till now. One company at this year's CES (consumer electronics show) held in Las Vegas proposing a new kind of wireless charging system for all mobile devices and gadgets. Titled the WattUp system, the system's designers claim that the wireless charger can power devices up to 15 feet away.
Using the power of focused radio frequency signals which are then converted into DC power, representatives from the San Jose company Energous set up an entire hotel suite to demo the developing technology.
The transmitter scans the location of devices within 15 feet and sends out multiple low-power beams which bounce off walls, ceilings and floors to create an "energy pocket." The system can power up multiple devices simultaneously, directing more energy to devices that need more charging.
On the receiving end, multiple micro antennae and an embedded chip convert the wireless signals into DC power. The WattUp system uses Bluetooth to handle communication between the transmitter and the receiving units.
WattUp transmits using the same radio frequency spectrum used by Wi-fi routers and cordless phones. Because multiple energy packets with small amounts of power are being bounced around the room, energy density at any one point is low.
The practical deployment of systems such as this are still way off and Energous hopes to license the technology to other companies for integration into future devices, and it's already working with heavyweights like Taiwanese manufacturer Foxconn. 2016 looks to be the year that these could be mass produced. Till then, guess it's the old wall socket charger for us.
PC on a stick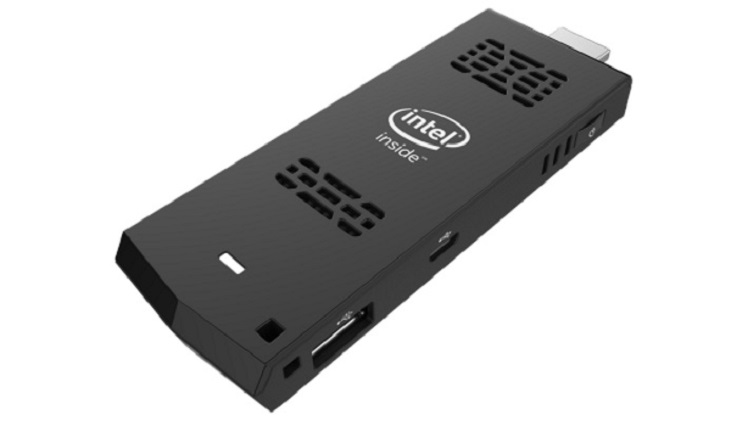 We've seen numerous things on a stick. From Pizza on a stick to butter on a stick, the new fangled notion of what you can do with sticks seems endless. And now we have a PC on a stick. Called the Compute Stick it is powered by the Atom Z3735F Bay Trail processor and the company also promises newer processors like Broadwell Core M CPUs for future iterations of the device.
Gadgets like the Chromecast and Amazon Fire TV stick have been around for a while but they have been ARM based single board computers (SBCs) that plug directly into the HDMI port of your TC and now it seem that Intel's turn has come. With 32GB of storage, 2GB of RAM, USB port, support for WiFi and Bluetooth 4.0 and also a mini-USB connector, the device will run Windows 8.1 (priced at $149) and the Linux version (priced at $89) will come with 1GB RAM and 8GB onboard storage, owing to its smaller OS footprint.