E-Tel has been proudly touting that it's the 3rd bestselling phone brand in Sri Lanka. It could be quite possible – they've had a some successful feature phones, and some pretty competitively priced 'driods in their offering. Like all manufacturers, though, they've been aiming higher and higher.
The Curiosity 09 is their latest shot – an octa-core smartphone for Rs 29,990.  An unlike Samsung's octa-core devices, where four cores are constantly turned off, Etel bills this as a true octa-core device. Well, maybe they're not Samsung yet, but it's worth a look. Here's what we think.
Exterior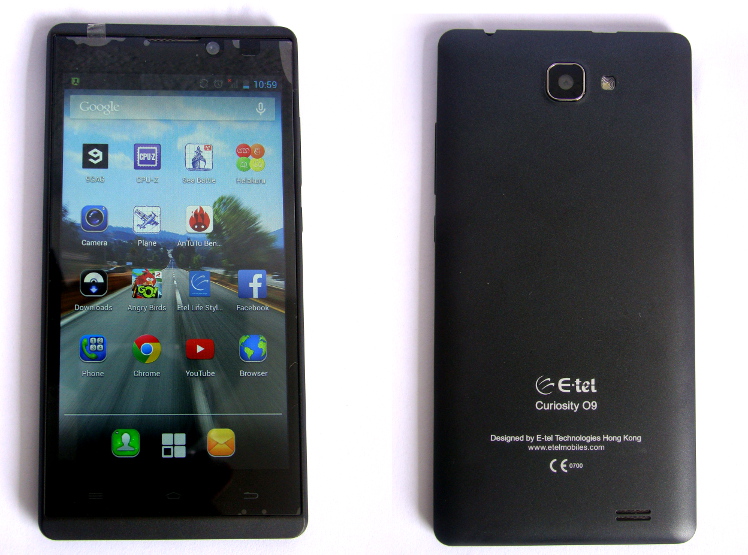 The O9 is a well-made phone for its price. The body construction is entirely of plastic, but it does not feel too cheap like some other phones in this price segment. The 5" screen extends to the edge from the sides. The back cover has a slightly matte texture. It looks respectable rather than having an oomph factor, rather unlike the One Plus One we saw recently. It's vaguely reminiscent of a plastic HTC One, however it doesn't exactly have the premium look and feel of the HTC. In fact, with the rise of excellent budget phones from ASUS and Huawei, it looks cheaper than it is.
Ergonomically, O9 feels good. Even though it has a 5" screen, it's easy to use with one hand. The phone does not feel heavy and for me just right in terms of the weight. The matte-ish finish at the back offers good grip when you hold it. The volume rocker and the power button reside at the right side. One thing we noticed was that the power button can become difficult to press when you have the free phone cover applied. It could be an issue for people with fat fingers (like yours truly).
Under the hood
This is where things get really interesting. The phone runs on a Mediatek octa-core processor. No, not the 64-bit one that's been making the news in OEM circles – this is the Meditatek 6592 clocked at 1.7 Ghz. What's the easiest way to see how a phone's processor fares against others? AnTuTu.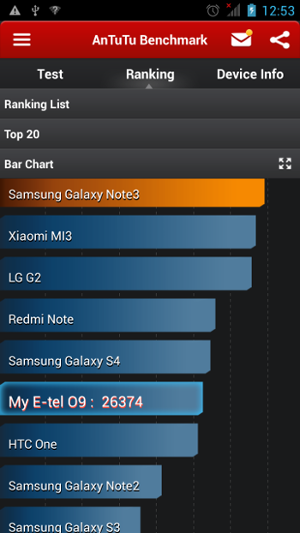 We were in for a surprise: we got an overall score of 26374 in the benchmarks -placing it just below the Galaxy S4 Octa Core version. Yes, that's right – this sub-30K smartphone from Etel measures up to the last generation of flagships, at least on paper. An extremely good proposition, then.
The next judge of a device is the display. The O9 comes with a 5" IPS display running at 1280×720 – 720p, in short: it has 292ppi pixel density. It's a great display for a phone in the lower mid-range price bracket. The color contrast and reproduction is quite good and games like Angry Birds Go and video playback looked really nice on the device. Overall, the screen is more than satisfactory.
The Etel O9 comes with Android 4.2 – and I am happy to report that they have not changed a lot of things other than the startup screen. Everything else is standard Android 4.2. There's no custom OEM launcher malarkey and almost no bloatware. Kingsoft Office Reader, which can be useful, comes pre-installed and also a game called Elements. Everything else is standard Google apps and services. Finally, a manufacturer who doesn't mess with the defaults.
The camera at the back is an 8MP shooter. When there is light, it takes good pictures. It does not have the same quality of higher end Lumias or iPhones, but it's no slouch on its own: there's plenty of settings to mess around with. There's a 3MP front camera to cover your selfie needs and the gallery software comes with Instragram-ish instant effects.
The daily grind
In usage, the phone works quite well on most. We noticed slight UI lag, which surprised us quite a bit: we suspect it's more to do with the launcher than the hardware. It managed to play the games we tested pretty well. Multitasking was also quite smooth and didn't pose any issues. Overall, the responsiveness of the phone is more than enough for many users.
Other basic functions like messaging browsing worked without any hiccups or annoyances. The O9 comes with a Dual SIM functionality; you can slot in standard size SIMs. It does not have LTE, but the 3G connections worked quite well. WiFi reception for the O9 is better compared to the Q243 we reviewed earlier and we had no signal drops or any issues during our time. A few testers who used the unit made special mention of the sound quality, which was apparently pretty good and above par compared to other phones in the pricing segment.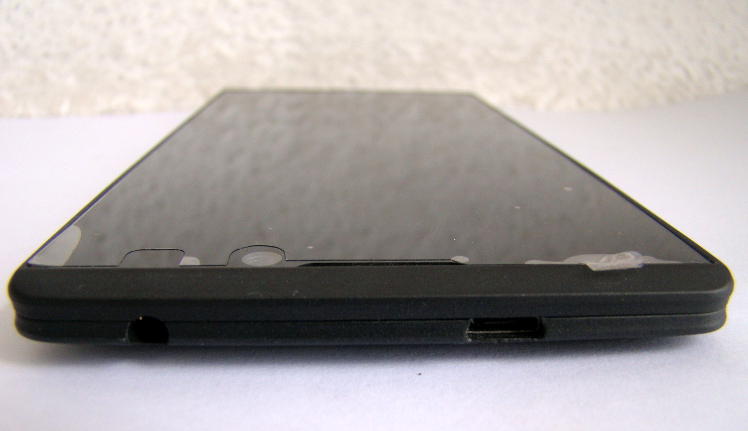 Now, the O9 comes with a 2000mAh removable battery. Battery performance is nothing spectacular. A standard usage of browsing with WiFi enabled, 30 mins worth of music playback, a light gaming session of 10-15 mins and some YouTube videos – along with 40 minutes worth of calls – managed to get me 1 whole day without a recharge. With 3G Turned on for the entire period, I managed to clock in around 20 hours.
What Etel's done, then, is create a rather ultilitarian device that packs a powerhouse under a mostly uninspired shell and a really low pricetag. We can complain about the design (and indeed, we are) but the performance alone really does justify the price tag: it's got a good camera, great sound and a very usable display to boot.
On the other hand, I would not expect Android updates – smaller brands like Etel haven't made much headway on this front, and that's unlikely to change soon. If you want KitKat on your device, you'd be better off looking elsewhere – for example, the Huawei Honor 3C – which packs in 2 GB of RAM along with a quad core processor and OTA updates within the same price range – is a pretty good alternative. But if what you're looking for is the best performance for 30K, and looks be damned, then the 09 should definitely be in your shortlist.