'Vidunena' an eLearning initiative conceptualized and developed by Mobitel along with Felidae, a provider of eLearning products and services in Sri Lanka, guided by the Ministry of Education was launched recently. The project, launched under Mobitel's mLearning platform is a catalyst, one that fosters the knowledge economy, overcoming traditional classroom methods.
This initiative, which initially started off with the Information and Communication Technology Agency of Sri Lanka (ICTA) in 2010 has now progressed to an enhanced level of content providing an important supplementary service, supporting the national curriculum for GCE A/L Science stream subjects.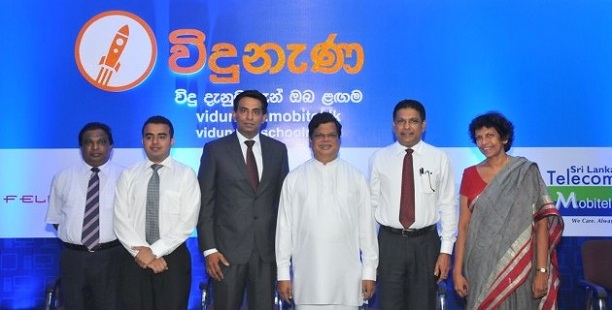 Vidunena offers interactive video content which can be viewed by both student and the teacher. Reviewed by the National Institute of Education, Vidunena's content has been developed with the guidance of renowned university academics with years of experience in GCE Advanced Level examinations.
Access to the Vidunena platform will be initially given free of charge to all school computer labs under the 1,000 schools development programme, a project by the Ministry of Education.
Speaking at the launch of this initiative Hon. Bandula Gunawardena, Minister of Education said, "In the 21st century, educators need to be sure that learners are well-prepared to face the challenges of a more complex, interconnected and transparent world. Vidunena is an excellent example of how technology can be used to enhance non IT subject knowledge amongst the teacher and student community to foster multi-media skills in a non-commercial way, which would benefit the local drive towards computer-assisted teaching and learning."
Furthermore the Minister stated that continuous technological advancements are essential for Sri Lanka to progress in today's tech-savvy age and that telecommunication companies have a large role to play in achieving this. "For any country to develop, the education of its youth is one of the important factors, and it is with great pride today that I witness yet another learning initiative developed by Mobitel. As the country's National Mobile Service Provider they have always taken the onus on themselves to develop innovative and interactive e-learning platforms utilizing the latest technology in the market today."
Mr. Kapila Chandrasena, the CEO of Sri Lanka Telecom Mobitel said, "We developed this platform to act as an interactive mode of learning for students which allows them to follow their school curriculum wherever they are thus saving both time and money. All the educational material is of the highest quality and has been certified by the Ministry of Education and the National Institute of Education, providing students with reliable and on-demand access to education. Education has always been one of the key focal points at Mobitel and we are very pleased to have successfully implemented this project which we hope will greatly benefit students all over the island."
"Working with a large corporate entity such as Mobitel on this project has been both an immense pleasure and a valuable learning curve for us as well. While we specialize in eLearning products and services, working on a national initiative like this is certainly an honour. We are proud to have partnered with Mobitel and the Ministry of Education EKSP on this," stated Mr. Hasitha Dela, Director, Felidae.
The Vidunena eLearning platform can be accessed via Mobitel's mLearning portal on vidunena.lk or vidunena.schoolnet.lk which will then allow the user to access content comprising rich interactive videos, animations, animated games and simulations created using the latest in audio and video technology, green screen and keying technology as well as open source capturing and editing tools. All content for Vidunena will be delivered on a custom built feature-rich platform which has been specially designed for use by Sri Lankan students who may have had little exposure to eLearning systems.
Mobitel's mLearning platform allows students and lecturers to connect to live real-time virtual classrooms from anywhere in the world, where they can participate in lectures as they would in normal classrooms. All aspects of the learning classrooms are 100% interactive and all the sessions can also be recorded for students to review later on while studying for examinations.   
Through this joint initiative by the Ministry of Education, Felidae and Mobitel – the number of students and teachers that benefit from such programmes reflects the industry's demand for a skilled workforce.