Sri Lanka is seeing a massive surge in computer usage and internet penetration, but are you using the right connection? Don't fall for random promises of speed and cheap connectivity: here's how things really are. Here's the state of Sri Lankan internet.
First things first: the connection
Sri Lanka is connected to the internet mainly using connections made to two undersea cables: SEA-ME-WE-3 and SEA-ME-WE-4.
Both connections are owned by SLT, with other Internet Service Providers having access as well. SEA-ME-WE-3, or South-East Asia – Middle East – Western Europe 3, is an optical cable linking the three mentioned regions together. It was commissioned in 2000 and is administered by Singtel, which is something like Singapore's SLT: government-owned. Likewise, SEA-ME-WE 4, set up as a compliment to SEA-ME-WE-3, provides much of the internet connectivity between South East Asia and Europe.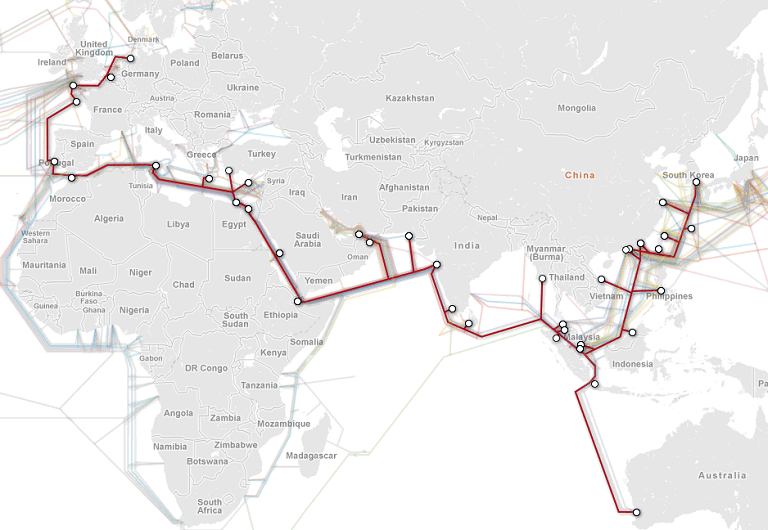 Apart from this, Lanka Bell has access to the Fiber-Optic Link Around the Globe(FLAG), which was sent into active service somewhere in 1997. It connects the US, UK and Japan to quite a few places in between, and over time has grown a network of feeder links. It's owned and operated by India's Reliance Globalcom and is also used by Dialog and Etisalat.
The ISPs and service
Currently, we have a number of ISPs offering two types of connections to Sri Lankan users: Fixed Broadband and Mobile Broadband. Note that "Fixed" doesn't necessarily mean wires trailing from the nearest telephone pole: stationary 4G routers are getting to be the norm now rather than the exception. In this regard, SLT, Lankabell and Dialog offer fixed broadband facilities while others offer mobile-only services: Dialog and SLT are the only ISPs that offer both mobile and fixed broadband connections.
All the ISPs offer packages at capped data limits, when exceeded, reduces the user's internet speed to 64kbps dial up speeds. The only exception is Lanka Bell, where they offer unlimited, fixed 4G connections.
Currently fixed line bandwidth ranges from 512Kbps to 16Mbps across various ISPs. Only SLT offers 512Kbps connections and soon, as the TRCSL tell us, 512kbps connections would cease to be categorized as broadband: they're planning to revise the definition for broadband to make i so that a connection should have a minimum 1mbps bandwidth for it to be considered. Anything less would soon be categorized as narrowband.
Each ISP is, by law, required to provide a major percentage of what they promise on paper. Remember that speed in the telecommunications industry is measure in bits per second, whereas we're used to downloading in bytes per second. This difference is crucial. As one byte = eight bits, an 8Mbps line, therefore, is capable of a theoretical maximum of one megabyte per second and no more.
Considering the rest of the world, we're somewhere in the middle of the pack. Our internet is nowhere near as expensive as, say, Brazil. Nevertheless, largely due to the cost per MB of connecting to the world, our connections are heavily data-capped.
How we got here
Sri Lanka Telecom (SLT) was the first to connect to the internet in Sri Lanka – they obtained connections to the internet in 1995. Lanka Internet started providing internet to consumers in the mid 90s using a Satellite link. At the time most household connections were on 14.4 Kbps dial up connections used mostly by enthusiasts. You could get 10KBps on your downloads on a really good day.
Chart above represents the internet and e-mail subscriber growth, where the blue line represents fixed line users and the red line represents the mobile users.
Choosing The Right One
Choosing the correct package and an ISP that suits you require some careful thinking depending on your needs.
If you don't have a land line connection or you are moving around regularly, a 3G HSPA dongle is considered the norm. Although connections have been fairly fast since the beginning, these connections cost more per GB, need some heavy data budgeting to be used effectively and there are reports of bad Quality of Service (QoS) related to HSPA connections – mostly because 3G is inherently not as stable as we expect it to be.
The other trend is to use a SLT connection if you already have a land line connection to your home. It's made even more simple if your idea of using the internet is to do some light browsing, watch an occasional YouTube video and connect with someone through Skype because SLT has got you covered with reasonably priced packages for the "light user" (usually uses less than 15GB per month) crowd.
Unfortunately, unless you plan on browsing purely text with all your flash plugins turned off and no downloads, 15GB will barely last the month. Most users in Sri Lanka are generally medium bandwidth users who can use somewhere around 35GB per month. This segment mainly uses Facebook, a bit of YouTube, maybe a Game of Thrones episode or a Hindi film every now and then. Almost all fixed bandwidth ISPs have competitively priced packages in this range.
Another bunch of users exist who do fairly heavy downloading – sometimes their usage can shoot up to around 60GB per month. These users download games, movies, TV Shows in addition to YouTube upload / download and standard browsing. At this range, most other ISPs fall off, with SLT, Dialog and Lankabell being pretty much the only cost-effective choices.
Finally there are the heavy users who download everything they see on the internet, sometime for the sake of downloading. They download everything from music, games and movies to software. If you are a gamer you can find yourself pushed into this category with the increasing download sizes for game related content.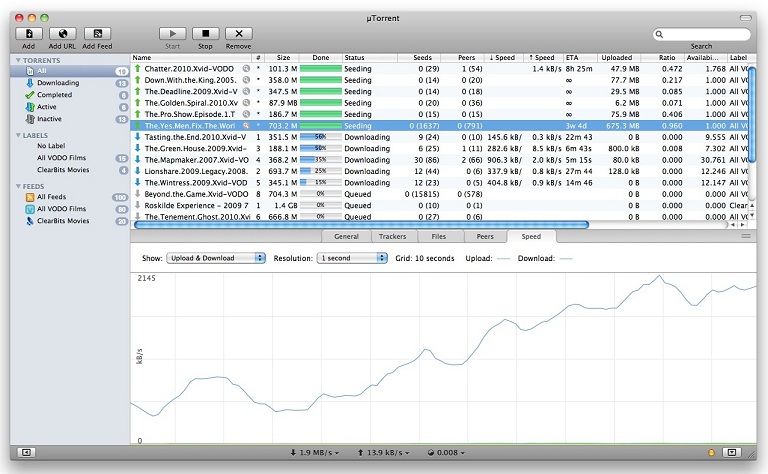 Initially SLT, with their "unlimited" 512 KBps packages, were the undisputed choice for heavy users. As of late, however, SLT has been notorious for waging a covert war against these users to reduce their usage. The crux of the problem was that SLT initially offered unlimited connections for early users when they introduced broadband. Once SLT migrated to capped connections, these unlimited users could not be converted unless the users were willing to. SLT relies throttling techniques (basically slowing down your connection intentionally) to force those users to switch to newer capped connections. Unlimited connection are now, for all practical purposes, so heavily capped at certain intervals that they are basically very slow capped connections.
Dialog and Lanka Bell seems to be eager to jump into fulfill the needs of these heavy users who are frustrated with SLT's heavy handed tactics. Both of them focus on different ends of the segment: Lanka Bell seems to favor expensive but unlimited connections for the true downloader, while Dialog strikes for a speed / price / cap balance.
However, it should be noted that most of the traffic from these heavy users are pirated material downloaded and uploaded through Peer to Peer(P2P) software. In some countries ISPs enforce strict restrictions on P2P usage. It's interesting to see whether Sri Lankan ISPs would adopt this strategy in the future.
The Future: where do we go from here?
There are two sides of the coin here:
On one hand, data is genuinely expensive. Being the small country that we are, our connections to the outside world are woefully small compared to the likes of the US, and we are heavily reliant on Singapore for our data. ISPs pay quite a lot per megabyte – just enough to make a profit, though. Until the government and corporations focus and this and perhaps invest in another cable and the appropriate infrastructure, we're not going to see radical changes. Cost per GB will go down at a slow rate.
In any case, we're not likely to catch up with the gigalithic infrastructure of America, so comparisons are moot. At least we're way cheaper than Brazil.
The other frontier is service, packages and uptime. SLT seems to be a running joke among most of Sri Lankan internet users: this is a niche Dialog and, to a lesser extent, Lanka Bell, are trying to exploit.Lanka Bell seems focused on providing unlimited amounts of data, while Dialog aims for a balance. The TRCSL is playing a big role in this regard – their policy is to lower the cost per bandwidth by encouraging competition among ISPs (which we're already seeing).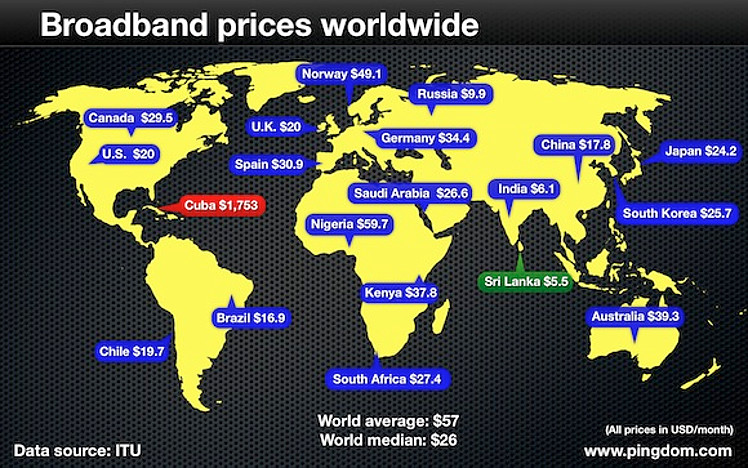 On the other hand, we have data caps, which are truly too small in the increasingly data-heavy world we live in. For example, this 2012 map indicated we had the lowest entry level broadband cost in the world, but this is for entry level packages which are not adequate. The cost gets relatively high when the bandwidth and data caps get into acceptable ranges. This should be one area our policy makers should focus on if we plan to use the internet as tool to develop the knowledge of our citizens: find a way to make our 'net cheaper.