[bsa_pro_ad_space id=1]
Did someone say Food? What's the saying? "Food is Life" Or is it "Life is Food"? Well either way, it was a regular Monday evening for us, but for a few guys in white and green t-shirts, it was quite a different story. They were to be seen hurrying across Flower Road around 6.30 pm. Why? Well quite simply, it was for "Restaurant 2.0" by Leapset Engineering.
Leapset is a Silicon Valley based Restaurant Technology Company whose primary Engineering Centre is in Sri Lanka. Their primary product is the "Restaurant" platform that acts as a single platform for the whole restaurant industry and is comprised of three cloud based platforms namely Cake, Guest Manager and their flagship product the Leapset POS.
We had the privilege of getting a sneak peek into the three systems before the event kicked off. Intros of them were on projectors whilst those invited enjoyed refreshments while they were busy with inquiries on the products and the occasional camera flashes.
The event kicked off with a set of presentations from leading officials at Leapset.
Time for the Presentations
First up on stage was Mr. Shanil Fernando, Senior Vice President/Engineering who gave us a brief introduction on what Leapset is. He walked through the cycle a consumer goes through when discovering a restaurant. He further mentioned the current available services for each of these steps. He stated that Leapset comes into play is by simplifying this process to provide a better experience.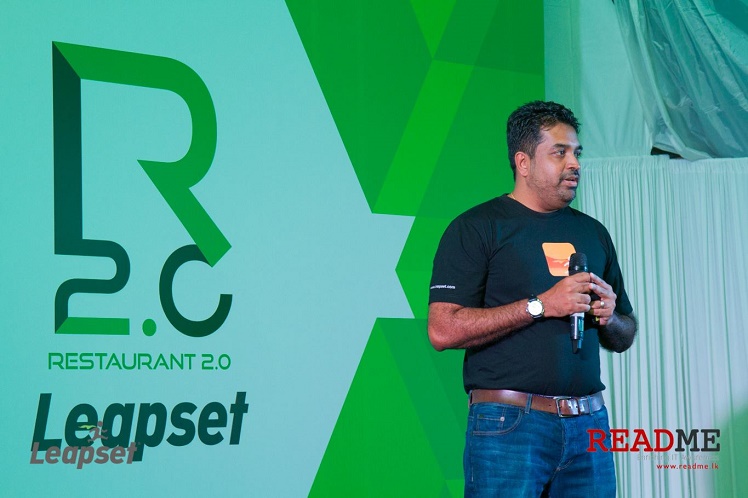 Next up was Mr. Jim O'Connor, Senior Vice President of Go to Market. He spoke about the Restaurant Industry, numbers and the size of the industry also the trends and solutions. He also discussed about what difficulties the restaurants face and possible solutions to them. After all it's all about Automation.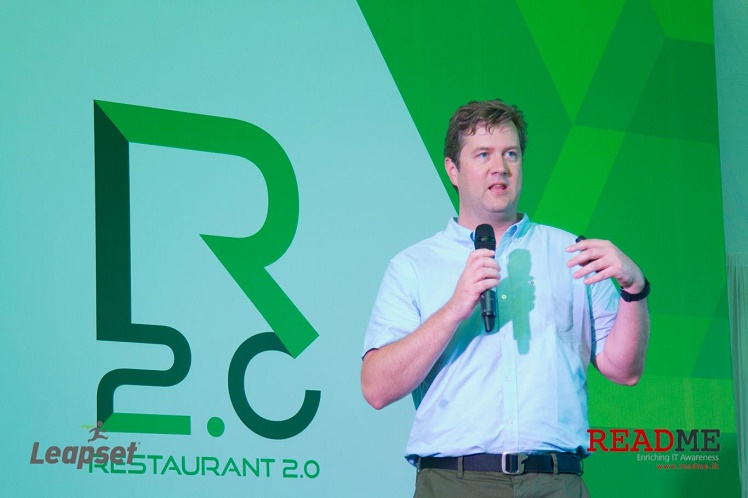 "Customization is the key… procedures change form a restaurant to another".
Mr. Peshele Randeni, Vice President, Delivery spoke to us about the Sri Lankan market place. He gave a snapshot and statistics about the Sri Lankan market. He also noted that 50% of the restaurants are Indian and Chinese and the only way to stay above them is customer retention.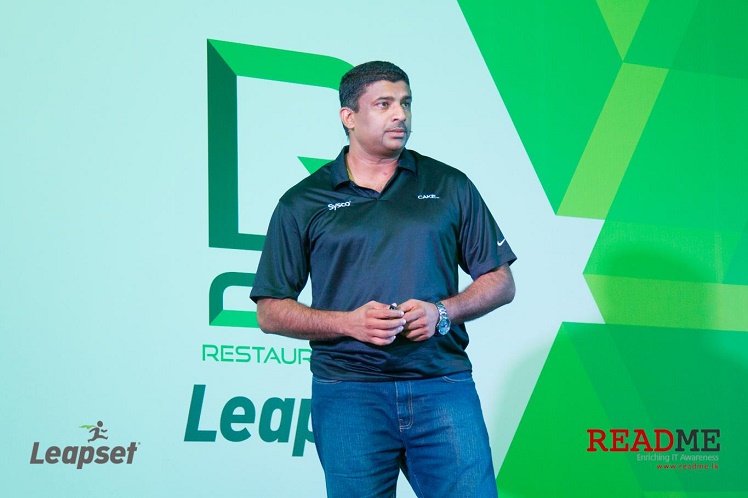 It was then the Product Presentation by Mr. Warner Siebert, Vice President – Sales.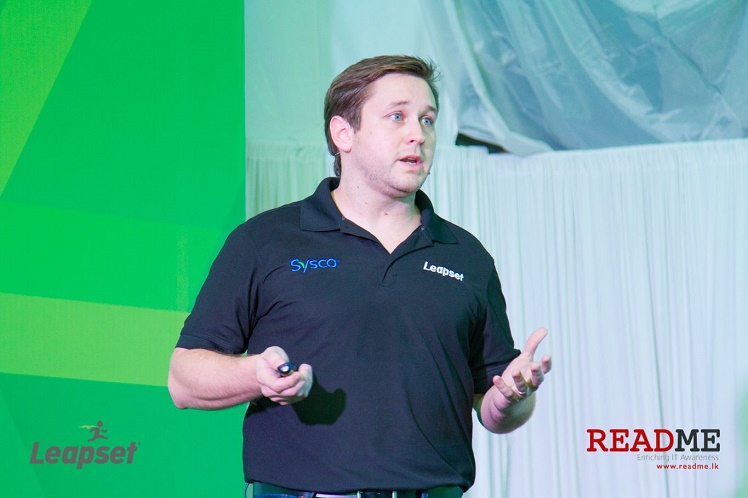 Cake
Think of it as the be-all and end-all solution to the consumer's needs, where consumers come to find food. It offers a single place to manage menus both online and offline. It's a web based platform which shows menus and categorizes foods and drinks based on your menu. Good news for those health conscious people, it even shows details like Calories. Consumers can vote on favorite dishes and restaurants which also affects the search results.
Cake plans to get menus from restaurants. Owners can claim their restaurant to edit their menus and other information about their restaurants. Have a look at the beta version which is up and running at http://cake.net.
Guest Manager
This is the reservations, waitlist and table management software. Guests can register to a restaurant's waitlist remotely via an app or text by simply using their mobile phone number. Reservations can also be made by a restaurant's website or their Facebook fan page by using the widget. Guest Manager allows restaurants to profile customers and identify who their regulars are, so they can give them customized service regardless of whether the server knows them personally or not.
According to Leapset, the system is currently in use by more than 3000 restaurants in the US and at hotels of the Cinnamon chain, namely The Lagoon, Cinnamon Grand, and Cinnamon Lakeside. The Control Center can be used for customization from editing of floor plans to managing SMS templates and generation of statistics and reports. In addition, Guest Manager also provides restaurants, means of capturing private real time feedback from guests which in turn can be used to improve their system and service.
Leapset POS
This is Leapset's flagship product. A Cloud based Point of Sale that according to Warner Siebert is a "POS with Steroids". The system is a full turnkey solution which comes with all the bells and whistles such as Hardware, Software and Customer Service. Isn't that nice? Plus it won't even cost you an arm or a leg, but rather you pay an unbelievably affordable upfront amount, get everything fixed nice and perfect all ready to go, and the rest is on a Pay-as-you-go basis. In comparison, just the hardware alone from the market would cost a lot more.
The design is simple and intuitive. The system also features Remote Management and Monitoring, which means you can view reports and make customizations such as a reward program, discount programs etc., on the go. Waiters actually use an iPad with the app installed to take the orders which also allows the editing of table/floor plans and menus.
Talking about the Hardware, Leapset's POS is a splash, crumb and dust proof station with a 15" touch screen and a customer-facing display allowing customers add tips and sign for credit cards. For those who are interested, the first 10 customers to sign up for the system also get POS or Guest Manager free for 6 months.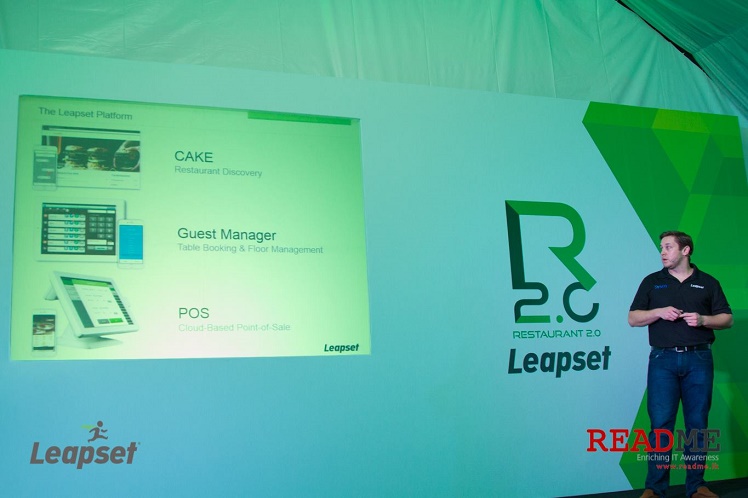 We also came across something interesting at their R&D section. Leapset using a Leap Motion (yes that was a pun). An approach to overcome practical and usability issues at the kitchen faced by staff in the kitchen. Think Jarvis meets the Chef, complete with motion gestures.
After the presentations and demos, it was time to wrap up, and what better way to do so than to indulge in some cocktails or a few lovely French pastries?