Magic Leap teases gaming on its new headset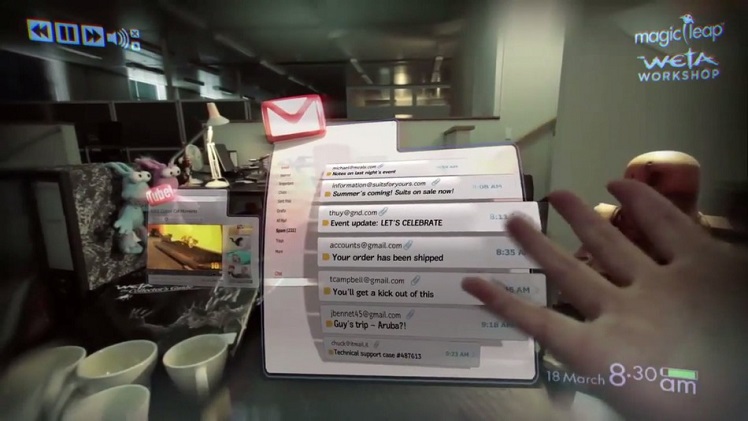 When you say "Augmented reality" and "Office" what's the first thing you think about? Robots? Maybe not. But that could change. Magic Leap, a company backed Google who are working on a little known augmented reality headset, have released a video showing off its futuristic interface.
Simply titled "Just another day in the office", the video shows off what gaming could look like. It involves a user opening a YouTube video, scrolling through his Gmail inbox and then swiping away to close it. Now comes the really cool part. The user launches a game called "Victory" and proceeds to a table with a bunch of weapons. From there, the user is put into a first-person shooter game complete with holographic robot enemies. Towards the end, a huge tank breaks through the wall and the video fades to white.
We're not entirely sure if the video is just a concept or an actual representation of what the Magic Leap has to offer. The video's description doesn't help either, with the words "This is a game we're playing around the office right now (no robots were harmed in the making of this video)".
In a world of augmented reality and virtual headsets such as the HoloLens, Magic Leap, thinks its technology is better than HoloLens.
Apart from Google, Magic Leap is also backed by venture capital firm Andreessen Horowitz and Legendary Entertainment.
Lost your umbrella? Well now you won't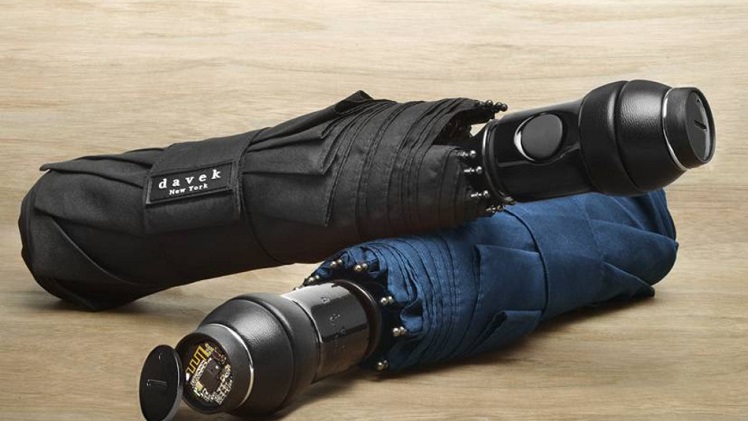 Have you ever lost or misplaced your umbrella? Well, I have. And the result has been that I get soaked in the rain and invariably catch a cold. But now, that may no longer be a problem. Davek a New York-based startup, a company known for selling high-end umbrellas has developed a concept that guarantees that you will never leave an umbrella behind again.
Called the Davek Alert Umbrella, it is a Kickstarter project and costs around $125. But this is no mere umbrella. It features a built-in Bluetooth proximity chip that notifies you if you've left it behind. It is already selling at $99 on Kickstarter for early backers who place an order by the 12th of April and is available in black and blue.
The umbrella connects to Android and iOS devices via an app that tracks the distance between your smartphone and the umbrella. If it notices a significant gap between the two, then it will send a message to your phone.
In addition, The Davek Alert Umbrella app also comes with a weather function that notifies you if you'll need an umbrella that day before your leave the house.
Founded by Dave Kahng, the company has sold more than 100,000 high-end umbrellas. 33 million umbrellas are sold each year in the U.S., grossing to $500 million, according to the company. It's the perfect scenario to break in the new umbrella and also a way to make sure that customers who invest in the umbrellas won't worry about losing them.
Yahoo shuts down their office in China, Hundreds of employees lose jobs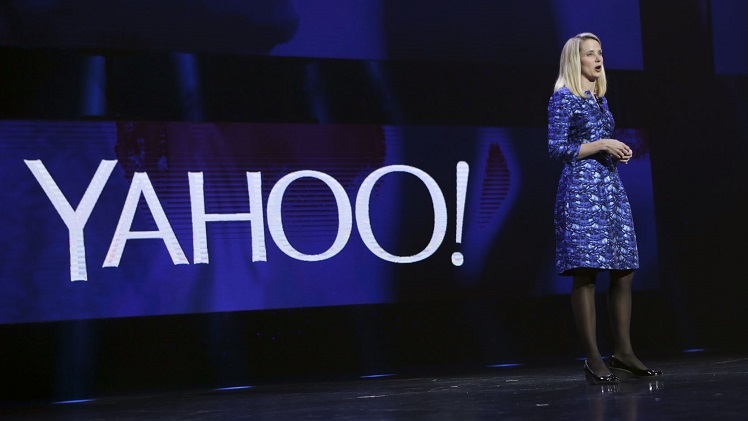 Oh how the mighty have fallen. Once the top dog on the internet search engine chain, Yahoo has not been having a good time lately. And it's only getting worse with the arrival of new age apps and features. The company is now pulling out of China where it had to shut down its web portal in 2013. The results of which will be a loss of jobs for around 200 employees.
The Web portal, Yahoo Music and email service has already been shut down. The remaining office in Beijing was transformed into a research facility. Now it's the curtain call for the whole thing as they shut down the Beijing facility.
Alibaba group was the overseer to Yahoo, but the Beijing facility was controlled by Yahoo and there were over 350 employees.
Yahoo's present CEO Marissa Mayer may have been the reason for this, Her first task in the office as CEO was to shut down the facility in South Korea. Then as the services were being ignored for newer services outside US borders, she decided to bring focus back to America. More layoffs happened bringing it to a total of 700-900 jobs from India, Vietnam, Indonesia, Malaysia, Singapore, and the Middle East.
Another reason for the shutdown was the wages. Yahoo China employees get twice the salary of their Indian counterparts. Taking into consideration that there are no consumer side application in the country, it made sense for the company to cut the costs there.