Micromax is a bit of a dark horse. Entering with a huge bang into the Sri Lankan market (remember those adverts?), they somehow managed to capture a sizeable chunk of the feature-phone territory previously dominated by Nokia. Their initial "smartphone-ish" offering failed. Then they jumped on the Android bandwagon and swung back with a vengeance with their Canvas lineup.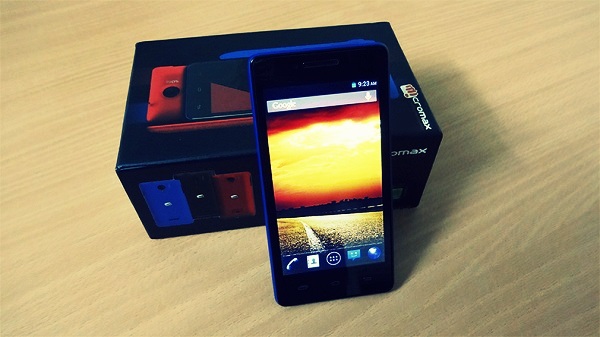 We have two of these phones here today: the Micromax A74 and the A76. Priced at Rs 15,000 and 17,000 respectively, these Jellybean-based devices are aimed squarely at someone who wants a phone that can handle calls, Fruit Ninja and Whatsapp, yet doesn't want to drop a ton of money on top-of-the-line goodies. It's a good market: most high-end manufacturers like Sony and Samsung have terrible feature sets at that price. The floor, in other words, is open.
So what has Micromax got for us?
The A74 and the A76 both ship in very similar boxes: black, with the Canvas fun moniker and an image of a very rectangular touch phone on top, something that looks like a cross between an Xperia U and a Lumia. On the back are located the specsheets. Run a quick eye over them and you realize that the phones inside are pretty much identical. Both run Jellybean 4.2.2. and dual-core processors. The A76 runs at 1.2 Ghz; the A74 at 1.3; both have a meagre 512 MB of RAM, which given the budget makes sense. On paper, they're both are on par with what we've come to expect from other phones in this range.
First impressions
Open up the box to the A74 and the first thing you see is the rectangular phone nestled inside. Firstly, I have to admit: my previous
encounters with Micromax phones had taught me to expect cheap build quality. The A74 just blew that impression away. The moment I picked it up, I went "wow". Simply put, it's a really good-looking phone. Even on a brief inspection, the build quality is simply off the charts for a budget device.
The phone is plastic – entirely tough plastic, no creaking or wobbly buttons anywear, with a red, soft-touch back that makes the A74 wonderfully easy to hold. The 4.5-inch screen sits comfortably, surrounded by a 3mm bezel that frames it without being ugly. Just below that are the three icons you'd find on any Android device – Options, Home and Back, all rendered as touch-sensitive keys a la Nexus. The microUSB and 3.5mm ports are on the top. The phone itself is 10 mm thick, but the curved back actually makes it look slimmer. On the back is a 5 megapixel sensor with a minimalistic Micromax logo – a metallic fist, nothing more. Very simple, very elegant. It feels and looks like a device twice its price. Honestly, it's miles ahead of Micromax's previous offerings.
The A76 was even better. It turned out to be a solid 5-incher. Yes, a 5-inch screen – and this is the device they're pitching for 17,000. It felt much heavier than the A74. Again, same camera, same logo – the model we got had a navy-blue back panel. Well-machined rounded edges – it looks and feels more like a Lumia 645 than anything else.
Beneath both phones we found a charger, data cable, a pair of headphones, user guide and surprisingly, a screen protector. The headphones look pretty, feel flimsy and sound horrible. Throw those away and chalk one up to Micromax. First impressions are a solid green light: they've built a couple of phones that look good and feel better than they have a right to be. Now to power them on and see if they perform.
Under the hood

Micromax doesn't make their own smartphones. Like most manufacturers, they have an OEM build the phone for them. Apple uses Foxconn. Micromax uses the less pronounceable Huizhou Innovation Electronic Technology Co. Ltd. Unsurprisingly, the processor used by both phones is a Mediatek MT6572 – a dual-core processor built on the Arm V7 architecture – and both pack Mali 400 GPUs. For the uninitiated, that's about as much power as a Samsung Galaxy S2. We have no idea why the A74 appears to be 100 Mhz faster than the larger A76. Both phones also have 5.0 megapixel cameras with LED flashes.
On the storage front, both phones pack 4GB of internal storage and support up to 32 GB of external storage via MicroSD. Both the 4.5-inch screen on the A74 and the 5-incher on the A76 are TFT LED screens. These specs are pretty much what we've come to expect below 25 thousand rupees. Enough to work with, nothing to write home about: close enough for government work, as the saying goes. They also support two sims. Of critical import is that 512 MB Ram. We're going to put the phones through their paces to see whether 512 MB will cut it.
Jellybean for the masses
Phone manufacturers very rarely slap pure Android onto a device. As you can see Micromax is no exception: the A76 and the A74 run custom roms as well. No root access (we warn you not to try rooting these phones: unless you know your way around MediaTek processors and their ilk, you're going to end up bricking your phone). It looks like Micromax has done minimal changes to the UI. Icons, menus and apps retain that basic, flat Jellybean look. However, there's a ton of apps installed by default. Fruit Devil and Spuul and hike – unwanted stuff that just begs to be uninstalled. Chrome is a plus. Captha Mouse! is not.
We went in expecting lag, but came out pleasantly surprised by how snappy the OS is. The touch is solid and accurate, and Android as a whole is very smooth and responsive on both these devices. Everything responds as it should. When we switched to Live Wallpapers, lag set in (especially on the "Water" live wallpaper included). A bit of trial and error confirmed that lag happened with most interactive live wallpapers – non-interactive ones didn't show a hit.
By default, the system uses around 220 MB of RAM, leaving slightly under 300 MB at your disposal. That's not a lot but enough to juggle an IM client, emails and Google Maps at the same time. Asphalt 6 and Temple Run ran well with high loading times but no in-game lags. Widgets also did not fare very well – having a large email inbox open on one of your homescreens causes noticeable lag when swiping into that screen. Ideally you're limited to running 3 apps in the background with a minimum of widgets running on top.
Performance, battery life and conclusion
We contemplated running benchmarks on the devices, but couldn't come up with any reason to actually do so. Regardless of how good these phones look, at the end of the day they're budget smartphones, not top-end flagships capable of destroying Geekbench and Sunspider. Instead, we spent a couple of days putting the phones through average-use scenarios. The A74, with its 1500 mAh battery, managed to limp through 12 hours of use on average – a lot of Whatsapp, sporadic use of 3G, an hour of calls each day, two hours of music playback, about thirty minutes of gaming and an hour of ebook reading.  
The A76 fared slightly better thanks to its larger 2000 mAh battery. One would expect the larger phone to suck up more battery, but both of these screens run at the same resolution and need roughly similar amounts of power to run.  The accelerometer also appears to be spot-on, switching smoothly from portrait to landscape without glitches.
Screens. That's our one and only gripe. Both screens run at 480 x 854. On the 4.5 inch screen of the A74, this gives you a pixel density of around 210 ppi. On the larger A76, pixel density floats around the 196 ppi mark. 220 ppi is good. Text is as crisp and clear as you're going to get below thiry thousand. 196 ppi? Not so much: hold the phone up to your eye and you can see the edges of the pixels. This is a fairly subjective thing, since not everybody is a pixel junkie. At the normal distance of use you won't be seeing any jagged edges at all. Nevertheless, it pays to know exactly what you're getting. Don't expect crisp HD visuals.  
The TFT screens themselves are good – in fact we were surprised to get slightly better viewing angles than the Xperia Z – but in our test models we saw a hint of backlight bleeding around the edges of the screen. As for the camera, both are identical – grainy in low light, quite decent in daylight shooting conditions. The "Auto" filter tends to work best in night-time or indoor settings, but the "Daylight" filter generally works best for anything outside. The stock camera app doesn't have the touch-to-focus feature, but is quite smooth.
Calls, we're pleased to say, came in loud and clear. Very loud. Both of these phones have high volume caps. All the better to hear you with, my dear, said the granny to little Red Riding Hood. As for messaging, you have at your disposal the stock Android keyboard.
All in all, we like what Micromax has done here. Both of these phones are a very stock Jellybean experience. They look good – good enough that you can whip it out without feeling embarrassed about it – add that epic build quality and you've got some potent value for money. If there's an award for the best budget smartphone, the A74 at 15,000 rupees would be the clear winner. We're yet to see better.