What's yellow and black and faster than the legendary Nvidia Titan? A bumblebee on crack – or, apparently, MSI's new flagship – the GTX 780 Lightning, which was unveiled a few of days ago in an invite-only meetup at Galadari between MSI reps and Colombo's tech dealers.
MSI, if you recall, was an epic company that, back in the day, made the world's first overclocking board and held on to that overclocking prestige. In Sri Lanka it was sold by Barclays and quickly gained a bad reputation, especially in the case of motherboards. Eventually MSI pulled out of the Sri Lankan market and, as a whole, went through some seriously rocky patches.
A couple of years ago, though, they pulled their act together and started hitting those quality levels again. Now they're apparently re-entering the Sri Lankan market with new set of products and a vastly improved international reputation – with the apparent unwritten intent of displacing market legends Asus and Gigabyte from the shelves. Whether they'll manage that remains to be seen, but this time around their products are pretty solid – their gaming series stuff have been very well received by critical tech sites like Anandtech and Tomshardware (in Anand we trust).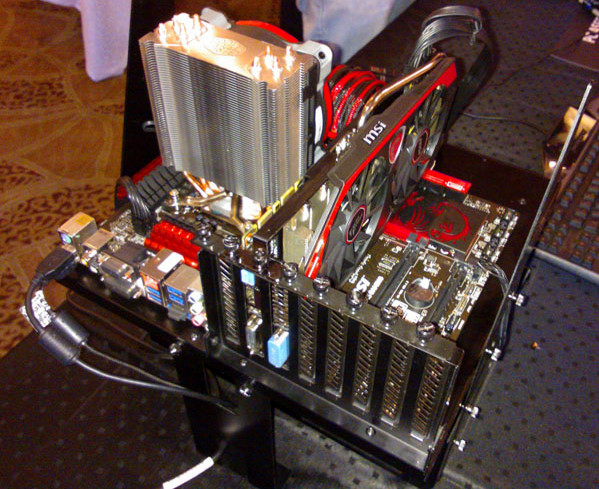 Traditionally, they've always put out a "Lightning" branded card as their flagship every year. This time, it's Nvidia's GTX 780 that gets the treatment. The 780 (we were told by Howard Chung of MSI) was kept hidden under global Non-Disclosure-Agreements until few days before, when it was released into the wild. It's pretty neat that Sri Lanka got a reveal so quickly following the global launch. This 780's black-and-yellow color scheme matches MSI's 4th-generation Haswell-based Mpower, Xpower and Mpower MAX motherboards perfectly. Throw some yellow ram in there (MSI has that, too) and you're done. 
For those not in the know, flagship graphics cards are when manufacturers forget all value-for–money offers and go all out – Asus's Matrix series, PNY's Xlr8, Galaxy's Hall of Fame all come to mind. Two things they have in common: they're rare (especially in Sri Lanka) and hellishly expensive (especially in Sri Lanka). Expect the 780 Lightning to be similar. Calculating off the GTX Titan's Sri Lankan price, this card (if it ever is sold here) should retail for around 145, 000.
That's a lotta money. But then again, it DOES beat out a GTX Titan out of the box. Can we afford it? No. Can you? Do you want to?