TL;DR: Pushbullet bridges the gap between the PC and your Android or iOS device. It's simple, and it really works, and everybody loves it. If this catches on, we might have THE go to app of this year.
All smartphone users would know how we switch and shuffle between apps like use Google Voice, Hangouts, Drive and Chrome to go about our daily grind. But did you know that you can do all this with just one bullet?

Conectivity, redefined
Pushbullet is an app developed a small group of programmers in San Francisco. Available for Android, iOS, Chrome and Firefox (via extensions), the whole purpose of the app is to allow users to share stuff between devices.
Sharing stuff means that not only can you share pictures and text with each other, but you can just as easily display your notifications on your computer, reply to messages right from your desktop and copy and paste text between devices. There's a whole set of apps for your smartphone of choice, some browser extensions, a desktop app – pick your poison and viola! Your devices are now superconnected. And you're also connected to anyone among your friends who has Pushbullet.
I'll be quite honest, I'm impressed. I've been using it for around 2 weeks now and I honestly can't imagine how I got on without it. When you receive a notification on your phone a little card will pop up on your desktop. From pushing my Twitter and Whatsapp notifications to my desktop, to pushing images and files to friends, Pushbullet makes everything a whole lot simpler. You can even reply to text messages from your desktop now.
It's a great way to keep track of who is calling or texting, or see who mentioned you in Tweets. In fact, it actually keeps me in touch with my friends when my phone is away or is charging or I'm just too lazy to get up and check my notifications.
Let's get the bullets
Well, first things first. You will need to have a Google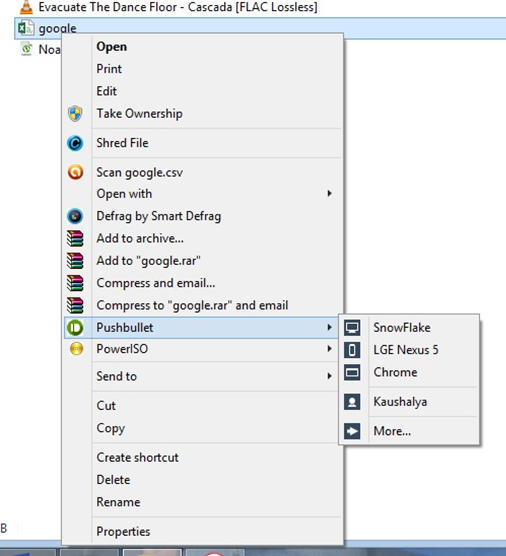 account.
Now pair your Google account with Pushbullet (or PB for short) via your phone (get the app, maybe?)or through the Pushbullet website (www.pushbullet.com). From this step onwards, you can enable access to as many devices you need – as long as they're all linked to the same Google Account.
You can also add friends via their email address. To get things on your desktop, you can either get the desktop app or add extension for Google Chrome for their PCs.. Mozilla fans take note, there's a Firefox extension as well. Or, now that you have an account, you can log in to the web interface. Whatever floats your boat.
In practice, both desktop program and extension are needed. The desktop also integrates itself into your right-click menus – you can just right-click files and select "Pushbullet" from there. The browser extensions give you the notifications.
Now, once the extensions have been installed and set up, you can now literally shoot anything and everything you want to and from connected devices. Got a link to share? Text? Shoot it. Got some images to 0view? Shoot it. It's quite easy. Pushed notifications appear on your PC screen as a small notification window while those notifications pushed to an android device appear in the notification tray. Of course, you can do this to other users, too.
No nudes, please
This being post-Boobmental Day, it should be also noted that any and all files sent and received via Pushbullet are actually stored on the app's public Amazon Cloud. Which means that that anyone with the URL can view it—though the URL is randomly generated, so it isn't that easy to find files. If you're Jennifer Lawrence, though, you might want to stay away from Pushbullet.
Simple as it is, it's not perfect. There are some inevitable bugs and workarounds that have to be dealt with, though. For example, Chrome and Firefox users running Android 4.0 and later will only be able to see notifications; you can't cherry-pick which apps you need to be notified off – for that you need Android 4.3+ AND Chrome. Also, IOS functionality seems a bit limited. But what does work, works rather well. Two thumbs up.
Pros
Easily send notes, images, links and lists to other devices
Single simple interface across multiple devices and platforms.
Mirror almost any notification onto your PC and keep an eye on incoming calls and messages
Cons 
Can be overloaded with bullets.
Notification mirroring works only with Chrome or Firefox extension.
Limited cross-platform support.