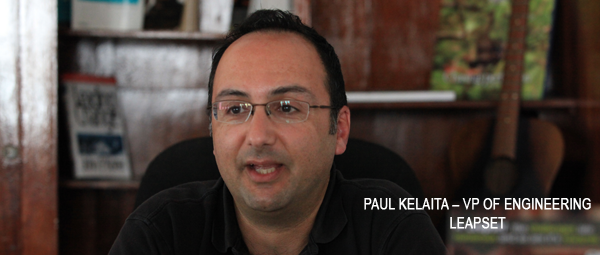 An all-Sri Lankan pool of engineers doing all of the developmental work for a Silicon Valley company providing for an all-American market of merchants is a story that is probably unheard of. In fact, most people would venture as far as to say that it's improbable. Silicon Valley is where some of the world's most formidable Tech giants make their home – among them are Google, Apple Inc., Adobe Systems, Yahoo! and Facebook, to name just a few of the many thousands. With Leapset, the names and heads of a Sri Lankan entourage of dynamic software engineers may just be added to this list.
As ReadMe reported earlier this month, Leapset is a platform that is changing local commerce by bridging the gap between online and mobile consumers to offline merchants. It revolutionizes merchant-consumer interaction through a platform which includes a point-of-sale (POS) device and utilizes payments, CRM, web and mobile components.
Speaking to ReadMe, Leapset's Paul Kelaita – VP of Engineering, spoke about how Leapset began.
"I've been working my entire career in Silicon Valley, and had several jobs leading up to a job at Yahoo! Finance, which is where I met Mani Kulasooriya. After our stint there together, we went our separate ways and Mani went onto found Monvia, which went on to become the antecedent of what Leapset is today."
According to Paul Kelaita, Monvia was an "incubator" software company that, put in a nutshell, gave life to viable business ideas – basically, people looking to build a business from an idea they'd had, but without the wherewithal to go about it, would be provided with assistance with engineering talent, product development etc., in exchange for what Paul Kelaita calls "a cut of their idea".
Over the years, Paul Kelaita says Monvia was engaged in a number of incubator projects along these lines, in addition to "doing a pretty successful consulting business with some of the larger companies out there like Yahoo! and Chase".
"Leapset was born within Monvia," says Paul Kelaita. An organically grown company that took pieces from a lot of the different things they had been working on, at that time. When they came to realise its real potential, they started focussing more and more of their resources on Leapset, eventually phasing out Monvia altogether.
The number of small merchants in US without any real exposure to the online experience is only outdone by the much larger number of consumers who try to get their work done online. The purpose of Leapset is to actually provide a platform that bridges the gap between these merchants and their target consumers looking to engage online.
Paul Kelaita also explained how Leapset's development team came to be all-Sri Lankan. With a Sri Lankan at its helm, Mani Kulasooriya, Monvia managed from its earliest stages to build a good development team here in Colombo. "And, as time went on, we started gaining more and more engineering talent here, and requiring less talent in Silicon Valley. It got to a point that the engineers here were able to go through the entire product lifecycle from beginning to end, and deliver high quality products to our customers. So right now almost 100% of our engineering talent is Sri Lanka, and communicates on a daily basis with rest of the team in Silicon Valley, so that everybody is kept abreast of what's happening in the company."
He remarked on the software engineering talent base that is currently emerging in Sri Lanka, particularly with the people Leapset had encountered during their recruitment processes. Recalling some of his own offshore experiences elsewhere, Paul Kelaita says that the distinguishing factor among the Sri Lankan engineers is their drive: "They understand the product and they're always thinking about the product, trying to deliver on the goals for the company; so it's been a really good experience with engineers here, as compared to some of the other offshore teams that I've worked with."
An interesting manoeuvre used by Leapset in enriching the Sri Lankans' contribution to the company is their rotation programme: where, every two months, two engineers from Colombo are flown out to Silicon Valley, and exposed to that environment of cutting edge IT development. "It really sort of immerses them in it – there's a lot of good conversation that happens in the company – they discuss issues and problems and schedules; ideas of different technologies and new approaches…" All of which, according to Paul Kelaita, contributes sharpening and developing the astute engineers who comprise the Sri Lankan team.